GOVERNMENT ACHIEVEMENTS
BRIEF:
President Cyril Ramaphosa will deliver the State of the Nation Address on 13 February 2020 at 7pm before a joint sitting of the two houses of Parliament. The President will take the nation into his confidence on the way forward, set the tone on critical matters and report back to South Africans on the progress since his last address in June last year.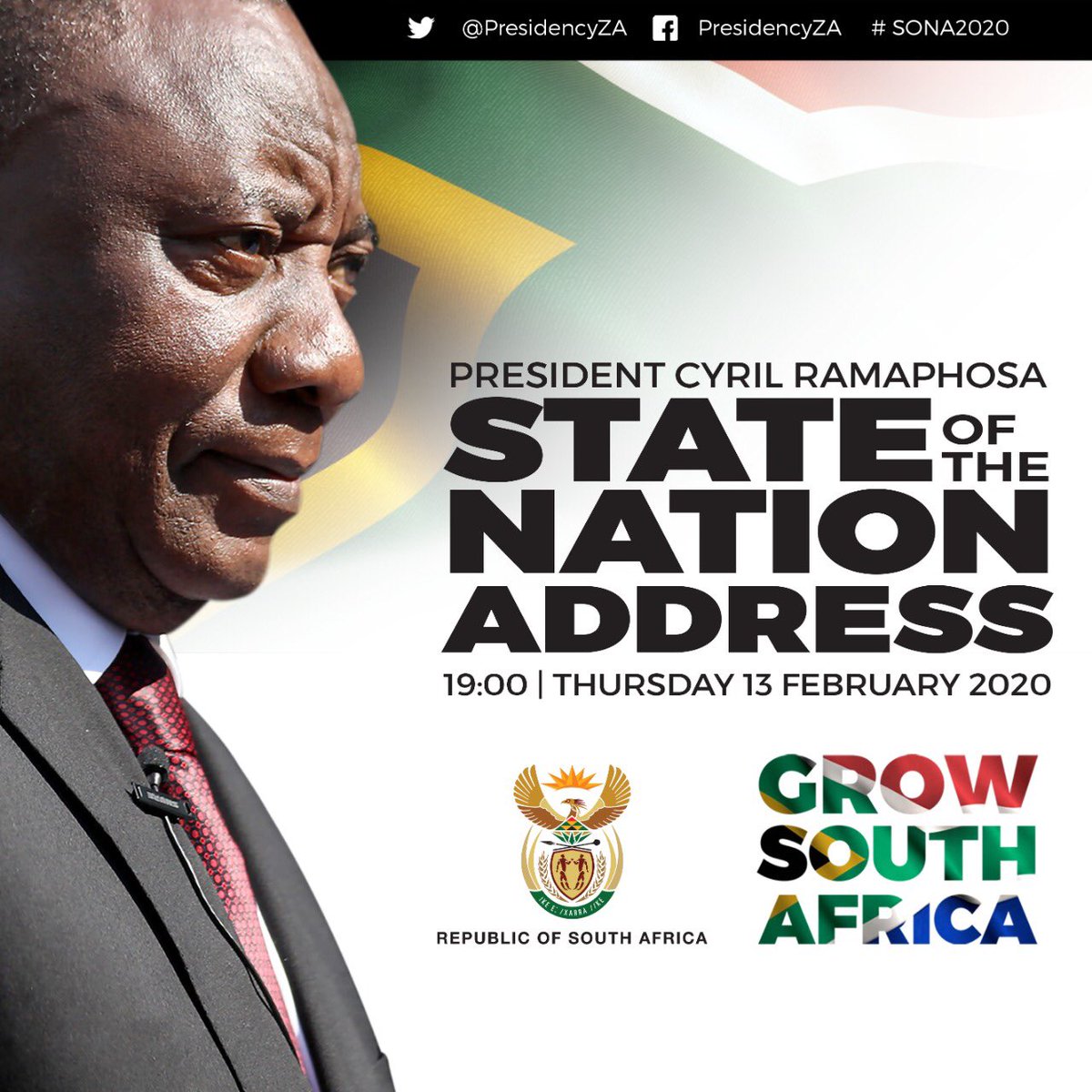 The address builds on the success of the recent free and fair 2019 General Elections, which served to renew and strengthen our democracy. He will also use the opportunity to chart the course for the implementation of electoral mandate as reflected in the 2019–2024 Medium Term Strategic Framework.
The address takes place in the week when the country marks the 30th anniversary of the release of former President Nelson Mandela after spending 27 years in prison for fighting for freedom. His release set us in motion to a non-racial, non-sexist and democratic South Africa.
While there is still much to do in creating the country we envisioned at the start of our constitutional democracy in 1994, South Africa has come a long way over the past 26 years. Things we today take for granted like freedom of movement and speech, having access to healthcare, or sending your kids to a school of your choice were denied to the majority of South Africans.
KEY MESSAGES

SUPPORTING STATEMENTS

All South Africans have a responsibility to build our nation.

The annual State of the Nation Address is a rallying point for our entire nation as it moves us to united action particularly in these challenging economic times.
Every South African has an important role to play in building our nation, and the address draws us together to generate new ideas to solve our challenges and support the effective implementation of government programmes.
In particular, areas that need all South Africans to work together is on how we can turn around our economy, end gender-based violence and tackle the triple threat of poverty, inequality and unemployment.
As citizens, we have a duty to collectively build the South Africa we want.
Work to build a better tomorrow begins now, every one of us has a role to play to grow the country.

Strong inroads have been made to secure our growth.

South Africa has laid the foundation to attract more investment into the digital and telecoms sectors by issuing out the policy directive for the release of high demand spectrum.
In setting the foundations for growth, government promulgated the latest iteration of the Integrated Resource Plan (IRP), our blueprint to meet our medium- to long-term energy needs.
Power Purchase Agreements for 27 renewable energy projects were signed as part of the country's Renewable Energy Independent Power Producer Programme.
Through our Public-Private Growth Initiative, we have developed investment projects in over 19 sectors.
Our investment in infrastructure is being reinvigorated through a new R100 billion national Infrastructure Fund over ten years.
To attract more tourists, government last year issued a list of countries that will receive visa waivers.
Government has introduced measures to reduce the financial costs of doing business, which includes lower port and rail tariffs.
With regard to the Offshore Oil and Gas sector, 16 exploration rights, six production rights and two technical cooperation permits have been issued, including transformational targets.
We have also launched the CIPC/UIF/Compensation Fund Bizportal to make it easier to register a business and within 24 hours.

We have attracted more investors to South Africa.

The country hosted its second South Africa Investment Conference, which received 24 per cent higher investment commitments at R363 billion than at the previous conference.
A number of these investment commitments are being realised and as of October 2019, eight projects reached completion or are near launch phase while 16 projects are in construction or in implementation stage.
Investment projects include those by healthcare company Adcock Ingram, premium food company In2Food, engineering firm Rexroth Bosch and Sumitomo Rubber Industries and Japanese multinational Komatsu.
Mara Phone launched its new state-of-the-art facility in Durban last year employing 200 youth, 67 per cent are women and 94 per cent of them were unemployed but skilled.
The investment promotion drive has attracted a number of investments into the mining industry, with a total of R14.8 billion spent and this translated into 47 000 jobs being sustained, 2 400 new job opportunities and about 6 000 construction phase jobs.
The Operation Phakisa: Oceans Economy has secured investments of R29.4 billion and created 7 351 direct jobs in Six Ocean Sectors since October 2014.
Industrial finance amounting to more that R6 billion was facilitated by the Industrial Development Cooperation.

We have prioritised the creation of jobs for the youth.

The Presidency is working with the National Youth Development Agency, private sector and civil society on the five-point plan that will drive coordination and youth employment over the next five years.
The UIF has signed a number of training agreements to provide vocational training to learners with the purpose of creating jobs.
Government has identified and initiated a number of road infrastructure construction and maintenance projects to promote access and mobility for communities.
A large number of UIF beneficiaries are being provided with learning opportunities to give them skills that will re-integrate them to labour market.

The fight against corruption has been strengthened.

Since President Cyril Ramaphosa assumed office there has been decisive action across government to stamp out corruption.
Since then, government has taken much-needed steps to improve and restore stability in institutions such as SARS and the NPA.
In advancing an era of accountability, President Cyril Ramaphosa appointed various commissions to deal with corruption and restore trust.
It includes the Zondo Commission of Inquiry into State Capture, Commissions of Inquiry into Tax Administration and Governance at the South African Revenue Service, Commission of Inquiry into the PIC to investigate governance at the corporation.
To ensure that allegations of corruption from commissions of inquiry are properly investigated, government established an Investigating Directorate in the Office of the National Director of Public Prosecutions.
This directorate is expected to work closely with the Special Investigating Unit (SIU), the SIU Special Tribunal and the Directorate of Priority Crimes Investigations (DPCI) in ensuring speedy prosecution and the recovery and return of stolen assets.

We are steadily improving the quality of our education system.

Our matric pass rate has broken the 80 per cent threshold for the very first time since 1994.
The 2019 matric pass rate is in line with local and international studies that show our system of basic education is on the rise.
We are encouraged that the number of learners from previously disadvantaged schools who passed mathematics and physical science is increasing.
We are also moving with speed to implement the Sector Reading Plan that will help improve reading outcomes in both the Foundation and Intermediate phase.
The plan comprises training teachers on the latest how-to-teach reading methodologies, providing age, and language relevant materials to all our learners.
Government is also focusing on Early Childhood Development to ensure our children are equipped and ready for school at the earliest possible age.
We are piloting the Coding and Robotics Curriculum for Grades R – 3 in selected schools across the country to equip learners with the required skills for the 4th Industrial Revolution.
Government has also introduced new technology subjects and specialisation including Technical Mathematics and Technical Sciences, Maritime Sciences, Aviation Studies, Mining Sciences and Aquaponics.
Since the State of the Nation announcement in February last year, work is underway to move early childhood education centres from the Department of Social Development to Basic Education.

Government has prioritised school infrastructure and safety of learners.

We are creating an environment that inspires learners to learn and teachers to teach through developing physical school infrastructure.
Since the inception of the Accelerated Schools Infrastructure Development Initiative programme, 229 inappropriate and unsafe schools have been replaced with new schools.
The programme also ensured that 834 sanitation facilities, 957 water infrastructure and 372 electricity connections were completed in schools across the country.
For the 2019/2020 financial year, 40 inappropriate schooling infrastructure, 311 sanitation facilities and 225 water connections will be completed.
In the next three years, we will eradicate unsafe and inappropriate sanitation facilities to 4000 schools in mostly rural and township areas.
We have also commenced the building of nine new TVET college campus sites scheduled for completion in 2020.
They include Sterkspruit, Aliwal North, Graaff Reinet, Ngungqushe, Umzimkhulu, Greytown, Msinga, Nongoma and Kwagqikazi.
Government is also working closely with Universities South Africa (USAF) to address urgent safety and security concerns on university campuses.
In 2019, a Ministerial Task Team was established to advise government on matters of sexual harassment and gender-based violence as well as ensure policy alignment.

Government is responding to the skill demands of our economy.

Government will continue to open further educational opportunities at Technical, Vocational Education and Training colleges for young people to skill themselves.
We are working to ensure that education, especially on tertiary level, is responsive to market demands and skills expectations.
For instance, the number of learners funded for skills development by the National Skills Fund (NSF) continue to increase and was at 59 501 by March 2019.
About 40 755 learners were funded by the NSF up until 30 September 2019 for the 2019/20 financial year.
The NSF also provided funding to 2 515 SMME and cooperatives as at the end of September 2019.
There have also been significant improvements in operations at the National Student Financial Aid Scheme (NSFAS) since the appointment of an administrator.
The improved working relationships between NSFAS and institutions has resulted in a relatively successful registration period in both 2019 and 2020.
As a result, NSFAS is this year providing R34.5 billion to support students from poor and working-class families studying at public TVET colleges and universities.
This means that NSFAS funding has now increased from R5.9 billion in 2014/15 to R34.5 billion in 2020.
The increase is in line with the National Development Plan aimed at increasing higher education enrolments from 17.9 per cent in 2012 to 25 per cent by 2030.
This year will also be the third year of implementation of the fully subsidised funding for students, which is being phased in over a five-year period.
In 2019, over 375 000 students in universities benefited from the scheme, of whom approximately 217 000 were students benefiting from the new fully subsidised funding.

We have heard the concerns of communities.

· We have made progress in implementing the decisions of the Presidential Summit on Gender-Based Violence in 2018.

The Gender-Based Violence and Femicide Declaration signed by government and non-governmental organisations affirms our commitment to fight the scourge of gender-based violence.

· The Emergency Action Plan to deal with the scourge of gender-based violence that was announced at a special joint sitting of Parliament in October is being implemented.

· As part of the Emergency Action Plan, government has reprioritised R1.6 billion to be resourced and implemented.

· The plan focuses on improving access to justice for survivors of violence and prevention campaigns to change attitudes and behaviour.

· It involves measures to strengthen the criminal justice process and to prioritise the creation of economic opportunities for women who are vulnerable to abuse.

· We are on track to achieve our target of establishing 11 more sexual offences courts by the end of the current financial year.

· We are in the process of establishing three new Thuthuzela Care Centres in the Eastern Cape, KwaZulu-Natal and Gauteng.

· The SAPS has allocated more new recruits currently undergoing basic training to the Family Violence, Child Protection and Sexual Offences Units.

Legislative reform is underway to tighten conditions around bail and sentencing for perpetrators of gender-based violence.
Government supports community and civil society actions that contribute towards ending GBV.
Government has established the Cold Case Task Team and has since analysed a number of dockets relating to sexual offences. Some of the dockets have been reopened for further investigation and referred to the Senior Public Prosecutor for decision.

We have intensified the fight against GBV.

· The 365 days campaign for No Gender-Based Violence and Femicide (GBVF) is a long-term communication programme that aims to inspire change.

· The 365 Days campaign is an existing government programme, which was also highlighted as one of the recommendations during the Presidential Summit on GBVF held in November 2018.

· The Interim Steering Committee on Gender-Based Violence and Femicide (GBVF) has identified key actions that will drive a joint emergency response by government and civil society to the crisis of gender-based violence and femicide in the country.

· The 365 Days GBVF behaviour change campaign aims to:

o Facilitate behavioural change through content and strategies that facilitate positive responses;

o Encourage the people of South Africa to work towards a society with no GBVF;

o Educate and sensitise all South Africans about GBVF;

o Mobilise activism and partnerships; and

o To raise awareness about GBVF.

· Report all cases of rape, sexual assault or any form of violence to the police on toll-free number 0800 428 428.

· Report child abuse to ChildLine South Africa's toll-free line – 0800 055 555.

Work is underway to address the painful legacy of land dispossession in our nation.

Government is accelerating the process of land reform and in doing so we are guided by the decisions of our Parliament and recommendations of the Presidential Advisory Panel on Land Reform.
The Presidential Advisory Panel on Land Reform was established to review, research and suggest models for government to implement a fair and equitable land reform process.
A consultative process that involved thousands of ordinary South Africans was undertaken across the country to allow citizens the opportunity to express their opinions on the land issue in public hearings or via written submissions.
The report provides perspectives on land policy in the context of persisting land inequality, unsatisfactory land and agrarian reform and uneven urban land development.
We will also continue with the restitution process, and with freeing up state-owned land for farming and for the building of houses for our people.
Spatial integration is critical for the growth and development of cities as well as reducing economic and social inequities.

Government is committed to build a healthy nation.

· Eight state-of-the-art and National Health Insurance (NHI) compliant clinics were last year handed-over to various communities across the country.

· President Cyril Ramaphosa opened the Lusikisiki village clinic while Health Minister, Dr Zweli Mkhize opened the Maxwell and Lotana clinics in September 2019 as part of the pilot for NHI.

· These clinics are fitted with units such as emergency services, dental care, and optometry, a section for chronic patients, a 24-hour maternity ward, a chemist and a rehabilitation centre powered by medical professionals.

· The handover fulfils our commitment to improve the quality of the life by bringing basic services closer to the people, especially those in the deep rural areas.

Parliament is currently engaged in public consultation on the NHI Bill which envisages access to health care based on values of justice, fairness and social solidarity.
We have also made progress in revising the NHI detailed plan of implementation, including accelerating quality of care initiatives in public facilities, building human resource capacity, establishment of the NHI Fund structure, and costing the administration of the NHI Fund.
Government will over the next five years continue to reform the health sector and focus on strengthening specific health programmes.

Strengthen priority health programmes including decreased maternal mortality to less than 100 per 100 000.
Closer attention will be paid to addressing the prevalence of non-communicable diseases.
There will be special attention dedicated to improving the quality of mental health services.
Support Provinces and Districts that carry a disproportionate burden of maternal deaths.

We will also prioritise the provision of adequate numbers of appropriately skilled and competent health workers, with the right attitudes to users to ensure we deliver quality health care.

Government is intensifying its fight against HIV and Aids.

Today, South Africa has the biggest HIV treatment programme in the world, with more than 4.5 million people on ARVs.
Our ARV treatment programme has resulted in increased life expectancy and low levels of mother-to-child HIV transmission rates.
Millions of South Africans who previously had no hope of sustained quality of life, now live longer and are able to contribute in building a South Africa of our dreams.
We have made major progress on voluntary male medical circumcision as an area of prevention, where close to 4-million men were circumcised as at the end of March 2019.
Last year we launched the Checka Impilo National Wellness campaign to focus on testing and
treating people with HIV, TB, STIs and non-communicable diseases such as hypertension and diabetes.
While we have made good strides in the fight against HIV and Aids, the infection rate remains a pressing concern.
All sexually active South Africans are encouraged to get tested at least once a year so that they can take the necessary steps to prevent future infection of themselves or others.

Join us as we commemorate the release of Nelson Mandela from prison.

On 11 February 2020, South Africa marks the 30th anniversary of the release of Nelson Mandela from prison.
His release marked the start of the negotiations made up of representatives from various political parties to build a joint future and a democratic South Africa.
The 30th anniversary is also an opportunity to recommit ourselves to living the legacy of Madiba and acknowledge that South Africa belongs to all who live in it, united in our diversity.
As mark this milestone, let us affirm the principles, which guide us as we work towards reconciliation, unity and peace.
Throughout his life Madiba inspired people, and his legacy continues to guide us on our path to move our country forward.
All South Africans have a responsibility to promote freedom and defend our democracy in honour of Madiba's life-long commitment to these ideals.