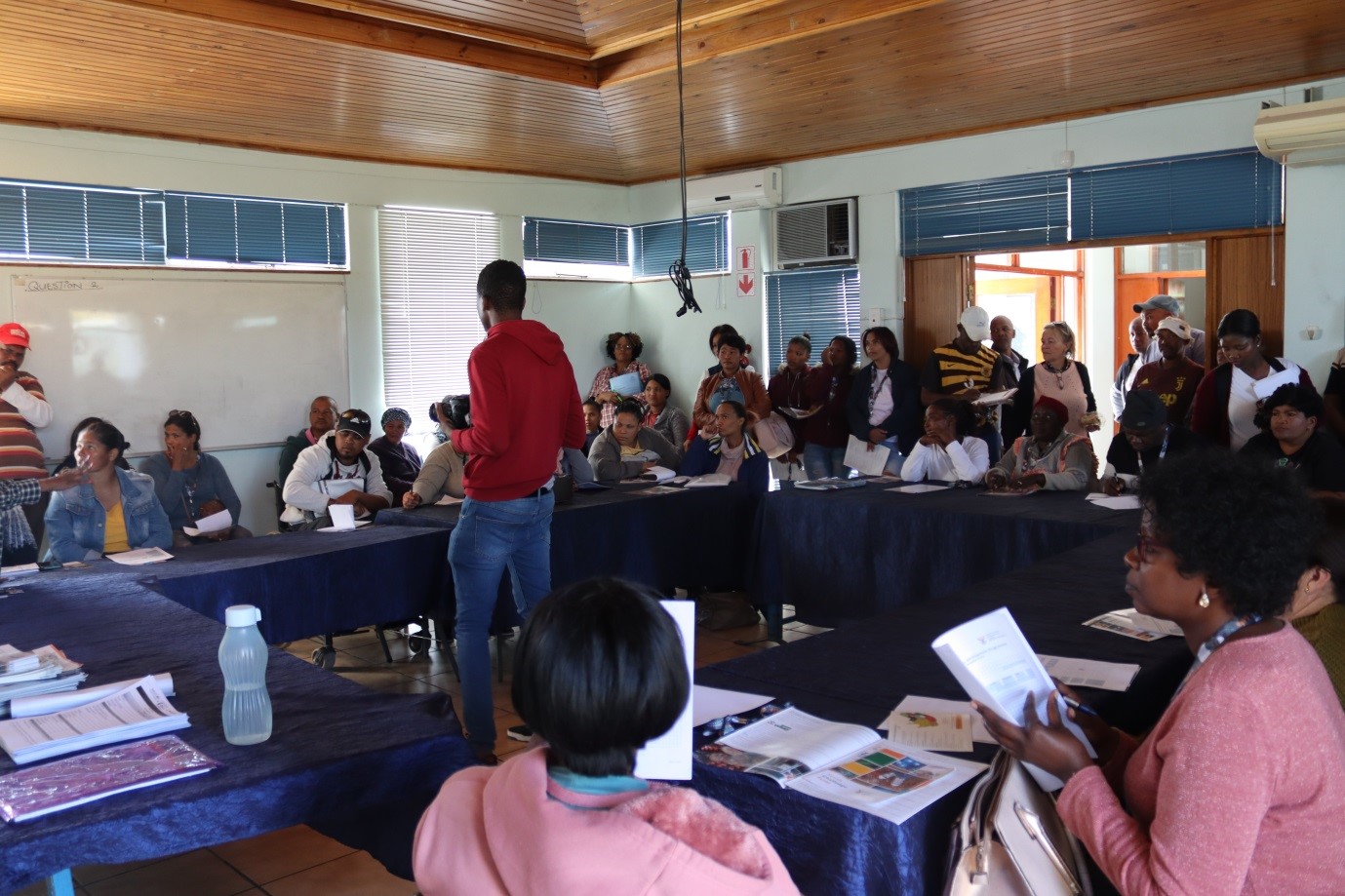 The Department of Small Business Development (DSBD) together with Department of Northern Cape Department of Economic Development and Tourism (DEDaT), Small Enterprise Development Agency (SEDA) and Small Enterprise Finance Agency (SEFA) embarked on an Informal and Micro Enterprise Development Programme (IMEDP) workshop for potential beneficiaries on the 28 July 2022 in the Kei Garib Local Municipality.
DSBD with the mandate to lead and coordinate an integrated approach to the promotion and development of entrepreneurship, Small, Micro and Medium Enterprises (SMMEs) and Co-operatives, and to ensure an enabling legislative and policy environment to support their growth and sustainability saw if fit to embrace our province with the IMEDP programme. IMEDP is a specially designed programme that aims to empower and develop informal traders to become skilled and adequately equipped to manage their businesses. It provides equipment and machinery if needed to the value of R15 000 per beneficiary.
The IMEDP provides qualifying entrepreneurs with basic business management training followed by a 100% grant for the acquisition of basic equipment and tools. The programme is a Department of Small Business initiative, and is now delivered through SEDA's network.
The basic qualifying criteria for this programme is that the entrepreneur must have been trading for at least three months, must be a South African and black-owned informal and micro enterprise, must produce a certified South African Identity Document for both the owner and employees. The applicants must further provide proof of banking, should they be using a stockvel proof thereof is also required. The applicants must have also undergone mandatory business development training which takes place at SEDA's 53 branches.
Entry into the programme requires the participants to undergo a rigorous adjudication process in which all required documents would be verified for validity at SEDA's Provincial offices. The immovable property such as land and buildings are excluded from the programme. IMEDP does not cover operational costs such as wages, municipal rates and electricity and water bills. Applicants who have already benefitted from other government or State Owned Entities schemes or incentives are also not eligible to benefit from the IMEDP. The Adjudication Committee has the sole discretion to deem any other cost as non-qualifying.
Strict supply chain processes as per government regulations are adhered to in the procurement of these tools and equipment. The informal business refers to enterprises that are not registered, taxed and operates outside of government regulation. Micro enterprises refer to registered businesses with a turnover of less than R250 000 and employs fewer than five people. The programme was a huge success having more than 100 applicants from the area submitting their applications in this regard.
---
Contact Details
Ms. Puseletso Phoofolo
Assistant Manager: Communications
Tel: 053 839 4074