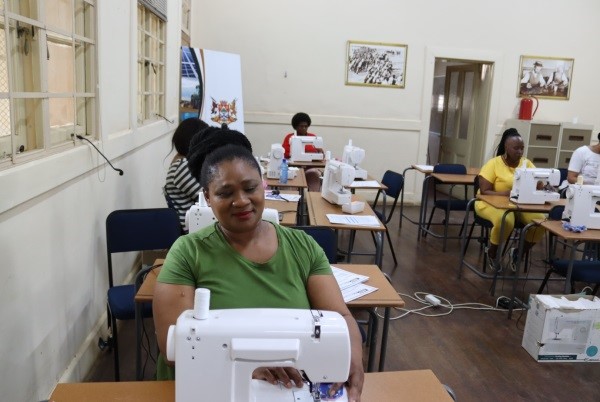 At least 15 women successfully concluded a five-day training programme organised by the Department of Economic Development and Tourism on 26-30 September 2022. The program aims to, among other things, increase the capacity of young girls and women and to equip them with knowledge on how to produce reusable pads for their own usage and personal hygiene, particularly during their menstrual cycle. To assist them with the ability to build basic personal and interpersonal skills this will serve as a foundation for all further business learning.
No woman or girl should have to endure the humiliation of managing her monthly flow with old garments, rags, old foams, and the like because they lack the money to purchase sanitary pads. Because of the embarrassment and jeers they receive when they get ruined, the girls skip class. They frequently stop attending school as a result of this.

The objective of the Economic Empowerment unit is to champion women economic empowerment and participation, as well as ensuring women owned enterprises are integrated into the mainstream economic activity in the province, thus targeting activities of People living with disability, Youth and Woman that operate within the Northern Cape.
The Department aims at unleashing the ultimate potential of women owned enterprises through skills and capacity building. The main objective of the initiative is to upgrade the basic skill of women to compete evenly for procurement opportunities, with the major focus being in the Manufacturing Industry. The secondary objective is to grow women's enterprises in the province, mainly home-based enterprises.
The programme targets South African Women in rural and peri urban areas, who own enterprises or belonging to a co-operative entity. Women must be able to use technology and be able to compete for tenders with a clear understanding of pricing and compliance requirements. Preference is given to women who have start-ups and those who are in expansion phase. The Department collaborates with stakeholders such as municipalities and SEDA for our data bases for the recruitment of candidates for the trainings and sessions.
---
Contact Details
Ms. Puseletso Phoofolo
Department of Economic Development and Tourism
Assistant Manager: Communications
Tel: 053 839 4074