Leading the Northern Cape Province to prosperity and a quality life for all.
To provide strategic leadership that will stimulate economic growth to its full potential and ensure high levels of social development.
Diamond Shape: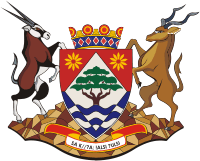 Diamonds, the province's mineral wealth.
Waves:
The two great rivers that flow through the Province. Our life line-blood and sustenance.
Tree:
A Camelthorn, the most common tree in the Northern Cape. A symbol of life and growth.
Yellow Flowers:
Namakwa daisies, a symbolic of natural beauty of the Province.
Red Triangles:
The colour of the soil on the Northern Cape and also the Sun.
Supporters:
The Gemsbok and the Kudu are the most prevelant large antelopes in the Northern Cape.
Base:
The brown and rocky base is the desert environment of the Northern Cape.
The Crest:
The beadwork crown is inspired by the San/Bushman beadwork and is in fact an inverted traditional headdress.
The Motto:
Translated to mean Strive for a better life.
It is written in the !Auni language of the Khomani San the last indigenous San people of South Africa and was given to us by one of the last speakers of the language, Ms Elsie Vaalbooi of Rietfontein who has since passed away.
Pre-dating the National motto which is written in the extinct !Xam language, it was the first officially registered motto in the history of our country to be in a KhoeSan language.