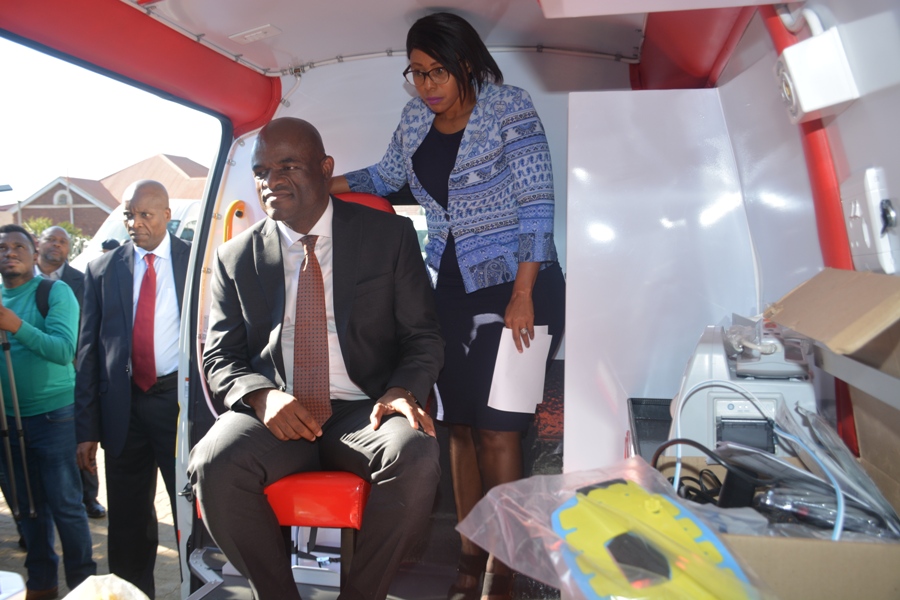 In our continual efforts to ensure a seamless transition and implementing new ways of delivering the emergency service that is more in-tune with patient expectation and modern clinical practice, the MEC for Health, Hon. Mase Manopole alongside the Premier of the Northern Cape province, Dr Zamani Saul officiated the official launch of 27 new additional EMS vehicles to beef-up capacity and ensure quick reaction during emergency cases.
These efforts come just after a week following a number of growing concerns from communities in respect to emergency medical services in the province. This has propelled the MEC to act swiftly by resuscitating the ambulance service replacement programme to ensure accessibility of health services to our people.
Today's launch forms part of the Premier's commitment to turn things around for the betterment of communities and the 27 EMS vehicles (14 Patient Transport vehicle and 13 Ambulances) into service will be increased to 63 by end of the current financial year.
These vehicles will in no doubt bring about efficiency in the service and as such include among others, pre-hospital emergency medical services and access to the specialised services.
MEC Manopole on behalf of health department commits towards ensuring that these vehicles are crewed by correctly skilled personnel as the department strive to meet the emergency medical service regulations through upskilling of EMS personnel through the Provincial EMS college.
For enquiries contact: Mr Lebogang Majaha
Media Liaison Officer
Office of the MEC for Health
Northern Cape Province
071 8836 404
Air Jordan