Address by Mr. Bentley Vass (MPL) MEC for Co-operative Governance, Human Settlements and Traditional Affairs to the Northern Cape Provincial Legislature on the occasion of tabling of Budget Vote for the 2019/20 Financial Year, 27 August 2019.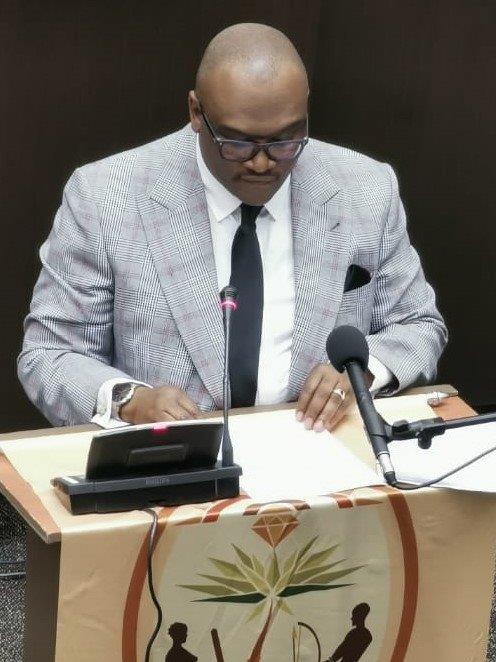 Chairperson of the House of Traditional Leaders, Kgosi Toto.
Deputy Chairperson of the House of Traditional Leaders, Kgosi Bareki.
Honourable Speaker of the House, Newrine Klaaste.
Deputy Speaker, Honourable Mangaliso Matika.
Honourable Premier of the Northern Cape, Dr Zamani Saul.
The Chairperson of the Portfolio Committee , Limakatso Koloi
Fellow Honourable Revolutionaries, ANC Members of the Provincial
Legislature.
Stalwarts and Veterans of our Struggle.
Members of the Provincial Legislature.
Chairperson of SALGA Cllr, Sophia Mosikatsi.
Executive Mayors, Mayors, Speakers and Councillors.
ANC Provincial Secretary, Comrade Daluxolo Ngxanga.
ANC Provincial Treasurer, Comrade Fufe Makatong.
Our Partners in Local Government and Human Settlements.
Distinguished members of the Northern Cape community.
We stand firmly on a pedestal of hope gazing through the lens of development at the horizon. We are sailing through the rough seas, adjusting the sails that control the effects of the winds of change. Before our eyes is the Mosaic of three hundred years of unjust rule that was brutally entrenched by a white minority who believed in infinite rule without the will of the majority, the black majority . After a quarter century of democratic governance, the deprivations of apartheid continue to ferment, our struggle to push back the frontiers of poverty remains intense.
The scourge of unemployment, the dehumanizing poverty and unprecedented inequality in the Province requires what Georg Lukács raised in his work "History and Class Consciousness"; when he said and I quote "It is not enough that thought should seek to realise itself; reality must also strive towards thought. The historical function of theory is to make this step [the realisation of theory in practice] a practical possibility." close quote.
The developmental synergies we pursue in the current political terrain requires staunch men and women of strong conviction to gaze at the vista with renewed sense of reinventing the future as postulated by the Premier of the Province, Dr Zamani Saul during the State of the Province Address. The state of the Province address is a loadstar aimed at pacing the province towards Modernity, Growth and Success.
It asserts the promotion of bold leadership, a glaring imprint in pursuit of the noble cause of ultimately obliterating the dominant fault lines radiating and transcending beyond the borders our province. Both political and administrative leadership across all spheres of governance in this province ought to pull in a singular direction.
We are at the cusp of accelerated innovation, which requires absolute frankness towards at the task at hand , as Karl Marx in the Eighteenth Brumaire of Louis Bonaparte would advise that we constantly need to criticize ourselves, constantly interrupt ourselves in our own course in order to begin anew. The task of the democratic revolution is to similarly revisit its own progress and accomplishments and cast them anew in order to respond to the demands of the moment.
HONORABLE SPEAKER
HISTORY HAS NO BLANK PAGES, the rare and privileged opportunity given to us to serve our people in this august house, must always be a reminder that the freedom we enjoy today came as a result of many sacrifices made by countless known and unknown activists in pursuit of a truly united, non-racial, non-sexist, united and prosperous South Africa.
We stand here today to affirm that that democracy reigns in South Africa and the will of the people as articulated in the constitution and the Manifesto of the governing party is supreme. Today we are not commanded by arbitrary authority but by the circumstances and the will of the people to work for a better day. We are commanded to work together to grow our country and province as mandated by the electorate on the 8th May 2019.
HONORABLE SPEAKER
Provision of sustainable human settlements and improved quality of household remains key in the developmental agenda of the 6th administration , it is for this reason why Human Settlements Development is critical and fundamental. The Premier in his State of the Province Address referred to the seven programmatic priorities as articulated by President Cyril Ramaphosa, of which spatial integration, human settlements and local government are integral and intertwining components.
In the 2018/2019 financial year we managed to build FIVE HUNDRED AND FOURTY ONE (541) units and ONE THOUSAND EIGHT HUNDRED AND FIFTY THREE households provided with basic civil engineering services.
This under achievement on the delivery of units and services was as a result of:
A court interdict against the Department and Emthanjeni Local
Municipality that stopped construction;
Community unrests that interfered with construction;
Liquidation of the company that was responsible for the construction of the Community Residential Units (CRU's).
The underachievement is a setback that should not discourage us as we are on the path to reinvent the future. Captain Noel Isdore Thomas Sankara, a Marxist scholar and the former president of Bukina Faso in outlining the reinvention of the future once said:
"You cannot carry out fundamental change without a certain amount of madness. In this case, it comes from nonconformity, the courage to turn your back on the old formulas, the courage to invent the future. It took the madmen of yesterday for us to be able to act with extreme clarity today. I want to be one of those madmen. We must dare to invent the future"
We are on the trajectory of turning our backs to old formulas and reinventing the future. It is on this basis that the Premier's announcement of SEVEN THOUSAND FIVE HUNDRED (7 500) over the next five years is grounded . We are imagining a future to deliver 7500 housing opportunities.
In the 2019/2020 Financial Year we are committing ourselves to service EIGHT HUNDRED AND THIRTY (830) erven with basic infrastructure and constructing ONE THOUSAND TWO HUNDRED AND SIX (1206) housing opportunities for qualifying beneficiaries under the full subsidy, gap market (known as the finance linked subsidy programme "FLISP") and the rental subsidy.
The Department plans to deliver THIRTY (30) services sites and SIXTY SIX (66) units for military veterans during the financial year 2019/20 throughout the province. An amount of FOURTEEN MILLION FIVE HUNDRED AND TWENTY THOUSAND RANDS has been budgeted for the construction.
HONORABLE SPEAKER
The Title Deeds Restoration Project is to secure tenure and clear property rights of the housing beneficiaries in order to improve their economic participation in the property market, as a means of poverty alleviation and wealth creation has been steadfast in the resolve of providing dignity through issuing title deeds to beneficiaries.
In order to fast track and monitor the Title Deed Restoration Project the Department has appointed THIRTY SEVEN (37) dedicated conveyancers to complete the process.
For the 2018/19 Financial year, TWO THOUSAND THREE HUNDRED AND TWENTY FOUR (2 324) title deeds were transferred. This includes pre-1994; post 1994 and post 2014 (new) title deeds.
During 2018/19 financial year ONE THOUSAND SIX HUNDRED AND TWENTY NINE (1 629) title deeds were handed over to the rightful owners.
The Department has ONE THOUSAND FIVE HUNDRED AND FORTY TWO (1 542) title deeds ready for handover. This excludes title deeds in possession of municipalities.
The issuing of Title Deeds is the only affirmation of ownership that restores dignity of our people and we are impatient and stubborn regarding this noble cause. Going forward, Fridays have been earmarked as the day on which title deed handover will take place. All municipalities across the province are encouraged to participate in this Title Deed Friday. The Department will further draft a pro forma will. This will be distributed to all municipalities to be attached to all title deeds when handed over.
Through the Department's Housing Consumer Education Programme owners will be made aware of the following:
Importance of a title deed;
The economic value of a house;
The completion and drafting of a will.
HONORABLE SPEAKER
The province has SIX identified mining local municipalities, namely:
Gamagara Local Municipality
Ga-Segonyana Local Municipality
Khai Ma Local Municipality
Kgatelopele Local Municipality
Tsantsabane Local Municipality
Joe Morolong Local Municipality
Other Municipalities would receive considerations to be classified as mining towns.
Each of these municipalities receives a ring-fenced budget for the financial year. It is a priority of the Department to assist with the revitalization of these mining towns. An amount of ONE HUNDRED AND SIXTY EIGHT MILLION ONE HUNDRED AND TWO THOUSAND RANDS (R168 102 0000) has been set aside for this purpose.
HONORABLE SPEAKER
During the Ministry of Human Settlements, Water and Sanitation's Budget Vote in Parliament on the 9 of July 2019, the Minister announced during her budget speech that the draft legislation on expropriation of land has already been published and hope that the process will be fast-tracked.
The Department in partnership with the Housing Development Agency, is currently identifying all the land owned by the State or State-Owned Entities and land which is underutilised by current owners across the Province. Once the Bill has been adopted, the Department will be in a position to commence with the expropriation of all abandoned properties as identified to create Human Settlements and places of employment as per the Minister's address.
In terms of the HOUSING CONSUMER EDUCATION, we planned to educate FOUR THOUSAND (4000) beneficiaries for the last financial year. The Department has managed to train FIVE THOUSAND FIVE HUNDRED AND FIFTY EIGHT (5258) beneficiaries; this overachievement is as a result of the effort
of the accredited Municipalities, thus over achieving the target for this programme by ONE THOUSAND FIVE HUNDRED AND FIFTY EIGHT (1258).
The target for the 2019/2020 financial year is to train FOUR THOUSAND FIVE HUNDRED (4500) beneficiaries as part of the Housing Consumer Education Programme. Training will focus on the illegal sale of houses, not leasing their houses out for tuck-shops, importance of a will, etcetera.
The Department funded SEVEN 7 municipalities that are delegated to perform certain housing functions, in terms of the Municipal Accreditation Programme, with a Capacitation Grant of SIX MILLION RANDS (R6, 000 000). Municipalities used the funding to augment their operational funding to perform the delegated housing functions.
The seven accredited municipalities are the Frances Baard District Municipality, Z.F Mgcawu District Municipality, John Taolo Gaetsewe District Municipality, Sol Plaatje Local Municipality, Emthanjeni Local Municipality, Pixley ka Seme District Municipality and Dawid Kruiper Local Municipality.
The accredited municipalities will continue receiving support in the 2019/20 financial year through the provision of the Capacitation Grant, a process that will be annually reviewed in terms of performance.
The Youth Brigade Programme was successfully implemented in the Pixley Ka Seme District Municipality. ONE HUNDRED AND FIFTY ONE (151) participants were trained in Hanover and Prieska. The participants were trained on rudimentary construction skills such as bricklaying and plastering by the National Home Builders Registration Council (NHBRC). The National Youth Development Agency (NYDA) trained all participants on life skills.
In the current financial year, the Department intends to train TWO HUNDRED (200) participants in the Namakwa District Municipality in partnership with the NHBRC and NYDA.
Through the National Upgrading Support Programme, in partnership with the Housing Development Agency and National Department of Human Settlements, upgrading plans will be developed for municipalities with large concentrations of informal settlements as per the provincial informal settlements' strategy.
HONORABLE SPEAKER
There are TWO HUNDRED AND FOUR (204) wards in the Northern Cape and all ward committees have been established after the 2016 local government elections. Ward Committees were formed to give credence to participatory democracy for ordinary citizens in matters relating to development and service delivery at ward level. The Functionality of ward committees remains a concern as they play a pivotal role as an interface between Communities and Council.
All Municipal councils in the province are relatively stable and functional except for Phokwane and Sol Plaatje local municipalities. There are however municipalities were mayors are struggling to exercise their oversight role such as Tsantsabane. The department in collaboration with SALGA will embark on an aggressive capacity building initiative to assist struggling mayors/speakers to be effective in executing their roles and responsibilities. In our assessment we have realized that certain councillors refuse to work with duly elected ward committees and constantly declares disputes. We are determined to take corrective action as these councillors are refusing communities to participate in the matters of governance at a local level. Local Government is a cold face of service deliver hence public participation is key and critical.
I have written to Speakers to hold ward councillors accountable in terms of Public Participation Meetings in their wards and to report quarterly. We will be embarking on a lobby to have a dedicated official in the administration other than the Speaker / Mayor PA to facilitate matters relating to public participation.
The Department will monitor if:
Monthly ward committee meetings & ward meetings to engage communities were held and if the municipalities responded to these issues raised.
Ward Committee reports were discussed at sec 79 committees and council meetings and if resolutions on w/c recommendations were taken.
Mayors reserve Fridays as open municipal days where the citizens do not need to schedule appointments and can engage on service delivery and developmental issues in the municipality. This is done to ensure that citizens are up to date with municipal interventions and it is an attempt to curb municipal protests due to lack of information
Ward Operational Plans remain a challenge based on the lack of understanding and capacity of Ward committee members mostly. The assessment is that Ward Operational Plans were done for compliance in many wards and it does not reflect the service delivery and developmental needs in the wards and is not linked to IDP's.
HONORABLE SPEAKER , for the 2019 / 2020 Financial Year the Department will
Roll out a Continuous Capacity Building for Councillors and ward committee members as it relates to Ward Operational Plans
Commitment from the LG SETA through COGTA to assist in the Capacity Building Program.
Have dedicated district site visits to municipalities to support the review and/or development of realistic Ward Operational Plans
Assess the synergy between Ward Operational Plans and IDP's of municipalities.
In response to the Premier's call to be a MODERN, SUCCESSFUL AND GROWING PROVINCE in line with the 4th industrial revolution, the Department together with the National Department of Cooperative Governance and Traditional Affairs will pilot Govchat, a social media platform utilised to engage citizens in wards and to enhance the responsiveness of municipalities. This platform is available free of charge to municipalities and can be accessed via smart phones and the phones using the older USSD technology.
Four municipalities will be piloted in this financial year: !Kheis, Kgatelopele, Kamiesberg & Thembelihle. Training will commence in the second quarter for the identified pilot municipalities.
Govchat will provide us with the response of municipalities to service delivery and other government challenges experienced and will provide us with detailed back office reports in order that we can engage municipalities.
The Department will support municipalities who do not have approved complaints management policies by developing a draft standard policy to be customised by these municipalities
HONORABLE SPEAKER
Community Works Programme has a target of TWENTY ONE THOUSAND (21 000) beneficiaries in 26 Municipal Sites in the Province. At the end of the 2018/19 financial year access to TWENTY FIVE THOUSAND AND FIFTY (25 050) work opportunities have been created with a participation of youth beneficiaries at EIGHT THOUSAND EIGHT HUNDRED AND TWENTY ONE (8821), female beneficiaries at EIGHTEEN THOUSAND SIX HUNDRED AND TEN (18 610), male beneficiaries at SIX THOUSAND FOUR HUNDRED AND FOURTY 6440 and EIGHT HUNDRED AND NINETY FIVE (895) people with disabilities. A total of TWENTY THOUSAND EIGHT HUNDRED AND EIGHTY FIVE (20 885) beneficiaries participate constantly in the Currently Community Works Programme . Women participants are the highest in terms of percentage, followed by young people and the programme exceeds the target for people with disabilities.
The challenge we are experiencing in the program is absenteeism (very high in May, June/Winter and harvesting season) and participants not completing the 8 day monthly cycle and the 100 day annual cycle. Rural municipal sites have a challenge of recruitment due to the absence of banks and beneficiaries not having funds to travel to the closest banks for bank confirmation letters.
Currently Community Works Programme is injecting about FIFTY TWO MILLION RANDS (R 52 million) per quarter into the Northern Cape Economy via stipends of participants. Fifty female participants are enrolled in an artisan programme for construction and carpentry in John Taolo Gaotsewe and Pixley ka Seme District , they will be qualified artisans' after completion and will receive their red seals.
In the new financial year we will prioritise useful work linked to municipal IDP's, as beneficiaries do not only want to be involved in cleaning and greening projects. Local Reference Committees will be strengthened to facilitate useful partnerships with government, business and communities to enhance Community Works Programme . Priority will be given to accredited training and skills development for beneficiaries to enhance useful work.
Community Works Programme will assist the FIFTEEN (15) identified distressed municipalities with: pothole repairs and minor road maintenance, cleaning of vacant erven, painting of identified public buildings and unblocking of blocked drains in this financial year . Currently Community Works Programme participants will assist with the registration of qualifying indigents households in all FIVE (5) districts of the province in order that they can be digitally migrated as part of a partnership with the Department of Communication and Digital Technologies. The Minister of COGTA has however indicated that there will be change in the management and model of Community Works Program from 2020/21 due to audit disclaimer is in this area. As a province we will input into The review of the Currently Community Works Programme program in order to develop a model that will make real impact on the ground.
Municipal sites that have not recruited participants in line with their target by the end of July 2019 will have their targets reduced and will be reallocated to sites who are performing well, as the province is losing in the region of TWO THOUSAND NINE HUNDRED AND FIFTY ONE (2951) work opportunities equal to TWENTY SEVEN MILLION RANDS (R 27 million) in stipends per annum.
After the successful National and Provincial general elections we are enjoined by legislation to prepare for the 2021 Local Government Election. To this end, the Minister of Cooperative Governance published the Gazette that determines the Formulae for the determination of the number of councillors for the 2021 Local Government Elections. In accordance with section 18(3) of the Local Government: Municipal Structures Act, 117 of 1998, I will soon be determining the number of councillors for the municipal council that will be established in 2021. In view of the economic down turn in the country and to ensure that municipalities provide services with their available resources, I will ensure that as far as possible the same number of councillors are maintained. This will ensure that there is no negative impact on the remuneration bill for municipalities.
Once the number of councillors have been determined, the Municipal Demarcation Board (MDB) will commence the process of the ward delimitation. We call upon all stakeholders in municipalities to actively participate in this process.
In respect of the re-determination of provincial boundaries between North West and Northern Cape – relocation of the Ba Ga Mothibi the process is well under way. I can confidently report that the North West Provincial Legislature has completed all its processes. Notwithstanding the fact that the Northern Cape Provincial Legislature must still complete its processes, part of the fundamental outstanding matters that must be resolved is the budgetary implications associated with the relocation. In avoiding the Kgalagadi situation a dedicated Political and Technical Team must be assigned to concentrate on the analysis of Budgetary allocations to the North West Province and any other Financial implications associated with the relocation. An Inter-Provincial Technical Task Team of both the North West and Northern Cape have been established to share and compare vital information for the relocation and assess progress in this regard. A "Progress Handover Report" has been concluded between the two provinces for tabling before the 6th Administrations and Legislatures respectively.
HONORABLE SPEAKER
The initial provincial total Municipal Infrastructure Grant (MIG) allocation for 2018/19 financial year was FOUR HUNDRED AND SEVENTY FOUR MILLION NINE HUNDRED AND EIGHTY FIVE THOUSAND RANDS (R 474 985 000.00), and it was revised or adjusted to FOUR HUNDRED AND SEVENTY MILLION TWO HUNDRED AND NINTEY ONE THOUSAND (R 470 291 000.00) after the stopping and re-allocation process that took place in March 2019. The total expenditure as at the end of May 2019 was TWO HUNDRED AND NITEY SIX MILION EIGHT HUNDRED AND SIXTY NITE THOUSAND AND TWO HUNDRED AND NITEY TWO RANDS (R 296 869 292.86) which represents 63% of the total allocation.
For the 2018/19 financial year, allocations were reduced to THIRTEEN (13) municipalities due to under-performance and were re-allocated to FOUR (4) other municipalities in the province. Additional allocations were made to Karoo Hoogland, Thembelihle, Siyathemba and Kgatelopele municipalities.
The following challenges continue to hamper service delivery and proper implementation of the grant:
The limited or lack of technical capacities in municipalities remains a challenge - poor planning
Change of priority projects – new project registration process
Delayed procurement process
None compliance to both DORA and MIG conditions
Use of conditional grant for operational purpose
Non-implementation of resolutions taken during intervention engagements on MIG
Poor contracts and project management – poor performance by service providers
Insufficient funding for both bulk and reticulation
Ageing infrastructure
Poor or no infrastructure maintenance
Limited data on infrastructure assets – no funding for infrastructure asset plans/ master plans
The provincial total allocation for 2019/20 financial year is FOUR HUNDRED AND FOURTY THREE MILLION FIVE HUNDRED AND FORTY ONE THOUSAND RANDS (R 443 541 000.00).It is evident from the current allocation that the provincial MIG budget is on a decrease and the need for basic services is on the rise.
Planned Interventions for 2019/2020 financial year are:
Enhance projects verification and monitoring
MISA verification of Richtersveld projects to continue
Continuation with the Ubuntu technical support in technical services
Close monitoring on Kai Garib, Magareng, Dikgatlong, Tsantsabane, Richtersveld, Gamagara, Renosterberg and Phokwane.
We have intervened decisively in municipalities to enable compliance with constitutional imperatives. For the 2018/19 financial year some of the support that was extended to municipalities included amongst others the following:
Assisted Kgatelopele with planning and reporting
Provided MIS Workshops to all municipalities in order to comply with MIG reporting conditions and Division of Revenue Act.
Provide MIS Workshops to new technical officials.
Seconded technical support to Ubuntu, Magareng and Khai-Ma
Developed an Implementation plan for Magareng to expedite water provision to the upstream settlement that is currently struggling to get water, however, budget constraints might delay our efforts
Engaged all municipalities with regards to planning and compliance
Held more than one engagements with poor performing municipalities and provided support with regards to project management challenges
Convened district infrastructure forums quarterly with all sectors involved in service delivery and municipalities
Supported all best performing municipalities to receive extra funding during re-allocation process
MISA technical support in Renosterberg, Khai Ma, Siyancuma and Richtersveld
MISA is assisting with verification of payments of work done in Richtersveld.
Municipal Infrastructure Support Agent provided support to more than EIGHTY ONE (81) identified municipalities across the country on infrastructure planning, delivery and operations and maintenance. Out of EIGHTY ONE (81) identified municipalities, FOURTEEN (14) municipalities from Northern Cape Province were supported to improve on their MIG expenditure and reporting, TWELVE (12) municipalities are supported with the development of SDFs and or LUMs, TWO (2) municipalities where supported with the participation in MISA framework contracts and 6 municipalities where identified for drought relief projects.
MISA is also assisting on the Alexander bay Land Transfer Project which seeks to transfer Alexander Bay town to Richterveld Municipality. Although technical support provided by MISA has enabled municipalities to undertake activities relating to planning, infrastructure development and maintenance, most municipalities continue to experience disruption in service provision due to lack of operations and maintenance of infrastructure.
HONORABLE SPEAKER
The province has intervened in Phokwane Municipality in terms of section 139(1)(b) and 139(5) of the Constitution at the beginning of April 2019. The cause of the intervention was due to the Municipal Council failing to fulfil its executive function and/or obligation in respect of the following:
the uninterrupted provision of the water service to the community;
the Organisation of the Administration of the municipality in terms of section 51 of the Local Government: Municipal Systems Act, 32 of 2000; and
the provision of effective and efficient oversight in the administration and management of the financial affairs of the municipality through proper and diligent financial accountability and compliance with the Municipal Finance Management Act.
The objectives of the intervention is to ensure that by the end of the intervention period the following key deliverables would have been achieved:
Preparation and implementation of a Financial Recovery Plan approved by the municipal council;
Working with the Back to Basics Task Team designated to the, to deal with both the challenges which necessitated the intervention and other challenges that may be identified during the course of the intervention;
Undertaking of the appointment of Senior Managers in terms of Section 54A and Section 56 of the Municipal Systems Act, 32 of 2000 as amended including disciplinary procedures for senior managers as prescribed where applicable;
The provision of uninterrupted water services to the community, and
Diligent financial accountability and compliance with the Municipal Finance Management Act, 56 of 2003 (MFMA). Pursuant to informing the Minister of Cooperative Governance and Traditional Affairs, the Minister duly approved the intervention with additional conditions. The Chairperson of the NCOP and the Speaker of the NC Legislature have also been promptly informed.
Notwithstanding the above intervention efforts of the Provincial Executive Council, the Municipal Council failed to approve its 2019/20 financial year before the start of the new Budget year and on the first day of the budget year. The Executive Council was forced to intervene in terms of section 139(4) of the Constitution and section 26(1) of the Municipal Finance Management Act. To this end the Executive Council has duly approved a temporary budget to provide for the continued functioning of the municipality effective from the 01 July 2019 until such time that the 2019/20 Budget has been approved by the Municipal Council. The Council has been given until 30 September 2019 to have approved its budget, failing which the Executive Council will impose stringent measures on the municipality.
During 2018/19 financial year I instituted a section 106 investigation at Sol Plaatje Municipality. The team completed the report on 29 September 2018 and was tabled to Council on 25 October 2018. The aggrieved Sol Plaatje officials have applied to the High Court to review the report. Furthermore, the section 106 report of Phokwane Municipality was tabled to Council on the 22 January 2019. Council indicated that it was seeking legal advice on how to deal with this. The department is monitoring the implementation of the recommendations of both investigations.
The Executive Council had intervened in Ubuntu and Magareng municipalities in terms of section 137 of the MFMA and were assisted with the development of Financial Recovery Plans (FRPs). This is in addition to the FRPs that were adopted by Renosterberg, Kai !Garib and Dikgatlong municipalities.
In relations to General Valuation Rolls, THIRTEEN (13) municipalities were to implement their new General Valuation Rolls on 1 July 2019, of which Phokwane municipality was granted extension until 30 June 2020. The municipalities that implemented on 1 July 2019 are: Richtersveld, Nama Khoi, Kamiesberg, Hantam, Khai-Ma, Ubuntu, Tsantsabane, Kgatelopele, Sol Plaatje, Dikgatlong, Magareng and Gamagara.
This is an important own revenue source for the municipalities. Municipalities are able to use this to fund some of their responsibilities that do not necessarily generate a revenue for the municipality including maintenance of parks and pavements.
HONORABLE SPEAKER , In relations to Disaster Management The priority for this year would be to develop the Provincial Disaster Management Plan and Provincial Disaster Management Framework. We are hoping and trusting that this framework and plan will assist the province to manage and mitigate disaster incidents.
The Provincial State of Drought Disaster was declared by the Premier of the Province on the 22 February 2018. Pixley Ka Seme and Namakwa District Municipalities took council resolutions to declare a local/district state of drought disaster. The Provincial Disaster Management Centre was able to secure drought funding from National Disaster Management Centre.
We are aware of the current situation on drought in the Province and in consultation with all relevant stakeholders and will pronounce the way forward in this regard.
Fire Brigade Services will be capacitated this year in an effort to mitigate the veld fires experienced in the Province. The Province has two (2) functional Fire Brigade services
Dawid Kruiper Local Municipality, Z.F. Mgcawu DM
Sol Plaatje Local Municipality, FBDM
HONORABLE SPEAKER
The Spatial Planning Land Use Management Act (SPLUMA) provides the legislative framework that ensures municipalities have compliant Spatial Development Frameworks (SDFs) and Land Use Management Schemes (LUMS). In line with SPLUMA, COGHSTA provide support to municipalities to assist with the preparation, adoption or revision of their Spatial Development Frameworks and Land Use Schemes. SPLUMA requires municipalities to adopt a single land use scheme for their entire area. Currently in the province, six (6) municipalities have adopted their Land Use Schemes; these are Tsantsabane, Kgatelopele, Dawid Kruiper, Dikgatlong, Magareng and Phokwane. With the support from COGHSTA, the Department of Rural Development and Land Reform has committed to allocate funding for the review of the LUMS of the following local municipalities i.e. Richtersveld, Nama Khoi, Kamiesberg, Kai !Garib and !Kheis. Presently SEVEN (7) municipalities have SDFs that are SPLUMA compliant and NINETEEN (19) municipalities that are not SPLUMA complaint. However, EIGHT (8) out of the 19 municipalities are busy with the review of their SDF and are in final stages of council approval. MISA has committed to fund the review process of TWO (2) municipalities; these are Siyancuma and Siyathemba local municipalities.
HONORABLE SPEAKER
The recruitment, selection and appointment process of senior managers at municipal level has improved. However, some municipalities are of great concern especially those with one or none senior managers namely Renosterberg & Richtersveld.
There are ONE HUNDRED AND FORTY FIVE (145) senior management positions, HUNDRED AND THREE (103) 71% are filled and FORTY TWO (42) 29% are vacant.
Currently, there are only SEVENTEEN (17) women senior managers in local government out of a total of ONE HUNDRED AND FORTY FIVE (145) positions. The figure represent only 12% of women in senior management position. Municipalities are encourage to fill the vacancies with female candidates where applicable. The Department will be monitoring the appointment of senior managers closely to ensure compliance with the Gender Policy Framework for Local Government and the Employment Equity targets.
The ANC Chief Whip , Comrade Neo Maneng reminded us in the State of the Province Address responses of what Samora Machel once said that :
"The liberation of women is not an act of charity. It is not a result of a humanitarian or compassionate position. It is a fundamental necessity for the revolution, a guarantee of its continuity, and a condition for its success"
In the 2019/2020 financial year support is rendered to THREE (3) municipalities (!Kheis, Siyancuma and Ubuntu) to build the necessary administrative capacity by seconding Acting Municipal Managers.
The amendments of the Public Audit Act in relations to irregular expenditure will circumvent creative thinking around the happy finger fellows who would want to delve into the public funds for their interest . We welcome these amendments as they would bring end to corruption at a local government level. The Minister of COGTA , Dr Nkosazana Dlamini Zuma in her Budget Vote Speech is very emphatic on this point as she alludes
"We must employ competent and capable people in all spheres and at all levels. We must also reinforce our efforts to fight corruption through the promotion of our Anti-Corruption Strategy which we have enhanced by including training and the Municipal Integrity Management Framework."
HONORABLE MEMBERS
In terms of the Audit outcomes:
Out of the THIRTY ONE 31 municipalities, ZF Mgcawu District Municipality is the only one that received an unqualified with no findings audit opinion that maintain the clean audit outcome for the 2017/2018 financial year.
There is an improvement with the unqualified with findings audit opinion, thus TEN (10) municipalities received (Karoo Hoogland, Namakwa, Umsobomvu, Emthanjeni, Kareeberg, Siyancuma, Pixley Ka Seme, Dawid Kruiper, Frances Baard District and John Taolo Gaetsewe District Municipality).
SIX (6) municipalities regressed (Kamiesberg, Khai Ma, !Kheis, Sol Plaatje, Dikgatlong and Gamagara), however, THREE (3) improved (Karoo Hoogland, Siyathemba and Siyancuma).
Renosterberg and Phokwane Municipalities still have not submitted 2017/2018 Annual Financial Statements.
Given the state of our dysfunctional / distressed municipalities we will be looking into different approaches to address this governance impasse.
In the spirit of good governance we have equally obtained an unqualified audit opinion outcomes with findings for the 2018/2019 Financial Year and we are concerted in achieving a clean audit outcomes.
The province will convene a Local Government Summit in October 2019 to reflect on the performance of municipalities since the 2016 Local Government elections. The Summit will deliberate on the challenges confronting this sector; and we will chart a way forward in a decisive, coherent, co-ordinated and multi-dimensional manner on how to strengthen this important sphere of government.
HONORABLE SPEAKER
Section 211 of Chapter 12 of the Constitution of the Republic of South Africa recognises the institution of Traditional leadership, its status and roles. Traditional leadership has to function in a manner that embraces democracy and contributes to the entrenchment of democratic culture, thus enhancing its own status and legitimacy amongst the people. The task of strengthening and consolidating democracy requires the participation of all leaders, traditional, religious and elected.
There is a greater need to forge relations with the Department of Sports, Arts and Culture, rural communities and municipalities on tourism destination planning. This means ensuring that we develop sites of great tourism potential and are well-equipped to welcome visitors. In the 2019/2020 Financial Year we
will work closely with the Department of Sports , Arts and Culture , The Department of Economic Development and Tourism to find best model on developing the following sites in :
Heuningvlei Cave (Coe)
Gamohaan Cave (between Bankhara and Vergenoeg communities)
Kiankop (Gamorona)
Tlharesabatho (Truce tree)
ON AGRARIAN REVOLUTION HONOURABLE SPEAKER President Cyril Ramaphosa has encouraged Traditional leaders to participate on agrarian revolution to ensure that arable land is utilised to increase crop production and not to let land to lay fallow. Traditional leaders have partnered with Motsepe Foundation, GWK and AgriSA and a feasibility study is underway to determine if crop and animal production is viable within the John Taolo Gaetsewe rural communities. Community Works Programme are the implementing agents on Agrarian revolution.
HONORABLE SPEAKER
It is our intention to capacitate traditional leaders to be able to participate meaningfully at municipal level. Traditional leaders are ex-officio members at municipal councils, their contribution should be able to demonstrate their role in community development.
Traditional leaders are central in the drafting of IDP's and Local Economic Development processes so as to influence development in rural communities. They are the mouth-piece of communities on issues of development at municipalities. This is in line with the proper implementation of Section 81 of the Municipal Structures Act. The participation of traditional leaders as well as their roles and functions should be clearly defined and gazetted.
The Minister of Cooperative Governance and Traditional Affairs , Dr Nkosazana Dlamini-Zuma has indicate during her Budget Vote Speech that a guideline on participation of Traditional Leadership in Municipal Councils has been developed in order to streamline meaningful collaboration between the institution of traditional leadership and local Government .
In line with the building of a Modern Province the Department of Education and Vodacom learners will have access to Wi-Fi technology, a partnership has been forged with Traditional leadership to avail land for this project. This is to ensure that learners in rural areas are not left behind by the digital revolution.
Gender based violence, femicide, violence perpetrated against the LGBTQI+ community is something as the Department we take very serious , through partnership with the House of Traditional Leaders we intend to create awareness in traditional communities to sensitize everyone on their right in accordance with the Bill of rights. The awareness campaigns will ensure that everyone is enlightened on social issues affecting them.
The Traditional and Khoi-San Leadership Bill is awaiting only the signature of the President. This is a historic piece of legislation, which will, for the first time, give statutory recognition to the Khoi-San. The enactment is long overdue and is an essential step in restoring the dignity and recognizing the traditions and cultures of South Africa's indigenous groups.
The Provincial Bill is with the Office of the Premier Legal services, awaiting certification process; thereafter it will undergo public participation through the Provincial legislature. This bill will circumvent the commercialisation of initiation and other unbecoming and regressive tendencies of botched circumcision and abductions.
A budget of THREE HUNDRED THOUSAND RANDS is allocated to resource the Provincial Steering committee in the province to perform its roles and functions which amongst others include the vetting of surgeons and visiting of initiation sites. A rapid response team is established to deal with illegal initiation schools in the province.
In the pursuit to keep up with demands of the digital age we have enable traditional council to speed up payments, we converted to EFT payment system and have successful now done away with cheque payment system. Currently we are utilizing the electronic accounting system to improve the financial management of Traditional council accounts. The Department has also managed to procure vehicles for Senior Traditional leaders (Dikgosi) and the Chairperson and Deputy Chairperson of the Provincial House to assist them to perform their functions optimally. Funds were also secured though the Currently Community Works Programme programme to refurbish traditional council offices so far two traditional councils have benefitted from this programme and the intention is to roll-out this programme to other traditional councils.
A humble and genuine plea is extended to those who have Chieftaincy dispute to adhere to the Commission on Disputes and Claims on Traditional Leadership resolution duly established by the President – due process should be followed by taking decisions of the commission on review in the High Court .
HONORABLE SPEAKER
The overall budget allocation for 2019-20 financial amounts to a total of EIGHT HUNDRED AND FIFTY EIGHT MILLION EIGHT HUNDRED AND FIFTY ONE THOUSAND (R858 851 000), this allocation shows a minimal increase from the previous year of only 3,24% increase, from EIGHT HUNDRED AND THIRTY ONE MILLION EIGHT HUNDRED AND NINETY NINE THOUSAND RANDS R831 899 000 of last financial year, given the current economic trends with the country.
This allocation includes an amount of FOUR HUNDRED AND EIGHTY THREE MILLION AND NINETY EIGHT THOUSAND RANDS (R483 098 000) for conditional grants. The department is mainly funded from conditional grants, which made up 56 per cent of the total budget, whilst its equitable share represents 44 per cent of the budget. The budget has been allocated to the four different programmes as follows:-
Programme 1: Administration has an allocation of ONE HUNDRED AND FIFTY NINE MILLION SIX HUNDRED AND SEVENTY FIVE THOUSAND RANDS (R 159 675 000), which constitutes 18 per cent of the overall departmental budget.
Programme 2: Human Settlements received FIVE HUNDRED AND THIRTY THREE MILLION ONE HUNDRED AND EIGHTEEN THOUSAND RANDS (R533 118 000). Three grants, namely the human settlement development grant, the title deeds restoration grant and the expanded public works program grant form part of this programme, with an allocation OF FOUR HUNDRED AND EIGHTY THREE MILLION AND NINETY EIGHT THOUSAND RANDS (R483 098 000) in total for all three grants.
Programme 3: Cooperative Governance RECEIVED ONE HUNDRED AND FORTY FIVE MILLION AND FORTY THOUSAND RANDS (R145 040 000), in an effort to ensure that we support all 31 municipalities to fulfill their mandates of providing serves to the people of Northern Cape.
Programme 4 :Traditional Affairs has an allocation of TWENTY ONE MILLION EIGHTEEN THOUSAND RANDS (R 21 018 000), to enhance the interest of our traditional leaders within the province.
Furthermore, it should be noted that the Department of COGHSTA is amongst the first , if not the first to successfully implement the insourcing of cleaning and gardening services. We are in the process of investigating modalities of insourcing other crucial departmental services to ensure that our people derive maximum benefit from permanent jobs, by improving their own living standards.
The department has developed and authorised a framework on how the development of the CIDB grade 1 to 5 will unfold and will be signing an MOU with National Urban Reconstruction and Housing Agency (NURCHA) by end of August 2019, to be the implementing agent for this project. This will assist to fast track the development of our SMME's, within the province.
The Department will embark on a process to earmark specific projects to develop women, youth and people with disabilities. Projects will be identified for subcontracting these designated groups (women, youth and people with disabilities) for development, wherever it's feasible. Projects of top structures from 100 houses and above will be subjected to compulsory sub-contracting. The SCM Policy of COGHSTA Northern Cape, has integrated this clause and reduced the value of sub-contracting on construction related projects from THIRTY MILLION RAND (R30 000 000) to any projects related to building of 100 houses and more to be subjected to sub-contracting.
The Public Audit Act was signed into law in November 2018, and came into effect as from 1st April 2019 for all government institutions. This regulation gives the Auditor General the authority to refer any irregularities to the relevant public
bodies for investigation, take remedial action for department that fail to implement audit recommendations and to issue debt certificates where recommendations was not implemented, if financial losses were incurred.
HONORABLE MEMBERS , In closing Thomas Sankara reminds us that "Everything that man can imagine , he is capable of creating " . We are resolutely imagining the future with renewed sense of urgency. Ours is to serve the people and we intend to do exactly that , we will not fail in this regard.
I would like to extend word of gratitude to the Head of the Department and his dedicated team , Mr Bafedile Lenkoe and the Ministerial Staff under the leadership of Mr Mayenzeke Mbekushe.
I thank you for your time .
Zapatillas de baloncesto Nik