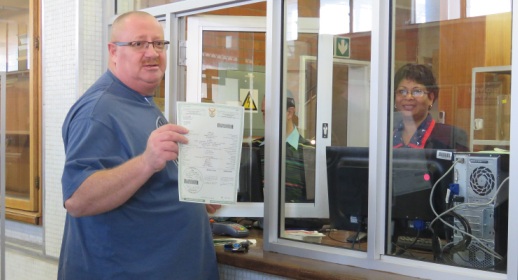 It is all systems go in the Northern Cape for the renewal of Motor Vehicle Licences at 10 South African Post Offices across the Province.
The renewal of Motor Vehicle Licences (MVL) officially kick started today, 1 June 2017, across the 5 Districts of the Province where multitudes of clients were able to effortlessly access the service.
Clients commended the service for its convenience, efficiency and shorter queues.
A pleased client in Upington, Mr Pieter De Wet said the service was pleasant, quick and saved him time. "It was quick, easy and with no long queues.  I did not have to wait long.  I am really happy with the service."
Rodney Oliphant also commended the quick service, saying "It was quick. First of all the queue was short unlike queuing with people requiring various services.  Here you are in a queue for people who are doing licence renewals and nothing more, which makes the queue move quite fast.  I am done and I get to continue with my day - I couldn't be happier."
Department of Transport, safety and Liaison's Head of Department, Mr Moeketsi Dichaba said "We are quite happy that we can continue to make strides in improving access to service delivery for our people and making it quick and efficient."
Dichaba said that the response received from communities has been rewarding for all the effort put into the project by officials in ensuring that the next step in the vision of improved and efficient service delivery has been realized.
"Our people can now access the service for longer operating hours and on Saturdays while spending shorter time in queues as there are dedicated service points for renewals of Motor Vehicle Licences at the Post Office," adding that Post Offices are also well positioned in communities."
According to Dichaba, only the function of the Motor Vehicle Licence has been relocated from the municipality to the Post Offices, and nothing has changed about the requirements or process.
"Motorists will continue to produce their ID books/cards, printed renewal notice and pay the required fee.  Clients who do not have a renewal notice, can complete the relevant application forms obtainable at the Post Office and renew the licence disc," explained Dichaba.
Nkosinathi Tolom, Head of the Commercial Business Unit at the SA Post Office said the Motor Vehicle Licence renewal service is already running in five other provinces as part of the services they render and has proved very popular.  "Last year more than 3,5 million vehicle owners countrywide renewed their vehicle licenses at a Post Office."
The facility for renewing vehicle licences is available at the following post offices in the Northern Cape:

Barkley West
Brandvlei
Calvinia
Kakamas
Kathu
Keimoes
Kenhardt
Loriesfontein
Olifantshoek
Upington


For any inquiries please contact:
Ms. Keitumetse Moticoe
Communications
Department of Transport, Safety and Liaison
082 064 7003,( This email address is being protected from spambots. You need JavaScript enabled to view it.)  053 839 1700/836
Facebook page:  Department of Transport, Safety and Liaison
Issued by the Northern Cape Department of Transport, Safety and Liaison
sneakers