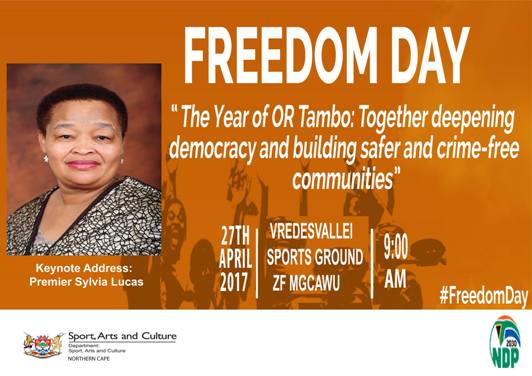 The Northern Cape Provincial Government will mark the 2017 Freedom Day commemoration at the Vredesvallei Sports Ground in Riemvasmaak in the ZF Mgcawu District. The day will be celebrated under a theme: "The year of OR Tambo: together deepening democracy and building safer and crime free communities. Premier Sylvia Lucas will deliver a keynote address. She will be accompanied by the MEC for Sport, Arts and Culture Ms. Bongiwe Mbinqo-Gigaba together with other Members of Executive Council.
This year's celebration coincides with the centenary of struggle stalwart Oliver Reginald Tambo who epitomised our struggle for liberation. It presents an opportunity to reflect on the many sacrifices that were made for the freedom we enjoy today and on how South Africa`s democracy was achieved.
Tambo was steadfast in his revolve for a liberated South Africa. While in exile he rallied the global community against the incorrigible apartheid state and spearheaded international sanctions to bring about change.
In his labour for the country's political freedom, he advocated that without the accompanying economic emancipation of millions of South Africans, our hard fought liberty would have little meaning.
During Freedom Month, South Africans are encouraged to reflect on the progress made over the last 23 years. It is also a time to recommit ourselves to the Constitution which is the foundation of our democracy and the very essence of what freedom means.
The Preamble of the Constitution refers to a democratic and open society in which government is based on the will of the people and every citizen is equally protected by law. The Bill of Rights reaffirms that everyone has inherent dignity and the right to have their dignity respected and protected.
The Northern Cape Provincial Government invites community members to celebrate the day with us. Government services such as registration for ID books, Social Grants, Health and many others will be rendered on site. Entertainment will be provided by local artists.
The media is hereby cordially invited to the Freedom Day Celebrations which will be held on the 27 April 2017 at the Vredesvallei Sports Complex,  Vredesvallei Riemvasmaak @ 10h00.


Issued by Communications Unit
Department of Sport, Arts and Culture
Tel: 053 807 4700
Fax: 053 807 4600
Gifts for Runners