| | | | |
| --- | --- | --- | --- |
| Sanitary towels campaign - Restoring Dignity | | | |
14 December 2010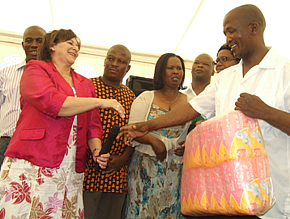 The sanitary towels campaign is aimed at ensuring that particularly the girl child is able to make a meaningful contribution towards their own growth and that of their communities.

The Northern Cape Provincial Government in conjunction with its partners has observed that in particularly our rural communities the accessibility of sanitary towels is extremely challenging. In areas where it is accessible it has been found that the sanitary towels are extremely expensive.

Faced with these challenges young girls engaged in alternative mechanisms of ensuring that they make their menstrual cycle bearable. It has been realized that even these alternative means has a negative impact on the health of the girl child. It further has negative consequences and other elements of the contribution that the girl child and women, in our rural areas, in general can make towards society.

The central challenge on especially the girl child relates to the attendance of school without any impediment. They decide to sacrifice their education during the menstrual cycle, rather then to have to content with the issue of being insulted.

MEC Cjiekella, responsible for Education, highlighted that perhaps it is time for the Department of Education to put in place draft guidelines on the distribution of sanitary towels in schools and the need to develop a database of the schools from needy and marginalized areas.

Emphasis has been placed on the fact that the sanitary towels campaign is about restoring human dignity and pride. It is about ensuring that those who are directly affected by this challenge are enabled to live a normal life and are not negatively impacted upon by the absence of the basic necessities.

Premier Jenkins highlighted that the launch of the campaign is aimed at complementing the efforts to protect and promote the interests of the girl child. She said the purpose would be to reduce the absenteeism from school through the provision of sanitary towels to needy girls. She called upon the partners in the private sector to become involved in the quest to make a difference in the lives of young girls and women who are deprived and cannot afford sanitary towels.

The Premier further extended the call of partnership in the campaign to all people, in the province, who are employed. She appealed to them to purchase an extra packet of sanitary towels when doing shopping. The campaign, which is one of the highlights of the16 Days of Activism of No Violence against Women and Children, saw the Northern Cape Provincial Government and SABC handing out free sanitary towels to young women in Heuningvlei, John Taolo Gaetsewe District.

Dignitaries further signed a pledge to contribute significantly towards the successful implementation of the campaign. The signing of this pledge of commitment included the traditional house of Heuningvlei.

The campaign is also supported by Absa.