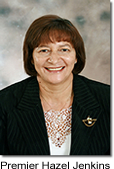 Born: 06 June 1960
She is born and raised in Ceres.
She attended the Esselen Park High School in Worcester, at which she matriculated in 1978. She obtained a Teachers Diploma from the Belville Training College in 1981, taught at Rocklands High School in Mitchells Plain. She moved to De Aar in 1984 where she got married, and the marriage is blessed with 3 children.
She became politically involved at high school, and was a member of the Western Cape Student Organization. She also served as a Youth Councillor in the Anglican Church.
She served in the following capacities:
Premier of the Northern Cape - 2009
She was elected as an ANC-NEC Member, during the 52nd National Conference, held in Polokwane, in December 2007
She also served the ANC on various leadership-structures, and is currently a member of the NEC
Speaker Karoo District Municipality from 2000 2003
Executive Mayor Pixley ka Seme District Municipality since 2003
SALGA Deputy Chairperson since 2001
Mayor in De Aar from 1999 2000
Part-time Councillor 1995 in De Aar
Zapatillas de baloncesto Nik