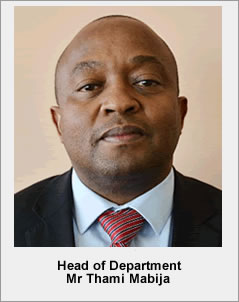 PA: Ms. Ursula Ngomane
Tel: 053 839 4002
Email: This email address is being protected from spambots. You need JavaScript enabled to view it.
Mr Thami Mabija has been appointed as head of the Department for Economic Development and Tourism with effect from 1 April 2021.
Mr Mabija was born and raised in Galeshewe Township in Kimberley, Northern Cape province. After completing his matric he enrolled at University of Cape Town to study towards a Bachelor Degree in Commerce majoring in accounting and economics.
His additional qualifications include a Master's Degree from University of South Africa and he is currently finalizing another Master's in Public Administration.
Early in his career he joined Northern Cape Premiers office as an accounting clerk and worked himself up through the ranks. Later, he was appointed Chief Financial Officer of the Department of Roads, Transport and Public Works. Mr Mabija also held several senior executive roles at Free State Provincial Treasury. In May 2017- October 2019 he was appointed as acting Head of Department for Northern Cape provincial Treasury and October 2019-May 2020 he was appointed as Acting Municipal Manager at Sol Plaatje Municipality for six months to stabilize the municipality.
He brings with him a wealth of knowledge and experience, in the Northern Cape Provincial Government Administration, having worked his way up through the ranks to gain valuable skills and expertise.
Mr Mabija spearheaded several initiatives and his financial knowledge, strong analytical and leadership skills are several leadership positions that saw him win the award for the Best Presented Annual Report for two consecutive years, namely 2009/10 and 2010/11 financial years by SAIGA. As Chief Financial Officer for the Free State Provincial Treasury he achieved a Clean Audit Status for 5 conservative years, and continued with clean audits whilst acting as HOD in treasury.
He served in several leadership position, he was the Black Management Forum Provincial Chairperson for the Northern Cape for two terms.
Mr Mabija is a highly accomplished accounting and financial management executive with 16 years' experience within government.