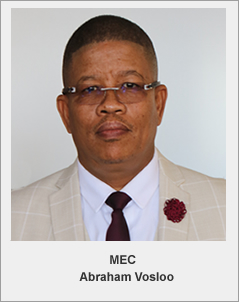 MEC ABRAHAM VOSLOO

Tel: 053 830 8401
Fax: 053 838 2600
​MEC for Department of Economic Development & Tourism
MEC for Department of Economic Development & Tourism Mr. Abraham Vosloo was born in Askham at Rus in Vrede Farm in the Northern Cape Province on 21 October 1966.  He completed his High Schooling in 1985 at Senior Secondary School Calton Van Heerden in Upington.
Mr. Vosloo holds the following post-matric qualifications;
A Teachers Diploma obtained at Perseverance College of Education Kimberley (1986 - 1988).
High Diploma in Education at Perseverance College of Education Kimberley (1989).
Mr. Vosloo was a Fulltime Educator at JJ Adams Primary School, Askham from 1990 to 1991 and at Rosendal Primary School, Upington from 1992 till 2000. He was a Fulltime shop steward at SADTU from 2000 till 2005. He worked as a Director Corporate Services at //Khara Hais Municipality from 2005 till 2012. He start at the Kai !Garib Municipality in 2012 till 2014 as the Municipal Manager.
Mr. Vosloo served as the Fulltime Regional Secreatry of the African National Congress (ANC) in the ZFM District from 2013 till 2014. He becomes the Speaker of ZFM District Municipality in 2014 till 2015 and the Executive Mayor in 2015 till 2019.
Mr. Vosloo involvement in the community stretch from 1986 till 2001 as follows:
Worked as a Youth Volunteer at the Evangelical Lutheran Church a Member of the Local Circuit Councils and a Member of Church Diocesian Committee.
Served as an observer with NEON ( National Electrol Observers Network in the Historic April 1994 elections.
Worked with SAAYC (South African Association of Youth Clubs) facilitating workshops that dealt with Youth development.
Participated in SAB ( South African Breweries) empowering the Youth.
Worked with SACC (South African Council of Churches) on voters education for the 1994 elections.
Worked with the Child Protection Committee in Upington.
Served as the Executive Board Member of the Inkqubela Resource Centre in Upington.
SADTU branch Secretary
SADTU Siyanda Regional Secretary
ANC Morning Glory Branch Secretary
ANC Siyanda REC Member
COSATU Upington Local Secretary
Elected as Ward Committee Member (Ward 3) in Khara Hais Municipality
Mr. Vosloo is Political involvement is as follow:
He was a branch Leader at the ANC Morning Glory Branch and Ivan Afrikaner Branch (BEC Additional, Branch Secretary and Branch Chairperson: 1996 - 2011).
His a member and volunteer of the ANC Rosedale Branch, Morning Glory (1994 - current)
REC Leadership in ANC ZFM region (REC Additional Member, Regional Treasurer, Regional Secretary and Regional Chairperson: 1999 - current).
He serves currently on the Provincial Executive Committee (PEC) of the ANC.
On 29 May 2019 he was appointed the MEC for the Department of Roads and Public Works and was later in 2020 redeployed to the Department of Finance, Economic Development and Tourism which he is currently leading.