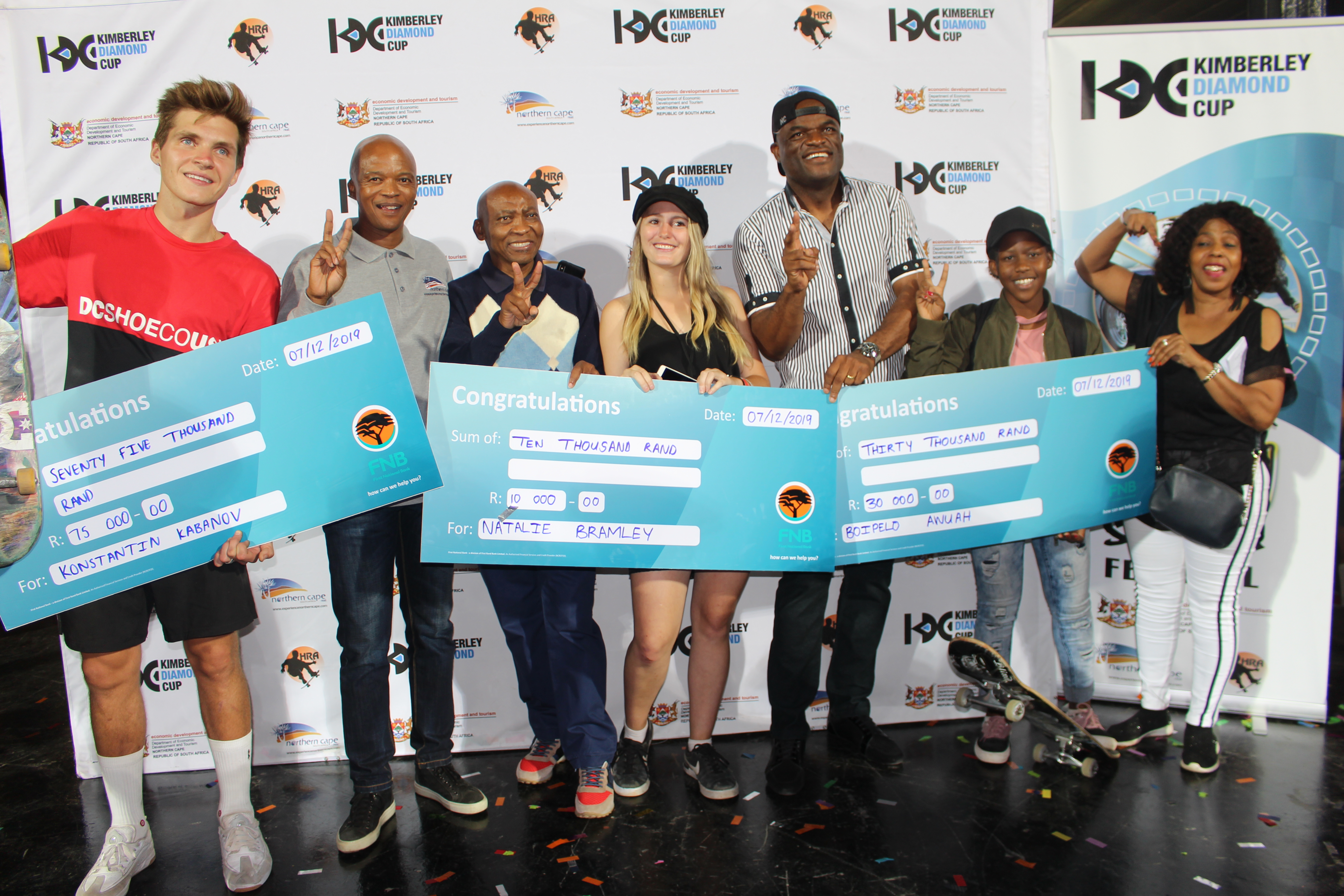 The Department of Economic Development and Tourism hosted a successful Kimberley Diamond Cup Action Sports Festival which left residents captivated.
Kimberley hosted the best pro street skaters from around the world who battled it out from 5 to 7 December 2019, for their share of the biggest prize purse in the continent. The pro street skaters had a chance to claim a spot in the 2020 Olympics. The event brought together the best athletes from BMX Freestyle Park and Flatland, Skateboard, Mountain Bike, Freestyle Roller, Parkour and many others.
The Kimberley Diamond Cup serves as a vehicle which the Northern Cape positions itself as a major international and national skateboarding competition and destination of choice. Whilst also creating a platform to promote and position the Province as tourism and events destination which is intended to spur on local economic development, employment creation and social development.
Long-Time Product Of The Northern Cape's Skateboarding Development, Boipelo Awuah Clinches Women's 1st Prize, whilst Brazilian Skater Bagged 1st Prize At Kimberley Diamond Cup.
The top men's final honours at South Africa's global skating showpiece, Kimberley Diamond Cup Action Sport Festival, belong to Brazilian national Ivan Monteiro. In clinching the first prize and in having out-maneuvered fellow competitors. The Kimberley event has given Monteiro an indication of what to expect at next year's Olympics as skateboarding makes its debut at this supreme sporting assemblage.
1st Ivan Monteiro – R250 000
2nd Micky Papa from Vancouver, Canada – R120 000 3rd
Konstantin Kabanov from Russia – R75 000 Women's Final Winners
The Department to Economic Development and Tourism and its entity Northern Cape Tourism Authority (NCTA) also extend their congratulations to the two (2) Kimberley ladies for winning big at the Kimberley Skate Park. The city's teenager and long-time skateboarding development product of Boipelo Awuah came first and claimed prize money worth R30 000, while Natalie Bramley came third and won herself R10 000.
1st Boipelo Awuah – R30 000
2nd Kelly Murray – R15 000
3rd Natalie Bramley – R10 000