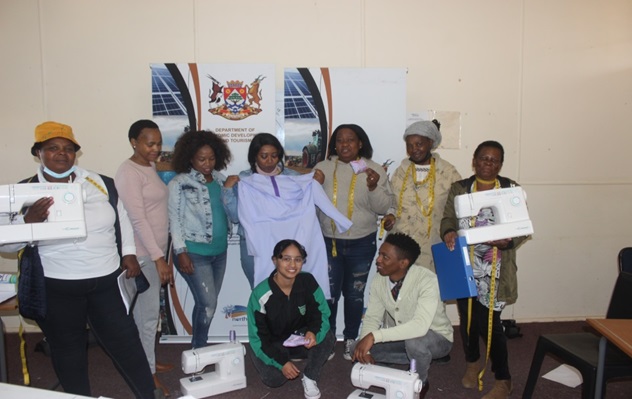 With the provincial unemployment rate sitting at 24.9% and Covid-19 destructions, most families in more dire situations than they are in now. As a measure of creating an economic enabling environment, the Department of Economic Development and Tourism Empowerment unit conducted a clothing manufacturing training in Frances Baard on and the Pixley Ka Seme districton.
These training sessions seeks to advance Township Revitalization to develop and promote the culture of entrepreneurship in our communities with a special focus on township economy. Through this programme DEDaT promotes economic development of rural communities and creates some jobs for the rural unemployed, mostly women, youth, and people with disabilities. The aim of the sub-programme is to create an enabling environment in which the enterprises are developed and flourish through the financial and non-financial support provided. The main objective of this training is to assist women owned enterprises in this industry in upgrading their equipment process, products and people, to grow employment and re positioning our women to compete effectively against bigger manufacturers. The team will focus on the content of the training, prioritize marketable products also outline procurement opportunities that can be accessed, to ensure the training has an impact that can change the lives of beneficiaries. The training targets groups of women, youth and people living with disabilities.
On the 09th -13th May there were 10 candidates from the seamstress sector from Frances Baard trained. The facilitator advised the trainees that a minimum of 120 credits is required to obtain a full SAQA recognized clothing and manufacturing qualification. This training provided the trainees with a minimum of 20 credits and advised that to choose their training opportunities carefully so that through these training opportunities that will be able to obtain that qualification.
The programme aims to help families or households to develop livelihoods or ways of earning an income, in ways that will be lasting and effective. The goal is to get people doing things, or producing, so they can feed their families and trade.
---
Contact Details
Ms. Puseletso Phoofolo
Department of Economic Development and Tourism
Assistant Manager: Communications
Tel: 053 839 4074