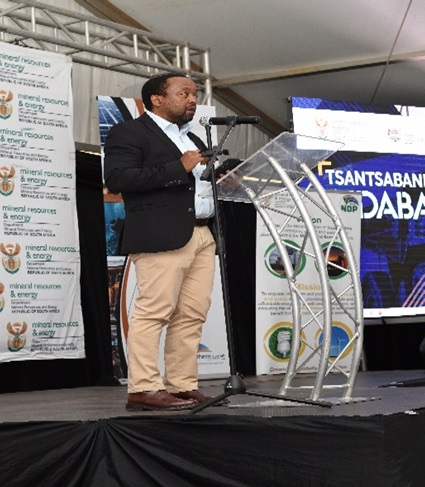 The Department of Mineral Resources and Energy, in partnership with Department of Economic Development and the Tsantsabane Local Municipality hosted an indaba and procurement workshop from the 13th to the 14th of June 2022 in Postmasburg, Tsantsababe Local Municipality, Northern Cape.
The Indaba focused on the challenges relating to infrastructure, state of roads, procurement initiatives and mining opportunities within the province.
Due to the socio-economic development challenges that has been confronted by most of our mining communities despite the increased economic pressure that the COVID 19 has exacerbated in the sector.
The Indaba brought together various stakeholders in the mining industry, including government, captains of the mining industry, and various communities to deliberate on the challenges and opportunities in the mining industry.
According to the HOD of Department of Economic Development and Tourism Mr T. Mabija "Some of the complaints that are raised by communities are that the mines are not fulfilling some of the commitments on the Social Labour plans (SLPs) as a result it brings friction between the communities and the mines so as a department, we have partnered with DMR and the Tsantsabane Local Municipality to assist in continuous monitoring and implementation of (SLPs) and report back to communities".
"Since Postmasburg, in the Tsantsabane Local Municilipaty has been identified as a town to be converted into a Smart City one of discussion was to look at infrastructure problem in the area and how do we as the three sphere of government and the mines in that area going to solve that, as we all know in order to convert a town into a smart city you need to have your basic infrastructure running smoothly and the municipality to have a capacity to handling municipality functions sure that t are basic service delivery" alluded Mr Mabija
Mining representative from the different mining houses in the Tsantsabane area presented procurement opportunities that they have for SMME's. The Head of Department requested the mines to partner with government when it comes to enterprise development and appealed to SMME's must prepare themselves for future opportunities if they do not have the necessary skill or expertise to start partnering with skilled SMME's in order for them to access these opportunities. "As government the objective of these discussion is for sustainability of our communities during and post mining so that there can be tangible legacy projects," said Mr Mabija.
---
Contact Details
Ms. Puseletso Phoofolo
Department of Economic Development and Tourism
Assistant Manager: Communications
Tel: 053 839 4074