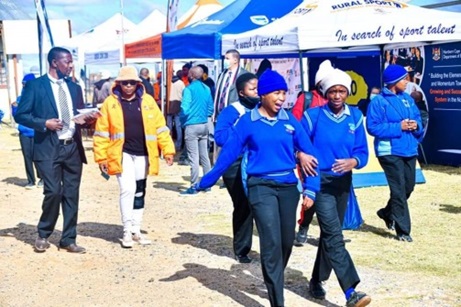 This year mark the 46th anniversary of the student uprising in Soweto, On June 16 each year, Youth Day is celebrated nationally in South Africa. The day commemorated the Soweto Uprising where thousands of students were ambushed and attacked by police officers from the apartheid regime when young people protested against imposition of Afrikaans by the apartheid regime as a medium of instruction.
The uprising ended tragically with hundreds of young people being brutally killed. Following the advent of democracy in 1994, the new democratic government declared 16 June as National Youth Day and June as the Youth Month. The declaration honours of the contribution of the youth in the struggle for the liberation of South Africa.
The Northern Cape Provincial government commemorated Youth Day in Camden, in the John Taolo Gaitsewe District. The event was attended by among others; Acting premier, Mr. Maruping Lekwene, Members of the executive council, the house of traditional leadership and other key Stakeholders.
This year commemoration was celebrated under the theme "Promoting sustainable livelihood and resilience of young people for a better tomorrow". Following the Theme the Northern Cape Provincial Government organised a services fair at Ba-Ga Phetlhu Tribal Office at Camden in the John Taolo Gaetsewe District. An array of government SOE's and the private sector services where invite to showcase Opportunities to the youth ahead of the provincial Youth Day Commemoration.
Government Departments including Department of economic development and Tourism, SASSA, Education, Health, Justice, Water and sanitation, SEDA, Home Affairs, Labour, Sports, Arts and Culture, Roads and Public works were rendering services and showcasing bursaries and economic opportunities to the youth. They were alongside private and tertiary institutions such as Standard Bank, TVET Colleges and Sol Plaatje University.
---
Contact Details
Ms. Puseletso Phoofolo
Department of Economic Development and Tourism
Assistant Manager: Communications
Tel: 053 839 4074