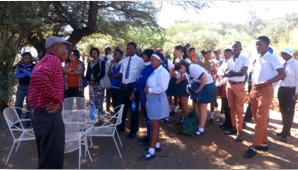 INTERNATIONAL TOURIST GUIDE DAY CELEBRATION "PEACE AND DEVELOPMENT THROUGH DIALOGUE"
The Department of Economic Development and Tourism (DEDaT) celebrated International Tourist Guide Day, on 28 March 2017 at Horsershoe Motel, in the form of a workshop. The day was celebrated with learners from different schools who do Tourism as a subject as well as tourist guides and tourism officials from DEDaT, with the theme "Peace and development through dialogue".
According to Ms Wilson, Executive Manager of Tourism at DEDaT, "the celebrations sought to create awareness about tourist guiding. It also provided a platform for the recognition of tourist guides who have excelled in their profession. The tourism industry continues to play an important role in the South African economy and its impact on the gross domestic product (GDP)".
The day is celebrated annually and was first introduced by the World Federation of Tourist Guide Association in 1990, where 15 countries participated. Twenty three (23) years later, this day is celebrated by tourist guides in more than 75 countries.
Talks were given to learners to explain the importance of the tourism sector in the economy, existing tourism opportunities and the tourist attractions in the province.
According to Mr Mokhele from DEDaT, "learners have only the Tourism theory that they are taught at schools, as a Department we wanted to create a platform where learners get exposed to how we as government promote tourism in the province, the career opportunities available in tourism and we wanted them to engage with tourist guides who excel in the business in Northern Cape".
After the workshop the learners were taken on a tour to Maggersfontein Battlefield and the Wildebeest Kuil Rock Art Centre The Wildebeest Kuil Rock Art centre, is a rock engraved site with visitors centre on the land owned by the !Xun and Khwe San situated about 16km from Kimberley.