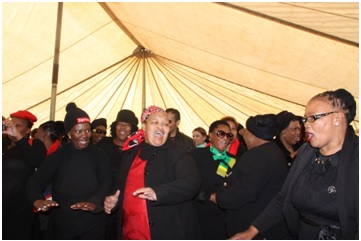 The premier of the Northern Cape Mrs Sylvia Lucas invited all Departments, the police and the community, to join hands and fight the violence against woman and children, the event happened on the 1st of June 2017 at the circle near Pick and Pay in Galeshewe.
Acting Provincial Commisioner Maj-Gen Koliswa Otola said the rate of rape and sexual abuse is a serious concern where the community and the police have to work together to fight this violence, she mentioned some of the successful cases that they had, an example which was made of Cornelius Julies who got life sentences for rape.
The Premier Mrs Sylvia Lucas urged those who are victims of these acts to break the silence, report those perpetrators to the police, she said the gender based violence is not the issue for the police, is not an issue for the social workers, it's not a government issue and it's not only a woman issue, it affects all of us, the police cannot be everywhere at all times but somewhere at a given time a member of the community is at a place where violence or any crime is committed, her plead therefore is that the community work with the police and report those crimes so that those perpetrators can be dealt with, she further urged officials to carry on wearing black on Thursday in supporting the fight against woman and children abuse.