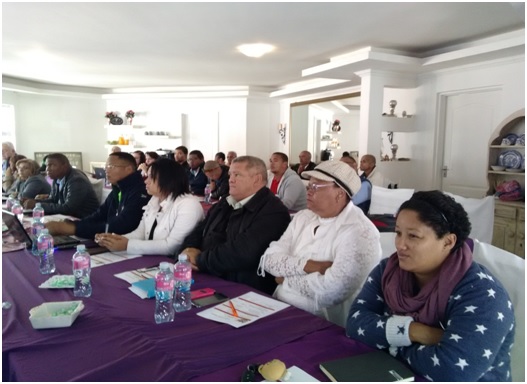 South Africa and the Northern Cape are faced with a challenge of high unemployment and low economic growth. At a national level government identified a number of interventions to address these challenges while at the same time tackling poverty and inequality. The country adopted the National Development Plan (NDP) which aims to radically transform the lives of the people of the country.
NDP was introduced to accelerate economic growth and aims to eliminate poverty and reduce inequality by 2030. This is to be achieved through the implementation of plans and programmes such as the NDP, New Growth Plan (NGP) and the Industrial Policy Action Plan (IPAP).
The Department of Economic Development and Tourism held a District Economic Symposium (DES) on the 22nd November 2017, Springbok (Namakwa District). The purpose and focus of the DES was to create a platform for a dialogue with relevant stakeholders regarding implementation of key economic policies at district level. It was also platform to provide information on the services offered by government and share with stakeholder's economic development plans and interventions that are linked to the Nine Point Plan.
Different government departments and agencies presented economic development opportunities that exist within the district, and furthermore identified interventions needed to radically transform socio-economic landscape of that district.
Other institutions that were present were SEFA, NEF, NYDA and SEDA to highlight the non-financial and financial support that exists for entrepreneurs.
The program director Mr Setlhabi presented the economic policy imperative plans which focused more on the IPAP 2017. However, he said that the NDP was the overarching policy that is linked to all other policies. He further alluded that, it is important for the municipality to implement these policies and align them with the IPAP, which is critical for the improvement of the country and most importantly for the SMMES.
SMMEs were encouraged to take note of all the opportunities and convert them into meaningful and workable projects so as to diversify the economy to accelerate growth and create employment opportunities.