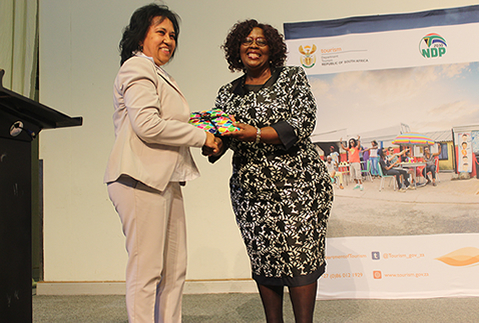 "As I stand here today I am confident to say that this skills training programme has indeed reached its goal of creating graduates that will be change agents to the economy of the province and South Africa"
The Department of Economic Development of Tourism together with the Northern Cape Tourism Authority and Sol Plaatjie Municipality held the hospitality youth programme graduations on the 26th March 2018 at Mittah Seperepere Convention Centre, the graduation ceremony was later followed by an Imbizo at the Recreational Hall in Galeshewe.
The Imbizo was platform for the Deputy Minister, and the executives from the Northern Cape Province, to engage with the community on the initiatives and opportunities that exist in the Tourism sector for the youth, women and SMME's. The Imbizo was also a platform for SMME's to address challenges experienced in the tourism sector of the province.
During the Graduation Ceremony the programme director, Ms Bulelwa Seti, Chief Director for Tourism Sector Support, took the liberty of welcoming all learners, The Deputy Minister and stakeholders in attendance. "Today we witness a historic occasion when 115 young people from the province receive National Accredited Certificates in Food and Beverage as well as Accommodation service, as I stand here today i am confident to say that this programme and skills training has indeed reached its goal creating graduates that will be change agents to the economy of the province and South Africa" Ms Bulelwa Seti said.
Deputy Minister of Tourism Ms Elizabeth Thabethe, urged graduates to not only see their certificates in tourism as a gateway of employment but to also view tourism as sector of which they can grow in and make a living. Sixty percent of our graduates have been absorbed but we really encourage the rest to see this as a window to become their own bosses.
"I am inspired by the speech by Honourable President Cyril Ramaphosa at the State of the Nations Address (SONA) in Cape Town. President Ramaphosa highlighted the importance of tourism growth in South African economy" Thabethe said.
Quoting from his SONA speech "tourism is another area which provides our country with incredible opportunities. Tourism currently sustains 700 000 direct jobs and is performing better than most sectors. There is no reason why it can't double in size. We have the most beautiful country in the world and the most hospitable people.
This year, we will enhance support for destination marketing in key tourism markets and take further measures to reduce regulatory barriers and develop emerging tourism businesses. We call on all South Africans to open their homes and their hearts to the world" Thabethe said. We look forward to up skilling more youth that are passionate about this sector, the Deputy Minister concluded.