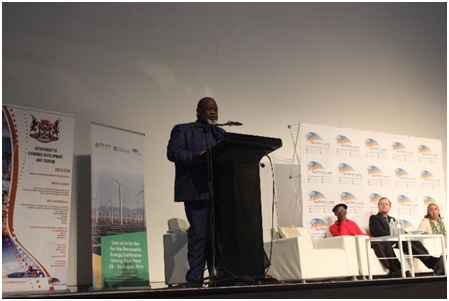 The department of Economic Development and Tourism held the economic colloquium at the Mittah Seperepere convention center which took place from the 30th to the 31st of July 2018 in Kimberly. 

The conference was conducted by the MEC of Finance, Economic Development and Tourism, MacCollin Jack. 
The aim of the conference was to seek economic growth through investment and innovation, responding to a clarion called by the President Cyril Ramaphosa. Over two hundred dignitaries participated with the intention of taking a radical transformative action. Academics, government institutions and potential investors were involved in a round table to deliberate and come with conclusive actions on how to stimulate the economic growth of the province. 
 
Setting the tone for the Economic Colloquium, MEC Mac Jack stated that the round table should discuss ideas that ensures that the young people are job creators and not job seekers. He also commented on the inclusiveness of the various cities in the Northern Cape, and that provincial gatherings should be held across the province and not in some cities.
 
Panel discussions were presented on Tourism, Agricultural, Renewable Energy and Mining and mineral beneficiation opportunities.  A platform was given to sector stakeholders to discuss and come up with interventions to address the province's economic dynamics and deliberate ideas to attract investments to the province and have capital injection.
  
During the panel discussions, the speakers enlightened the audience about the requirements of elevating the economy of the Northern Cape. One of the guest speakers, Doctor L Abrahams spoke about the fourth industrial revolution and what it entails. She also emphasized on building a knowledge based economy, saying that "education institutions, particularly our universities, have a huge role to play in taking the economy of the Northern Cape Province to greater heights."
Mr. S Mabilo the acting HOD gave out the closing remarks werein he said the economic colloquium was a good platform from which to take discussion and engagement forward on different platform of stakeholders in order to advance the common interest of stakeholders in the different sectors and the communities of the northern cape.
The link will be developed for all the economic colloquium attendees on the website of economic development and tourism to find the details and analysis.
   Programmes
    Presentations
    Brochure
---
Contact Details
Ms. K. Nkosi
Policy, Research & Innovation: Acting Senior Manager
Tel Number: 053 830 4813
Email Address:
This email address is being protected from spambots. You need JavaScript enabled to view it.