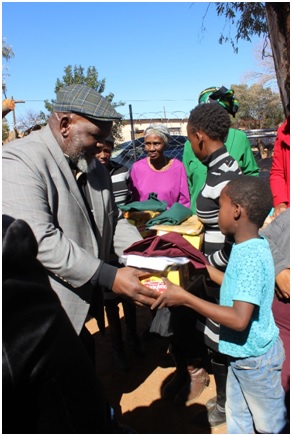 The Department of Economic Development and Tourism held a Thuma Mina campaign in Warrentom on the weekend of the 3rd and the 5th. The officials of the department started off at three schools, Mogomotsi Secondary School, Warrenton High School, and to hand out sanitary towels to girls who come from poverty stricken communities, as an initiative to keep the girls in school.

The Officials then proceeded to the house of Angeline Kaitshane (87) in a village called Ikhutseng to install buglers, doors, and a fence for security of the granny and her family, after she was attacked while sleeping. The department engaged with the family members during the course of the visit.
On Sunday the department visited the United Reform Church where the MEC delivered a message of hope to the congregation. The MEC then proceeded to the house to hand over school uniform to the grandchildren of Kaitshane, Katlego and Koketso who are currently in Grade 10.

Thereafter a community meeting was held at the Magareng municipality where the MEC met the SMME's to discuss challenges as well as to continue to sustain their businesses. The MEC and the Stakeholders concluded that the LED Conference will be held to implement what was discussed during the meeting.