Heritage Day recognises and celebrates the cultural wealth of our nation. South Africans celebrate the day by remembering the cultural heritage of the many cultures that make up the population of South Africa. Various events are staged throughout the country to commemorate thisday. It is a day in which all are encouraged to celebrate their cultural traditions in the wider context of the great diversity of cultures, beliefs and traditions that make up the nation of South Africa.
On the 24th of September 2019, the Heritage Day celebrations were hosted in the Northern Cape Province in the Upington at the Mxolisi Dicky
Jacobs Stadium. "Today we connect with all South Africans from all walks of life to mark this special day as a tribute to our diversity and culture. This day must specifically be utilised to educate our younger generation to nurture their culture, heritage and tradition." - Northern Cape Premier Dr. Zamani Saul.
The President of South Africa, Cyril Ramaphosa officially opened the Sandile Present Community Library ahead of his speech at the Mxolisi
Jacobs Stadium. " More than half a million copies of classical texts in indigenous languages have been distributed to various public libraries, school libraries, resource centres and university libraries as part of the Reprint of South African Classics programme." - South Africa's President Cyril Ramaphosa.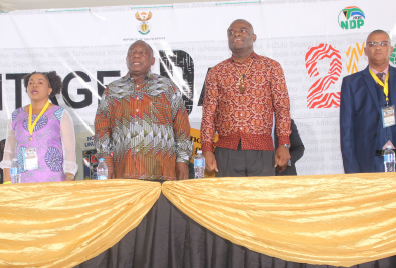 ---
Contact Details
Communications
Tel Number: 053 839 4089
Email Address:
This email address is being protected from spambots. You need JavaScript enabled to view it.