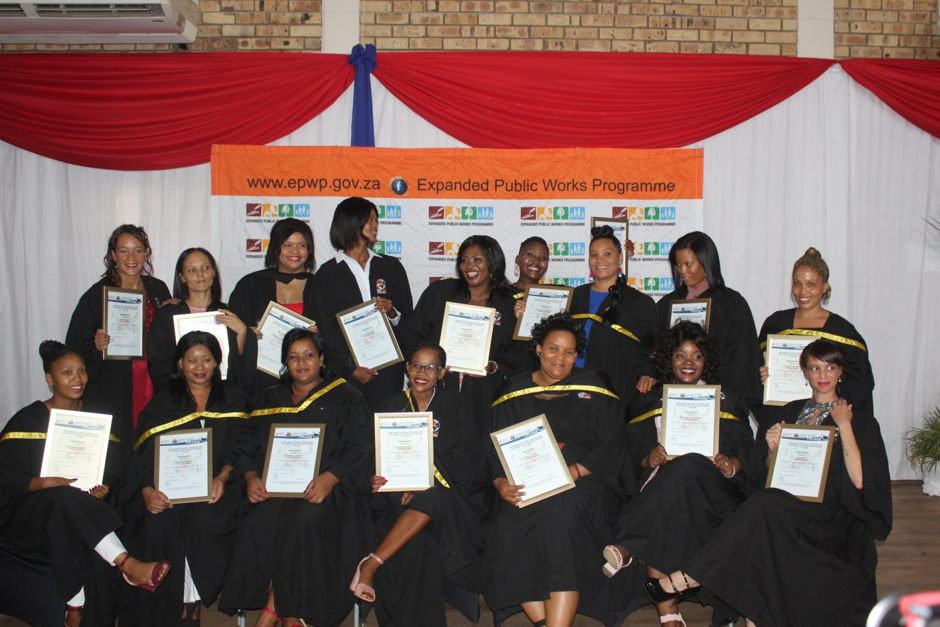 The Department of Economic Development and Tourism (DEDaT) in partnership with the National Skills Fund held a graduation ceremony on the 12 February 2020 in Upington, in celebrating the success of the Professional Cookery NQF Level 5 Diploma candidates.

The Professional Cookery program was a 3 year program which started in 2017 with intake of 50 learners of which 30 learners in Upington and 20 in Springbok. Only 6 from Namakwa and 24 from Upington completed NQF Level 4 in 2018. The program was funded by National Skills Fund together with DEDaT in partnership with Rural TVET, SITA, NPW, ensuring that learners received a stipend while attending the programme. This was a 3-year official qualification and is also referred to as an International Trade.
During this term they underwent theory and practical training in tourism establishments in Upington and Springbok. Out of the 24 whom started the NQF Level 5 Diploma for Event Coordination, 17 learners completed the training in 2019. We are happy to announce that 7 of the candidates are permanently employed in the hospitality sector undertaking their practical.

The Acting HOD of DEDaT, Mrs Jean Wilson congratulated all the participants at this future changing achievement as she did the keynote at the ceremony. She encouraged them to use their qualification to be future employment creators in contributing towards the economic transformation of the province and the country. "In this industry you must have passion and drive because dreams do not come true overnight. The more skills you enquire the more opportunities there are in reducing unemployment" said Mrs Wilson.
A vibrant young lady Miss Portia Mthini from Pabalelo in Upington has used the skills she acquired through this programme to establish her own pizza place. She is currently working from home and has already established a client base. She is in the process of formalising her business as she has the desire of running a successful pizza place and empowering the youth in their area. "I will encourage youth to take up opportunities like these offered by the government in order to take control of their own future, like I did. It is from this program that I have acquired these skills and I will use them to their full potential in realising my dreams" said Mthini.

The program will resume again in February this year with new intake of 50 students. Any interested party in the Hospitality industry with a minimum requirement of Grade 10 is welcome to contact the NCRTVET College on 054 331 0033, or email the project coordinator Miss Elodien Van Rooyen at elodienv@ncrtvet .co.za.