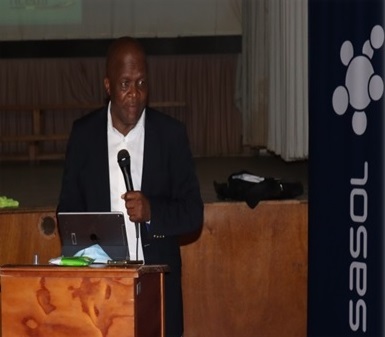 Following the signing of a Memorandum of Agreement (MoA) between the Northern Cape Provincial Government (NCPG), which is responsible for driving industrialisation in the Northern Cape, and Sasol, the lead project integrator and developer of the planned Boegoebaai Green hydrogen Special Economic Zone, pending a detailed feasibility study, Minister in the Presidency, Mondli Gungubele saw it as a step forward to visit the province on 17 January 2021. The Minister was at Port Nolloth for a stakeholder engagement and site inspection at Boegoebaai with a delegation from SASOL, Infrastructure South Africa, and the Northern Cape Provincial Government.
Green hydrogen was highlighted as a "Big Frontier" that represents both future and existing growth and investment prospects for South Africa during the Sustainable Infrastructure Development Symposium South Africa (SIDSSA) in October 2021. Green hydrogen (H2) and green hydrogen-based goods such as ammonia and synthetic jet fuels are in high demand around the world.
This is off the back of national and corporate net zero commitments aimed at keeping global warming below 2 degrees above pre- industrial levels. Due to multi-sectorial implications of green hydrogen, the Presidency plays a convening and coordinating role across government with respect to green hydrogen.
Not only did Sasol and NCPG sign a Memorandum of Agreement, but also the NCPG and the Port of Rotterdam (PoR) signed a Head of Agreement for the PoR to act as a demand aggregator for green hydrogen in Europe and the Gauteng Provincial Government (GPG) and Sasol signed a Memorandum of Agreement for Sasol to develop green hydrogen production facilities aimed at decarbonizing domestic industry.
The parties remain committed to moving forward with the feasibility studies in order to unlock South Africa's potential as a green hydrogen and green ammonia producer and exporter in the future, with the potential for sustainable aviation fuels, and this visit serves as a tangible demonstration of that commitment.
---
Contact Details
Ms. Puseletso Phoofolo
Assistant Manager: Communications
Tel: 053 839 4074
Email:
This email address is being protected from spambots. You need JavaScript enabled to view it.