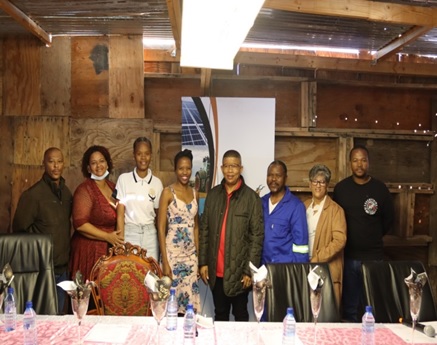 On May 25 at Upington, MEC for Finance, Economic Development, and Tourism Hon. Abraham Vosloo conducted another productive visit while serving his constituency there. The MEC spoke with a non-profit organization and invited his audience to talk about a variety of issues that are influencing their operation.
KODA is a non-profit Organization (NPO) which operates a Multi-Purpose Centre based in Rosedale in Upington. To help young people in the area realize their full potential, they are striving for youth empowerment. The centre helps with business registration and training, and it is currently operating on land granted by the municipality on which they have erected a temporary facility. Currently, the centre serves a hot lunch every day to around 250 people with the aim of feeding more.
Their immediate objective is to have electricity and ablution facilities installed at the centre. To be self-sufficient and able to feed themselves, they will also want the centre to operate a farm and garden. The centre has a lot of goals, and they think with government support they can achieve more.
---
Contact Details
Ms. Puseletso Phoofolo
Department of Economic Development and Tourism
Assistant Manager: Communications
Tel: 053 839 4074