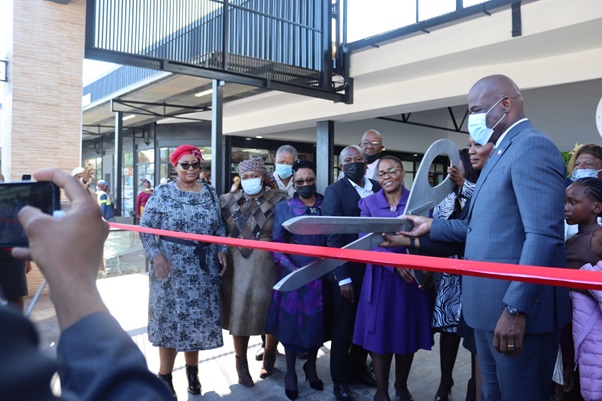 Joined by the Deputy Minister in the Presidency, Ms. Pinky Kekana the Premier of the Northern Cape, Dr. Zamani Saul, and members of the Executive Council attended the official opening of the OP Village Mall on April 28 in Batlharos Village in Kuruman.
The OP Village Mall is the first project to be funded through the Northern Cape SMME Blended Fund. The Blended fund is collaboration between the National Empowerment Fund (NEF) and the Department of Economic Development and Tourism (DEDaT) with DEDaT implementing the project on behalf of the Northern Cape Provincial Government. DEDAT has contributed R30 million to the partnership which will be used for non-refundable grants of up to R4 million per transaction, with 60% comprising a refundable loan portion from the NEF's contribution of R45 million to the Blended Fund. A business must only pay back 60% of the loan.
As a result of the investment made through the Fund, a mall with 21 stores, including Shoprite, Shoprite Liquor, KFC, Pep Stores, a Hardware store, a cell phone store, apparel stores, food stores, and ATMs, has been built in the village. This project has produced 288 employment opportunities, 156 of which are permanent, and will open doors for SMMEs in the area.
One of the government's top goals is education. In his remarks, the Premier praised the owners for the investment they will be making in the community's youth through the 10% that they will be giving back. The owners will be opening a foundation where they will contribute 10% towards empowering and assisting in developing the youth in the area through educational programmes.
The owners' remarkable work in advancing rural revitalization and introducing new economic prospects for the community in Batlharos was lauded by the paramount chief, Kgosi Toto Makgolokwe. The construction of this mall is encouraging for the government's goal of creating a successful, modern, and growing Northern Cape. This program will make a significant positive impact on the revitalization of the rural economy.
Provincial Government once again encourages businesses in the Northern Cape to apply for the Blended Fund to ensure that we together grow the economy of the Province.
---
Contact Details
Ms. Puseletso Phoofolo
Assistant Manager: Communications
Tel: 053 839 4074