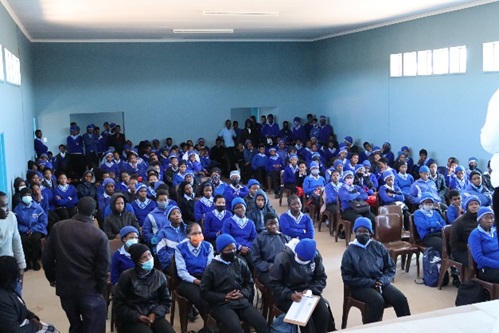 The Department of Economic Development and Tourism in Collaboration with National Youth Development Agency (NYDA), The National Consumer Commission, Department of Employment and Labour and SEDA conducted a Career, Job Readiness and Entrepreneurial Program on the 30th May- 03rd June 2022 at various disadvantage schools around the John Taolo Gaitsewe District.

The purpose of these sessions was to help learners to make a shift from the general understanding of life and work to a more specific understanding of the realistic and practical career options that are available to them and most importantly to cultivate an entrepreneurial mindset. This intervention was also helping the learner understand their strengths and weaknesses and then match them with their skills so that they can get suitable career choice.

"Entrepreneurship is not merely starting a new venture; it is a mindset. It requires a certain level of skills to be an entrepreneur. Some people are born with this mindset, others hone their skills and attitude through education and as a department we want learners to know that entrepreneurship can play a pivotal role in the growth of the economy" said Ms Moalekwa from the Economic Empowerment unit in the Department.

As a department one of our strategic objectives is to create an enabling environment in which the enterprises can be developed and flourish through the financial and non-financial support provided, therefore these sessions of cultivating entrepreneurial mindset has been identified as a platform to reach out to the youth, so that they take advantage of the opportunities, be part of the provincial economy and make informed decisions for their future.
---
Contact Details
Communications
Tel: 053 839 4074