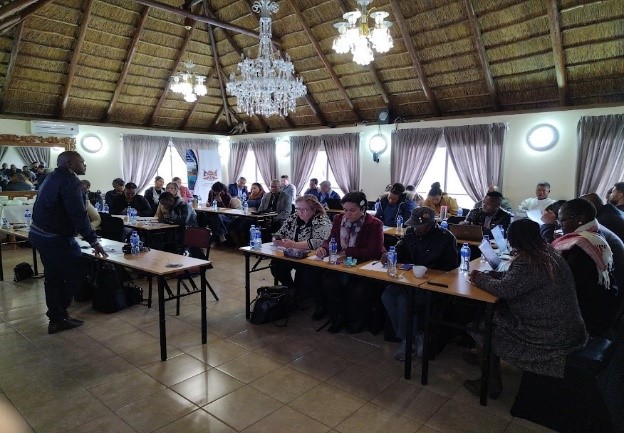 A district economic policy symposium with the theme "Industrialization" was held on August 25 in Namakwa District by the Department of Economic Development and Tourism, Sector departments, district and local municipalities, government organizations, SMMEs, and funding agencies were all in attendance. This symposium's objective was to examine various industrialization-promoting policies and interventions that can be put in place to make sure that nearby firms and communities' profit from these programs.
The Department of Economic Development and Tourism's Mr. D. Christians spoke on the opportunities available to SMMEs through the SMME Programs. He added that just two businesses have received funding from the NC SMME blended fund, which is a loan and a grant that runs from R250K to R79 M. OP Village Pty(Ltd)-JTG and Eden Est-Diggies Lodge-FB are the two businesses.
In addition, Mr. Kgatliso Manake went into great detail about the National Empowerment Fund Product and the funding requirements, which include the company having a minimum percentage of black ownership or interest, empowering black women, creating jobs, the business being located in a certain area, and showing a return on investment.
An MOA between Sasol and the regional province government governs the Boegoebaai green hydrogen derivatives project, which was announced in October 2021.
The project is situated in the Northern Cape, 20 km south of the Namibian border; it is conveniently close to the Northern Cape solar belt and the export market. SEZ designation offers a financial benefit for development in addition to regulatory enablers, and Boegoebaai port is endorsed by the presidency, which has designated it as a Strategic Infrastructure Project. The projected Boegoebaai port would connect to the current rail system via Postmasburg and Boegoebaai.
Phase 1 of 8 will result in an increase in population of roughly 75,000, which will change the scenery of the Namakwa region. The latter should also be taken into account, with a potential ramp of 3% annual increase after the project reaches maturity and starts to ramp up in 2035. During the building and operational phases, projects will be assisted by engineering, procurement, and construction (EPC) services, and all of these services and expertise will mostly need to originate from the province, necessitating the need to upskill and create capacity to meet the demands.
---
Contact Details
Ms. Puseletso Phoofolo
Department of Economic Development and Tourism
Assistant Manager: Communications
Tel: 053 839 4074