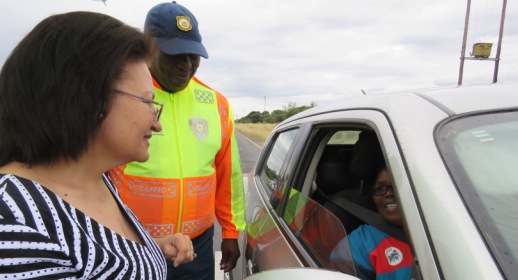 BACKGROUND
The Northern Cape Department of Transport, Safety and Liaison is intensifying its  of Road Safety Campaign with a robust action plan for the Easter long Week-end
In that regard our broad operational plan for the Easter Long Week - end road safety operations denotes the principle that indicate that all Law Enforcement Officers and our stakeholders need to be on the roads to ensure that we reduce fatalities by the intensification of traffic policing activities with a " Zero Tolerance to Lawlessness"
Our realization from the National Road Safety Strategy is that it encapsulates the United Nation Decade of Action principles and is based on five Pillars:
Pillar 1: Road Safety Management
Pillar 2: Safer Roads
Pillar 3: Safer Vehicles
Pillar 4: Safer Road Users
Pillar 5: Post Crash Care
An implementation plan based on the five pillars has been drafted for the Easter arrive alive campaign for 2017
The perusal of this implementation plan reveals and confirms that, if we are to succeed in what we are doing, we need all of us to have a focussed approach to achieve better outcomes
ISSUE:
The issue in this campaign is reduction of road fatalities and Stray Animal Awareness on our roads during the Easter road safety campaign
SNAP ANALYSIS: ROAD FATALITIES NORTHERN CAPE
The Easter period is characterised by a religious mood engulfing the environment, the community in general in the country and in the province, Our people are travelling for long distances to meet their loved one`s or even the chance to rest at Holiday destinations, there might as well be other compelling reasons such as:
Migration to various coastal destinations
Industry closure - Homeward bound and holiday journeys
Easter long weekend music festivals – movement by people intra and inter provinces
Migrant workers – cross border traffic
Return journeys – after holidays, homeward bound traffic
Freight transport – although reduced, continued during the Easter long weekend.
This period is also characterized by high traffic volumes on our roads, this high traffic volume is expected along all major and secondary arterial routes inter- provincially as well as cross border such as N1, N12, N8, N14, N18, N7, N10, R31 and R27
Unfortunately this period is known with the most devastating trauma and tragedy cast upon our people by unnecessary and unavoidable accidents and violations of the rules of the road by Users
The Northern Cape accident statistics on road fatalities has been the lowest on average nationally compared to other provinces.
2016 Easter week –end saw us recording five (5) fatalities, which included 3 passengers, 1 driver and 1 pedestrian
The analysis of the statistics show a trend that has steadily decreased and stabilization, however much more needs to be done to achieve the target set by the United Nation Decade of Action for Road Safety and the National Road Safety Strategy 2020
THE OBJECTIVE
The objective for this Easter Campaign is to reduce road fatalities in the Northern Cape
CONTRIBUTING FACTORS
The following are contributing factors to road fatalities in the Province
Abuse of Alcohol by both drivers and pedestrians
Speeding which is too high for particular circumstances leading to loss control and or inability to avoid hazards
Moving violations e.g. Cellphone use while driving, not wearing seatbelt etc.
Dangerous overtaking at barrier lines and or overtaking in the face of oncoming traffic
Vehicle fitness: defective tyres and steering especially on public and freight transport vehicles
Pedestrian negligence drink and walk, jaywalking etc.
Fatigue; no resting after about 200 km of travelling and overnight driving
THE COST TO THE ECONOMY
According to the IMF report, the cost of these road crashes to our country`s economy is estimated at about R 306 billion rand per annum (IMF data)
This cost includes loss of person power/ skills due to fatalities and injuries,
emergency medical services, post - crash services such as road repairs and clean-up operations, compensation paid out by our agency, the Road Accident Fund, etc.

WHAT NEEDS TO BE DONE
The Minister of Transport had this to say on Law Enforcement "Law enforcement is an exclusive competency of the State. This responsibility is shared equally amongst National, Provincial and Local spheres of government. The primary intention of this function is to enforce the law against violations, penalise perpetrators and seek to deter offenders from repeating their bad ways.  It is a challenging responsibility to discharge due to several attendant factors, i.e. Capacity Constraints and Corruption among others. "
An operational plan in support of the decade of action for Road Safety and the implementation of the Operational Plan has been developed
We will have a four pronged approach on the implementation of the plan focusing on the synchronization of our activities at station level on:
Enforcement
Communication
Community Outreach and
Collaborations
Our efforts will focus mainly on the following aspects:
Stray Animals, Overloading, Roadworthiness, Alcohol screening, Speed, Roadblocks, Road safety education and awareness at Taxi stations, media engagement and moving violation
The operations will be targeted at certain days of the week and certain times of the day as identified by our analysis i.e.
Thursday night to Sunday night is the most dangerous period claiming the biggest number of fatalities, Saturday night being the highest
The most common time is between 22:00 and 06:00

I THANK YOU


NIKE AIR HUARACHE