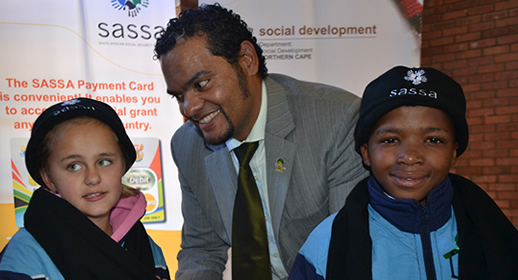 Address by the MEC of Social Development, Mr. Alvin Botes , Child Protection Week, Galeshewe Kimberley
تخفيضات
Speaker of the Sol Plaatjie Municipality – Mr Vincent Diratdsile
Councillors and leaders of the community
Members of the civil society
Community members
Representatives from the media
Ladies and Gentlemen
It is an honour for me to join members of the community of Galeshewe which remains the bedrock for our fight for socio economic rights for the most vulnerable.
It is also heartening to observe that South Africa has set aside a week to focus on our most vulnerable citizens, our children.
Child Protection Week (CPW) is an opportunity for us to rededicate ourselves to ensuring that children are fully able to exercise their constitutional rights and enjoy full dignity of freedom. As government we are working to ensure that the socio-economic rights of children as enshrined in our constitution, including the right to education, health, care and support become a reality as a matter of top priority.
South African Children live in a country that has a Constitution with the highest regard for their rights and for the equality and dignity of everyone. Despite the best efforts of the South African Government and civil society to protect children from abuse, neglect and exploitation, it is a fact that they still remain vulnerable. To this end Government is embarking on a massive campaign to raise awareness on the rights of children as articulated in the Children's Act, as well as prevention and early intervention programmes of all departments and agencies involved. The campaign, known as Child Protection Week will be commemorated from 26 May to 1 June 2013
Child Protection Week is guided by the five priorities of government: In particular, improved quality of basic education, a long and healthy life for all South Africans, and all people in South Africa are and feel safe.
The theme is "Working Together to Protect Children" as government believes that protecting children and creating a safe and secure environment is everyone's responsibility.
The key objectives of the 2013 Child protection Awareness campaign are:
To advocate for children's rights, educate and mobilise families and communities about their responsibility towards the protection and care of children.
To reduce incidents of Child Abuse, Neglect and Exploitation (CANE) through awareness campaigns.
To inform and educate the public on the comprehensive basket of services needed by children in their emotional, cognitive and physical development.
Everyone is encouraged to wear a green ribbon during Child Protection Week.
The Green Ribbon demonstrates your commitment and support to protecting the rights of children.
This Green Ribbon was adopted by the National Child Protection Committee in 2004 and means:
To protect a child.
The Green refers to life and growth.
Let's conserve our children, give them hope.
By wearing the Green Ribbon it shows that you care and support.
Stand up, be committed and protect a child.
Child Poverty
Child poverty cannot be dealt with in isolation from the broader context of the family and community. Most of the South African families and communities, in particular those who were disadvantaged by past regimes find it very difficult to get out of the poverty trap. They have remained poor throughout their lifespan and in many cases across generations. There are many causes of Poverty and its nature is also multi-dimensional. Lack of access to basic services such as housing, water, electricity, education as well as the disintegration of families, communities and social networks make up some of the common features of poverty. Families and communities presenting these features suffer multiple deprivation which impact on all its members, in particular children.
Tackling Child Poverty will therefore require a co-ordinated approach to services for families with young children to improve access to employment, essential public services and early childhood development services. It is very important to recognise the role of parents, community and faith based organisations and the private sector in tackling child poverty. Government cannot uproot child poverty alone but through partnerships with those who embrace the principle of a caring society.
Therefore in order to address the above-mentioned and to make positive in roads in improving the lives of children in the Departments budget speech we allocated an amount of R 137 million for the Care and Protection of Children. This is almost a quarter of the entire Social Development Budget and it is therefore clearly evident on how serious we are about the children of the Province.
Social Security or the provisions of grants remains an important instrument in the fight against chronic poverty in the Northern Cape. The child support grant of R 290.00 is there to assist poor mothers with the upbringing of the child. The child support is NOT there for mothers to go to shebeens and have a good time, and leaving the children unattended or with their grandparents. That is a form of abuse and it must not happen. These incidences must be reported to the department or SASSA, in order for us to see how best we can ensure that the money intended for the children reaches the children.
These grants serve as a buffer for many people living in abject poverty. Children must be clothed and given food with the child support grants.
Early Childhood Development
Early Childhood Development (ECD) remains one of the most powerful levers for accelerating education for all and meeting the Millennium Development Goals for reducing poverty.
We will also ensure, as we have already done with the Expanded Public Works Programme, (EPWP), benefits unemployed young people.
Through the EPWP we have already identified such opportunities in the Early Childhood Development and Home and Community Based Care sectors. We will, and have already begun with our attempts to ensure that the numbers of ECD professionals are increased. These efforts will be complemented by the increase of government-subsidised ECD facilities from the current 387 ECD registered in the Northern Cape of which we have 46 in Galeshewe alone. The ECD programme ensures that children are better prepared for formal schooling, and builds their confidence and self-esteem. Let me therefore take this opportunity to salute the staff and volunteers who run ECD centres and for been pioneers in qualitative Early Childhood Development.
Orphans and Vulnerable Children
Over the past few years we have witnessed an increase in the numbers of vulnerable children. The ultimate result, in some instances, has been the phenomenon of child headed households.

Since we as a Country have intertwined destinies, we must develop collective actions so as to impact positively on our own regional and global development. It is with this in mind that we are currently as I speak hosting a conference on Orphans and Vulnerable Children in Durban.
This year's conference will be held under the theme "Changing Children's Lives – What Works". It will cover tracks on strengthening families and community based responses as a support system for OVCY; peer sharing and learning about best practices for enhancing availability of high quality, timely data for policy and programmatic decision making; addressing factors that render children vulnerable and exploring effective approaches to build resilience; and showcasing best practices in strengthening coordination among key stakeholders.

The conference will also provide a discussion forum and facilitate for action to substantially improve the lives of Orphaned and Vulnerable Children in our country. Once again, I would like to reiterate that this phenomenon, cannot be addressed unless each and every one of us commits to caring for at least one vulnerable child, within or outside our families.
Substance Abuse and Children in Conflict with the Law
Children do not belong in prisons and yet we are seeing more and more young people entering our centres accused of the most grievous crimes. We cannot allow this situation to continue unabated, for history will judge us harshly if we do not protect our most valuable resource; our children.

Our country continues to experience increased levels of substance abuse and child criminality. A worrying trend is that first time substance and drug users are now between the ages of nine and ten. Even more worrying are that criminal offenders are also getting younger.

These signal that we ought to take radical steps which steps must return us back to the basics and ethos of our African culture. We must, on one hand, take collective responsibility for raising children and, on the other hand, strengthen our legislative environment. 
It is with the latter in mind that we launched the Northern Cape Anti- Substance Abuse Strategy in June 2012. The Strategy promotes greater community involvement and community based services, whilst placing greater emphasis on preventative services. It is also more sensitive towards the needs of children who are often the victims of unscrupulous drug dealers and pushers.

We cannot allow our children to use drugs ladies and gentleman, by them using drugs it does not only affect them , but also our families. These drugs are the central cause that our children become violent and aggressive , they are the cause that our children become involved in criminal activities and most hurtful of them all is that they are the cause of our children stealing from their parents homes.
We must remember that Children's rights are human rights hence the following is of utmost importance we must ensure that children know about the Children's Act and the protection it affords them. It is our responsibility as government to educate the public who are generally unaware that the rights of children are protected by the Children's Act. Furthermore it is our shared responsibility to protect the rights of rights of children and we must cultivate a culture of community involvement and caring for our children. Families and caregivers must be encouraged to care for their children, in line with the rights outlined in the Constitution and the Children's Act. We therefore call on civil society and other social partners to join us in protecting children's rights and delivering social services and interventions.

Our most valuable resource: Children
Protecting our children is a responsibility that we all share. It is shocking to note that in 2012 it was reported that 105 children were abused. This is totally unacceptable that the jewels of a democratic nation has to endure this pain and agony. We must partner with one another to tackle the issues that undermine the rights of children; no longer must we allow abuse and injustice against children to happen in our homes and communities. As Government we will partner with communities by educating and mobilising them to be at the forefront of caring for, and protecting children.
Together we must create safe and secure environments for our children and is the shared duty of parents and caregivers, supported by non-governmental organizations, the private sector, domestic workers, academics, celebrities, faith-based organizations, public servants, police, traditional leaders and political leaders.
Central to our being the government is to create whole beings. Each time we remind ourselves why there was a prolonged struggle in our land, we come back to the same answer, that every child, every woman and every man in our country, should be given equal opportunity to enjoy a life of dignity. We firmly believe that special attention must be given to children.
Ladies and gentleman to rid our communities of the scourge of child abuse and violence against children is really everybody's business.  Let us work together to save our communities of these heinous crimes in order for us to live in a community where every women and child can feel safe and is safe!
We as a department already trained 141 service providers on child protection services . This training is basically on the Children's Act,it is based around how to complete the necessary forms and documents when reporting child abuse cases and most importantly on prevention and early intervention programs on child abuse.
We must not turn a blind eye on the abuse of children irrespective of who the perpetrator is. We must immediately report incidents of Child Abuse on the Childline South Africa toll-free number - 0800 05 55 55 or contact your nearest social worker or police station.

To the parents and other adults gathered here today I draw you to the eloquent words of scripture (Mathew 18:10) "See that you do not despise one of these little ones, for I tell you that in heaven their angels see the face of my Father who is in heaven."

That is why we have to protect them; That is why we must protect them.
Let me close this address by recalling the statement by former President Nelson Mandela's on the occasion of Democratic South Africa's first celebration of International Children's Day. On 1st of June 1994, former President Nelson Mandela said: "I wish to take this opportunity to reiterate the commitment of the South African Government to a comprehensive programme to ensure that children of our country grow up secure in family life, enjoying all the rights and privileges they deserve. . . On this day, we also extend our solidarity with children throughout the world whose lives are ravaged by the scourges of hunger, war and ignorance. We commit ourselves to contribute, to the best of our ability, to the international efforts aimed at resolving these problems".

As we celebrate this year's Child Protection Week, I take the opportunity to reiterate in word and deed, these commitments.
I thank you , dankie , Kealeboga