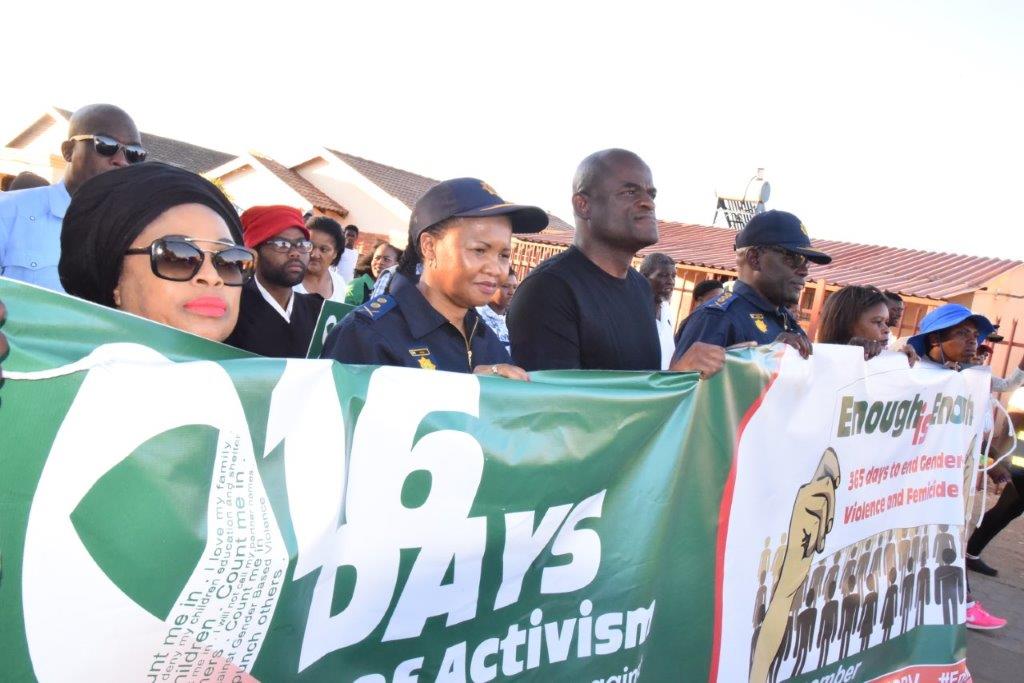 Yesterday saw the official launch of the Provincial 16 Days of Activism Campaign of no violence against women and children by the Premier, Dr Zamani Saul. The launch took place at Hulana Park in Galeshewe, Kimberley under the theme: "Enough is Enough – 356 days to Gender-Based violence and Femicide (GBVF).
The official programme was preceded by a "Taking back our Streets parade" led by the Premier. In attendance were also Members of the Executive Council, the Provincial Commissioner of SAPS, NGO's dealing with women and children abuse, religious leaders and community members.
The 16 Days of No Violence against Women and Children Campaign is an international United Nations endorsed initiative. It takes place annually from the 25th of November to the 10th of December.
During his address to members of the community the Premier highlighted the fact that this year's programme was about practical interventions and implementation. "This programme is about practical interventions to ensure that we protect our women and children. We call on our municipalities to ensure that in areas that are dark they must put up lights. Practical interventions from the police to apprehend criminals and put them behind bars. We have come to claim our streets because women have the full right to enjoy the beauty of the night skies and the stars that the Northern Cape has to offer, said Premier Saul.
He went further to state that, "The commitment of this Administration should be about empowering the women of this Province and making them part of the economic mainstream of the province and the country. If we don't address the problem of seeing women as sex objects and punching bags we will not solve the problem of Gender Based Violence".
As part of the practical interventions planned for this year's campaign, Government will be mobilising stakeholders from civil society organisations, student formations from Higher Education, men and boys groupings, the faith sector, lgbtqia+ groups and many others to strengthen provincial ownership of efforts to eradicate violence against women and children. Partnering with these sectors will contribute to the effective monitoring and evaluation of interventions especially with regard to marganalised and vulnerable groups.