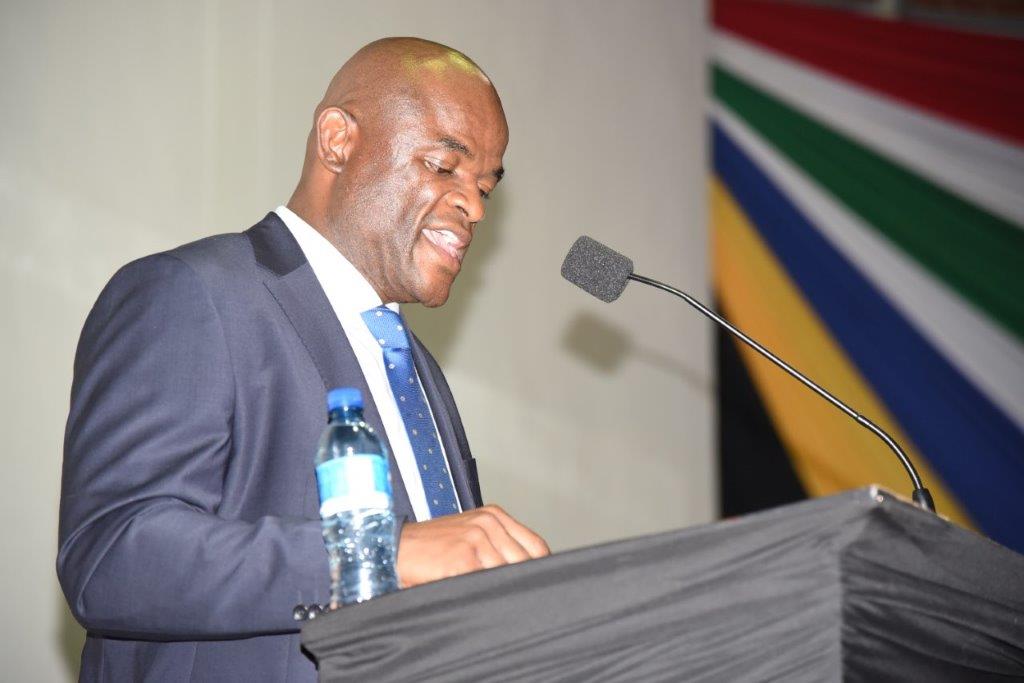 Programme Directors
Let me start by greeting the bereaved Lucas Family, particularly the mother, the siblings and his two children Katlego and Thato.
Members of the NEC Zizi, Sylvia, Alvin, Thandi Mahambehlala
Members of the PEC
Members of the REC
Inter-generational Leaders of the ANCYL
Speaker of the Provincial Legislature
Comrade Lulu Johnson
Comrade Malusi Gigaba
Comrade Fikile Mbalula
Comrade Febe Potgieter-Gqubula
Members of the Executive Council from the Province and other Provinces
Speaker and Members of the Provincial Legislature
We have two former Premiers of the province
Members of Parliament
Leadership of the Alliance, Deputy General Secretary of SADTU, 2nd Deputy General Secretary of SACP, the Provincial Secretary
Fellow mourners
I noticed that we have many BEC members and our volunteers
Members of the Media
Ladies and Gentlemen
We are gathered here united in mourning, but collectively driven by a celebration of a great life.
Programme Directors allow me on behalf of the Provincial Government of the Northern Cape and its people to express our heartfelt condolences to the bereaved family of our comrade Archie Gomolemo Lucas. As a Government we are deeply saddened by the passing of this young revolutionary who at a tender age has written a glorious and indelible page in history.
Declaring a state funeral to honour him is a befitting tribute for his contribution in building a democratic, non-racial, non-sexists, and prosperous South Africa. The argument that he is too young to receive such an honour, demonstrates the general scepticism about the contribution that young men and women can make in the struggle for social transformation. Our founding President Langalibalele Dube was only 41 when the ANC was established; Sol Plaatje, the SG was 36; Pixley ka Isaka Seme, the TG was 31. Many other leaders of the ANC were very young, such as Duma Nokwe, Walter Sisulu and Cyril Ramaphosa all were elected as Secretary Generals when they were younger than 40 years. So, the risk aversion when it comes to the deployment of skills and energy of young people must be confronted.
It was in the early 90s when I met comrade Archie, all of us united under the banner of Cosas. After the unbanning, we all represented COSAS at the first Regional Conference of the ANC that took place in Barkley West at Rekaofela Resort. All of us were very excited as conference was conducted by a delegation of NEC members, led by comrades OR Tambo and Alfred Nzo.
I then had an opportunity to watch him grow politically and maturing into a seasoned cadre that he was. Comrade Archie graduated from Cosas to become part of the leadership of the ANCYL in the province before he was elected into the NEC of the ANCYL. When he became an NEC member of the ANCYL in 1998 he then became a permanent invitee to the PEC where I was serving as an additional member and later I was elected the Deputy Provincial Secretary. As the Deputy Provincial Secretary I was appointed by the PEC to head the Political Education Sub-committee and comrade Archie was also a member of that subcommittee and had a fervent interest in global politics.
After the 1999 general elections the PEC took a decision to deploy him as a member of the NCOP and later after the 2004 elections the PEC resolved to deploy him as MEC of Education and later as MEC of Sports, Arts and Culture. For these deployments there were heated debates on our understanding of the role and contribution that young people can make in the prosecution of our struggle for social transformation. In 2000 I became the PEC convener of Diamond field region and he was part of the team of the PEC deployees.
Comrade Archie was one of those persons to whom everyone immediately took affection, for his simplicity, for his character, for his sincerity, for his comradeship, for his personality and for his originality.
Programme Directors, the artist comrade Archie may die, but what will not die in any way is the art to which he dedicated his life and to which he devoted his energy and intelligence. The question that begs an answer is whether, what is the art that comrade Archie dedicated his life to. One can mention few, such as:
Vibrant and dynamic youth struggles led by the ANCYL,
A United, strong, incorruptible and focused ANC with organizational and ideological integrity, (political arrogance, divisions and corruption) and
A state with adequate technical and strategic capacity to respond to the immediate needs of the people.
Programme Directors, the idea that causes are not defeated when men die and the irrepressible march of history does not stop when we die have profoundly influenced the behaviour of activists in different generations. We can faithfully pronounce that the cause that comrade Archie stood for, and his irrepressible march for a just society will always guide us in our work. In so doing we must appreciate the full value of his example and must have the absolute conviction that his example will serve as encouragement.
It is not easy to combine in a person all the virtues that were conjugated in him. It is not easy for a person to spontaneously be able to develop a personality like his. I would say that he is one of those kind of men who are difficult to match and practically impossible to outclass.
Ladies and gentlemen, when revolutionaries like comrade Archie pass-on we reflect on their lives and their contributions towards human development. In so doing we also evaluate to what extent we are on track in relation to advancing, defending and deepening the National Democratic Revolution. After more than 25 years into our democracy much has been achieved but much more needs to be done to rid our society of deep-rooted poverty, unemployment and inequality. This should be done to honour the memory of cadres such as Comrade Archie and many others like him.
Programme Directors
Though gone too soon, his spirit and memory will continue to live amongst our people across the province. His spirit and his work will compel us not to rest until we have improved the lives of all our people in the province, especially the downtrodden and marginalised sectors of the Northern Cape society. He multiplied himself, as amongst us here, are some of his products.
On behalf of the Northern Cape Provincial Government, I want to give thanks for the exemplary and inspiring life of the person that we knew as Archie Gomolemo Lucas.
Our thoughts and prayers are also with his family during this sad and difficult time. To them, as the African National Congress and Government, we owe a debt of gratitude for selflessly sharing their son, husband and father to enable this Provincial Government to deliver on the mandate that the people has given us.
The magnitude of the pain felt by the people in the country demonstrates how people stands in solidarity with the revolutionary struggle, how people will always raise and maintain the revolutionary flag and the revolutionary principles aloft. Today, in these moments of remembrance and mourning we raise our thoughts with optimism in the future and with absolute optimism in the definitive victory of our struggle for better life for all. Let us say to comrade Archie and all the heroes who passed before him: thanks for not betraying the course of struggle and ever onward to victory!
We pray that your revolutionary soul will rest in eternal peace.
秋コーデ メンズ【2020/2021年最新】 , メンズファッションメディア