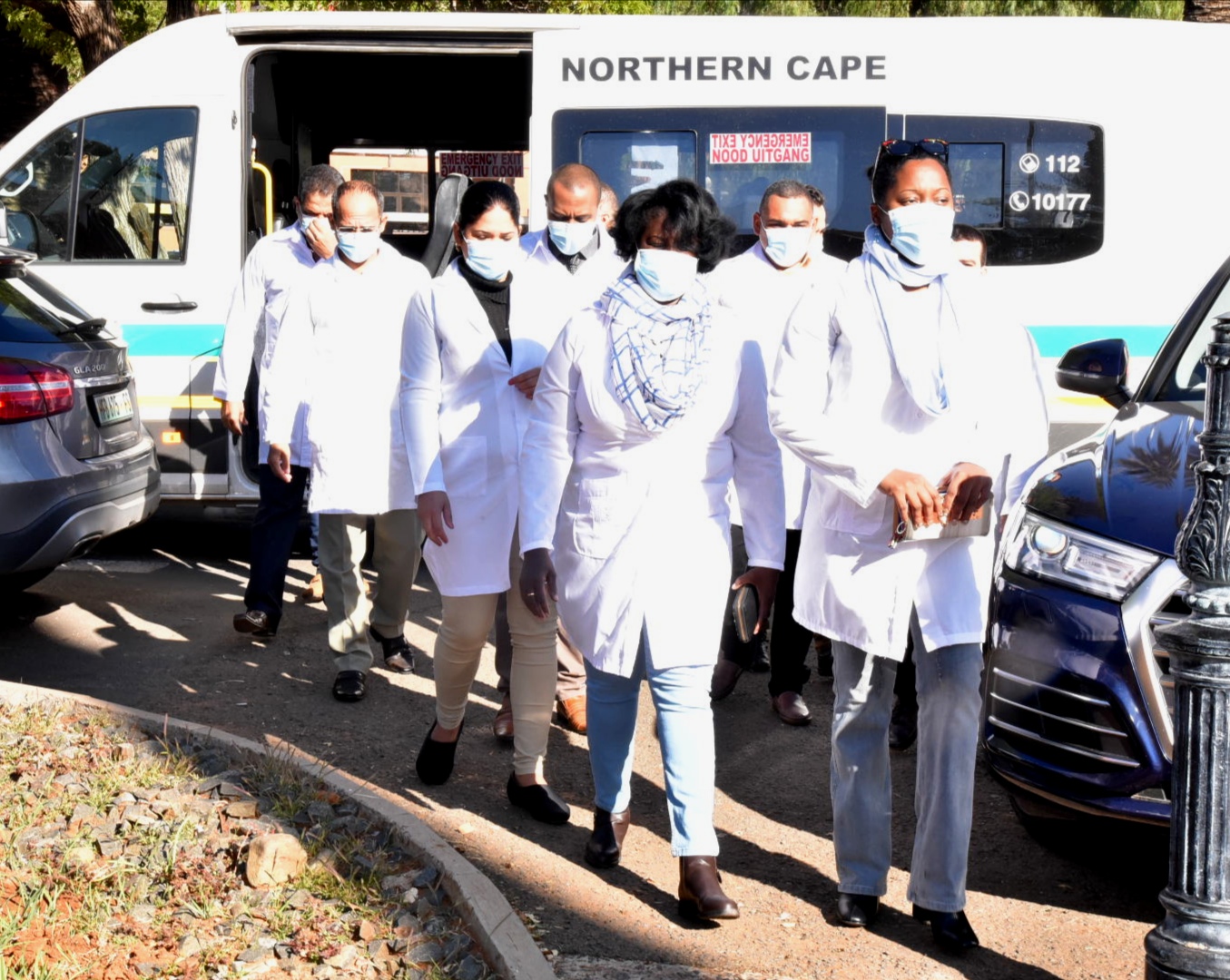 Premier, Dr Zamani Saul accompanied by the MEC responsible for Health, Ms Mase Manopole today welcomed 11 Cuban Doctors better known as the Henry Reeve Medical Brigade, who are set to join other health professionals in the Province.
The medical team comprise of 11 of the 217 Cuban doctors who arrived in the Country last month and includes one epidemiologist, one biostatistician, seven family physicians and two health technology specialists.
In welcoming the doctors Premier Saul made special mention to the historically rich relationship that exists  between South Africa and Cuba.
The Northern Cape has managed to keep the number of positive cases at a minimum, with a total of 37 positive cases of which 24 are recovered. This is the lowest number of positive cases per province, out of the national positive cases.
Dr Saul emphasised that the national lockdown was never an attempt to stop the virus, but rather to slow down the rate at which it was spreading. It is clear that in South Africa, the strategy of going out in search of the virus, via mass screening from household to household has assisted in flattening the curve.
The Premier expressed deep gratitude to the Cuban doctors who have sacrificed their time and families and who have put their own health and safety at risk to come and reinforce the Department of Health's capacity to combat this pandemic. He noted the countless times that Cuba has come to South Africa's aid and encouraged them all to continue to fight towards a corona free society.
The Cuban Medical Brigade is expected to strengthen and support:
The general epidemiological response to Covid-19 in the Northern Cape,
The surveillance of COVID-19 in the Northern Cape,
The structures and the coordination thereof in each area,
The preparations for COVID-19 Surge,
The Infection and Prevention Control (IPC) measures in the Districts and the Province,
The quality assurance of the daily reports on the progress and management of the infected cases, and the number of deaths,
The isolation and quarantine measures that are in place,
The monitoring of progress made in our preventative strategies such as
Mass screening and testing, Contact tracing
Clinical management of the COVD-19 Positive patient at home, in quarantine or isolation as well as hospital cases.
The preparation and maintenance of Clinical Health Technology for COVID-19
The training of Health Professionals on the management and response to epidemics
The Strengthening of our Primary Health Care system during the Pandemic through improvement of the community health model,
The development and maintenance of bio-statistics in the Northern Cape
The family physician cadre of the Northern Cape
The response to improvements on the management of the co-morbidities in the Northern Cape which increases the risks associated with COVID-19
The team will undergo orientation this week before being deployed to various Districts in the Province.
Released by the Office of the Premier
Enquiries
Bronwyn Thomas-Abrahams
Spokesperson
Office of the Premier
083 457 7686
This email address is being protected from spambots. You need JavaScript enabled to view it.
Lebogang Majaha
Spokesperson
Department of Health
071 883-6404
This email address is being protected from spambots. You need JavaScript enabled to view it.
adidas Yeezy Boost 350 V2 "Asriel" (Carbon) October 2020