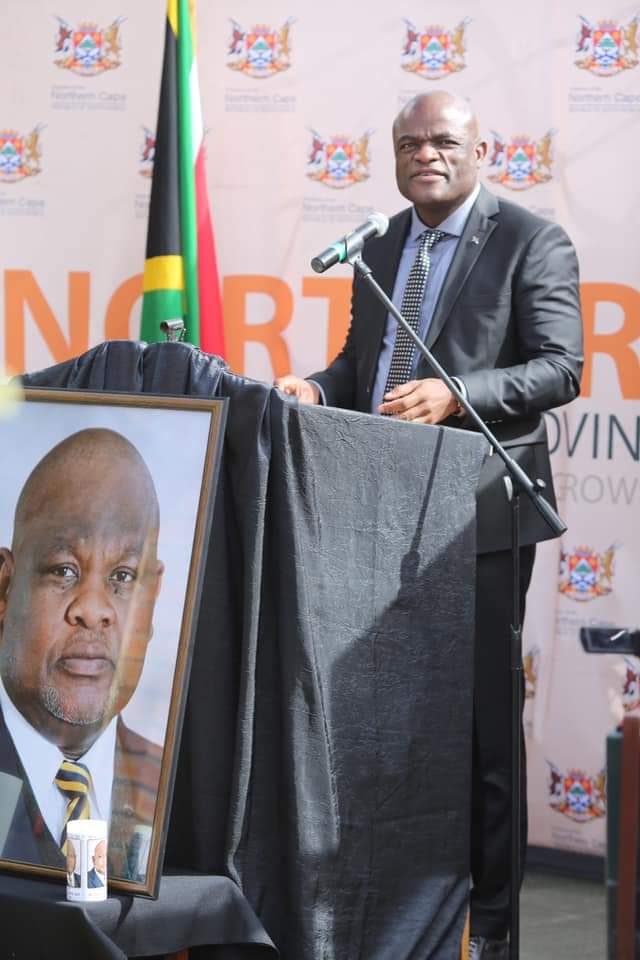 Programme Directors
Let me start by greeting the bereaved Jack Family (amatlane) the wife (Asakhe), siblings, children and extended families
Premier of the Eastern Cape, Mr Oscar Mabuyane (thank you for the profound act of solidarity)
Minister for Minerals and Energy, Mr Gwede Mantashe
Members of the Executive Council of the Northern Cape
MEC for Education in Gauteng, Mr Panyaza Lesufi
PEC Members
REC Members
Faith based leaders
The Provincial commissioner and his officers
Branch leadership
Leadership of the Alliance
Fellow mourners and all those that have logged on to the live streaming
Programme Director let me start by thanking the Jack family for the special gift to life called Mac Collen Ntsikelelo Jack. Let Me also thank the family for having allowed him in his teen and youth to participate in the struggle against apartheid and to his continued involvement in the post 1994 struggle to improve the quality of life of the people of this country and specifically the downtrodden of the Northern Cape.
On behalf of the Provincial Government and the people of the Northern Cape, we convey our deepest sympathies to the entire Jack family, his siblings, cousins, nieces, his wife, children and grandchildren. We pray for God's grace to intercede and heal the deep pain caused by his passing. It's only God's loving hand that can soothe and mend your shattered souls. With the passing of Mac Jack, the ANC and government of the NC province is poorer, death have robbed us of an extraordinarily political talent and craftsmanship. Death have stolen from us our black jewel, and our dynamic, jovial and glittering star. Our star faded, we are left heart-broken and in complete distraught.
Let me start by briefly reflecting on the genesis of our relationship. We met as mere acquintances, became loyal comrades, became close friends, became confidants and brothers.
I met comrade Jack early in 1997 in De Aar. We stayed at the Verblyf Sentrum. Then I was a young candidate attorney, and comrade Jack, just got appointed as a Deputy Director of the Department of Housing and Local Government. I was always wearing SASCO tshirts and that made him curios about me. The first day I got there I noticed him, this big guy with a magnetic and efferverssant character, he spoke and joked with everyone the workers and owner of the place. At 06h30 pm we had our breakfast and 07h00 am dinner and everytime he enters the dining room the atmosphere will be euphoric. Everyone would just get excited.
So, one day as I was returning from work, I saw him sitting on a bench in the foyer of the guest house and he called me and asked whether with these SASCO T-shirt's am I a student in De Aar. I then told him what I was doing in De Aar and he informed me that he just got appointed as Deputy Director at the Department of Housing and Local Government. He then sent me to town to buy him some fruits. From there we developed a relationship, and he started waking me up every morning.
A week thereafter we went to the ANC office to transfer our membership to De Aar Branch. His membership was from Victoria West and mine from Bellville South ANC branch. We moved out of the Verblyf Sentrum to share a flat together and towards the end of the year we attended a Regional Conference, where we both got elected into the REC as additional members and subsequently got elected into the Regional Working Committee.
Comrade Jack's growth and rise in the structures of the ANC was not parachuted. It was an organic growth meshed with substance. He spent many years involved in student politics, ANC branch activities and served in various capacities in SADTU. Later on, he served as an REC additional member, Deputy Regional Secretary, Regional Secretary and Regional Chairperson, taking over the baton from comrade Mxolisi Sokatsha.
He served as the Regional Chairperson for ten years and thereafter was elected to the PEC and PWC. This comrades, is called organic growth, where no stages of leadership are jumped; and there is corresponding political maturity for every stage of growth.
He was at the forefront of the campaign to get me elected into the PEC in 1998, he led the campaign for my election as the Deputy Provincial Secretary, the Provincial Secretary and in the last conference as a Provincial Chairperson of the ANC. He was at the pinnacle of these campaigns and risked everything and when I thanked him for these sacrifices he would always say "ziyabotshwa noba zibhityile Mthembu, I fight like this because I trust you" and when things are tough he always invoked his favorite cliche` "Indoda ayikhali".
Programme Directors, there is one thing about comrade Jack that we all know; is that he is a fighter. But a fighter with a loving and a big heart. He was never malicious or sort self-glory and self-adulation. Because of the trust and he had in me, we became each others confidants. Jack is sleeping in his casket today with a ton load of my secrets stretching over 23 years, I have never picked up issues I confidentially raised with him in the volatility of the streets in the Northern Cape or anywhere in the country.
He was more than a comrade and a confidant to me, but a brother. But I picked up that he has cultivated similar relationships with many other comrades in the province. This is because comrade Jack was not a double-deeper, he was not a hypocrite that awaits to devour you at the first available opportunity. He was a master craftsman, honest and genuine in his engagement with politics. He was forthright and a robust engager.
We spent lots of time together talking about our families, the country and the politics of the province. He loved his family with a deep sense of affection, he got devastated with the passing of his younger brother, this pain was worsened with the passing of his mother and later his father. I would be amongst the first people he would phone , "mthembu ixhewukazi lam liswelekile, mthembu ixhego lam liswekile".
He loved his wife dearly, I was informed when the relationship commenced and he gave me full account of what happened and we were all here in Graf Reinet for the wedding. He loved his siblings and if anyone of them was not well, he would call "yeses mthembu i grootman yam ayiphilanga". He had deep and enduring love for all his children, he would relate to me about each one of them, their progress in life and disappointments. I want to appeal to his children, that for the sake of your dad you must close ranks, love and protect each other.
One of the prominent attributes of comrade Jack is that he was a hard-worker and not a victim to cheap money derived through corruption. He was the Deputy Director for Department of Local Government and Housing in Pixley ka Seme District and that became one of the best performing Districts in the province, he later became the Municipal Manager of Pixley ka Seme District Municipality and got awards as one of the best performing municipalities in the province, he became the MEC of Transport, Safety and Liason, then MEC of Health, MEC of Finance, Economic Development and Tourism and now MEC for Education. His deployment to these different portfolios brought about visible changes in their performance. In less than a year in the Department of Education there were massive improvements in the Grade 12 results.
He was not a paper-pusher and a cheque collector, he was a diligent MEC, he read and critically engaged with issues. This irritated many public servants and almost in each department he got deployed he would conduct an investigation to unearth corruption and would always say "mthembu mayingatyiwa imali karhulumente kungasetyenzwa". This bears so much relevance with the current challenges confronting the country, the stealing of the money meant to bolster our response to deadly Covid 19.
The procurement of medical equipments and supplies has evoked some German Nazi looting spirit amongst us. When you engage on the historical account on the causes for defeat of German Nazi by the allied Forces in 1944, historians identify many causes and one of them is the levels of corruption, plunder and looting of the public purse by Nazi Generals. At a critical and watershed moment, when the German army was at a brink of defeat and being slaughtered by the Allied forces the heartless Nazi Generals were busy looting and plundering the public purse, misappropriating resources meant for soldiers at the frontline of the war. This weakened their defence as there was no adequate military supplies. One writer who investigated the levels of corruption by the Nazi Generals during the WWII characterises it as a "moment of death of all human conscience". The writer further says this was a "sad period where the Nazi parasites engulfed German politics using ideology as a pretext to suck the last ounce of blood of German people".
Corruption in Hitler's reign was an important element in securing the grip on power and had been a structural and propping element of the Nazi regime, its politics, and its polycratic structures.
South Africa is now the 5th highest country in the world on Covid 19 transmissions. This means the country is confronted with an enormous and unprecedented health challenge. The plunder and loot of public resources meant to curb the spread of COVID 19 and to save the lives of the poor people marks our own "moment of death of all human conscience". In this regard; the behavior and attitude of some of us is similar, if not worse, than that of the greedy Nazi Generals. Who at a critical moment their corrupt behaviour weakened their country's response to the military onslaught that led to the loss of more than 4.3 million German lives.
The massive corruption with regard to COVID 19 procurement, at a time when the country is confronted with unprecedented hardships, is a blight and stinking stain on the image of the governing party.
In honor of comrade Jack we must commit ourselves to fight and root out corruption in all its manifestations. We must be activists against corruption. Corruption poses an existential challenge to our organisation and its the biggest inhibiting factor to development. We must ensure that corruption does not become a structural and propping element in our politics as it did with the Nazis.
This generation of leaders must courageously take up the struggle against corruption or else we will preside over a failed predator state that feeds on the hardships of its people. So the people that misappropriated and squandered Covid 19 resources must be raided in a cowboy style.
The fight against corruption begins with building unity in the ANC, as there is no divided organisation that can meaningfully fight corruption. Divisions breed corruption, these are twins. And our leaders must stop communicating conflicting messages on this matter; at this critical juncture when we are subjected to such harsh scrutiny.
As an enduring tribute to this giant, we must intensify our work to build unity in the ANC and the broader Alliance Movement in the province. Comrade Jack worked for unity, in Pixley ka Seme Region he declined nominations to senior positions on a number of occasion and in 2007 he declined a nomination to the position of the Deputy Provincial Chairperson, and during the last conference there were people who approached him to stand as Provincial Chairperson which he declined.
He did all of this because he wanted to see unity prevailing in the province. He never had uncontrolled political ambitions, his ambitions were calibrated, and his moves were informed by the imperative and need to build unity in the Northern Cape. It is precisely this attitude that made it possible for him and his collective, to build Pixley ka Seme Region into one of the most united regions of the ANC not only in the province but in the country.
We must learn from comrade Jack not to have our lives driven by uncontrolled political ambitions that endangers the unity of our glorious movement. Comrades with uncontrolled ambitions tend to become stormtroopers of factions. Jumping from one group to another depending on what position or spoils are on offer. That's not how comrade Jack was, he was a principled leader and was always prepared to defend the truth at a risk of suffering personal lost. He would always say "leuns is soos n kort kombers, as jy jou kop will toe maak dan is jou voete buite".
We lost an audacious roaring giant, a gallant fighter and an embodiment of impeccable revolutionary values of honesty, hard work, diligence, humility and working for unity. He never withdrew into moral indolence and looking down on other people despite their stations and positions in life. His confidence and energy was very infectious.
As the people that worked with comrade Jack, the values that he embodied should serve as a campus that directs our conduct and attitudes, and we dare not fail him. It is with this that comrade Jack will rest in eternal peace and power.
Rus in vrede ons vriend, broer en kollega, ons sal ons hande op die ploeg hou en nie oor ons skouers kyk nie.
Hamba Mntlane uyosikhonzela, hamba dingi, hamba nqabane, hamba nkomo ezibomvu zakwamlanjana
Air Jordan 1 Retro High OG 'Chicago' White and Black-Varsity Red For Sale