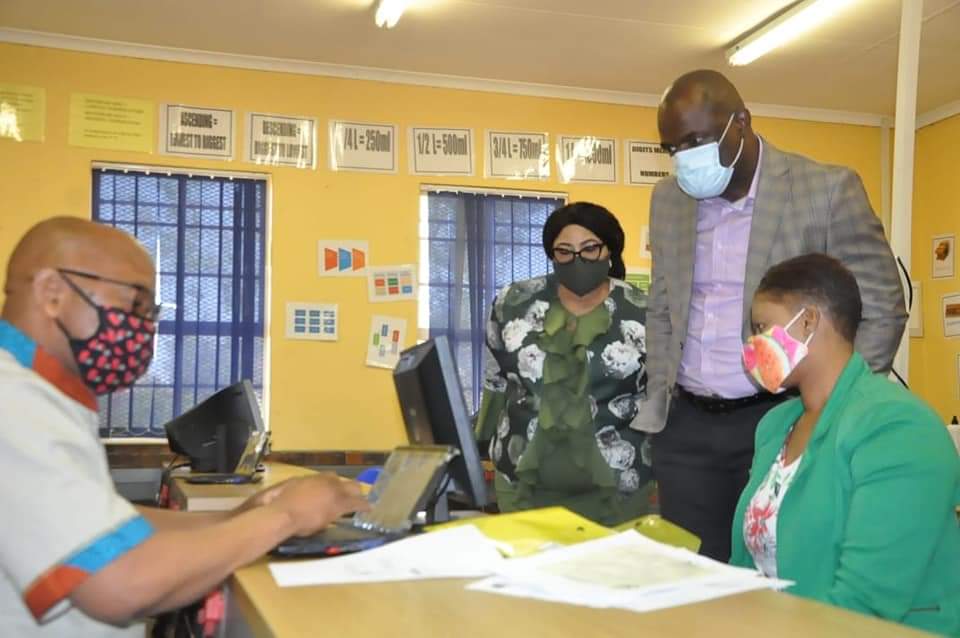 The Northern Cape Department of Education has successfully commenced with the 2021 Online Admission System. We have managed to register 12 000 applications within the first 7 minutes the system was open for applications, of which 5360 applications were successfully processed by 15h00. The Premier of the Province, Dr. Zamani Saul accompanied by the Acting MEC, Ms. Nontobeko Vilakazi visited Tshwaralela Primary School in Galeshewe this morning to monitor the walk-in centre as the Online Admission System went live.
The Online Admission System is currently handling the volume of applications very well, with some parents/legal guardians opting to make use of the identified walk-in centres. Minor challenges were reported thus far, that relates to connectivity at certain walk-in centres as well as parents/legal guardians encountering problems to capture their application. We can confirm that the Online Admissions System is functioning very well, without any technical glitches since it went live at 09h00 this morning. We have established an Online Admission Call Centre, where the public can contact our technical team on 053-8747239 / 053-8747161 or 053-8757292.
We must emphasize that parents and legal guardians can apply online using their cellphone, laptop or tablet. The walk-in centres were identified for members of the public without a device or internet connectivity, who would be unable to access the Online Admission System. The online system is user friendly, consisting of 3 steps and should take the applicant a maximum of 5 minutes to complete.
The Department will continue to monitor the use of the Online Admission System and walk-in centres for the duration of the admission period and act swiftly where challenges are reported. We plea with all members of the public to make use of the Online Admission System from 14-30 September 2020, to enrol and secure a space at a public ordinary school for his/her child for the 2021 school academic year.
Wholesale Cheap Nike, Jordans, Adidas, Air Max Shoes China Sale Online