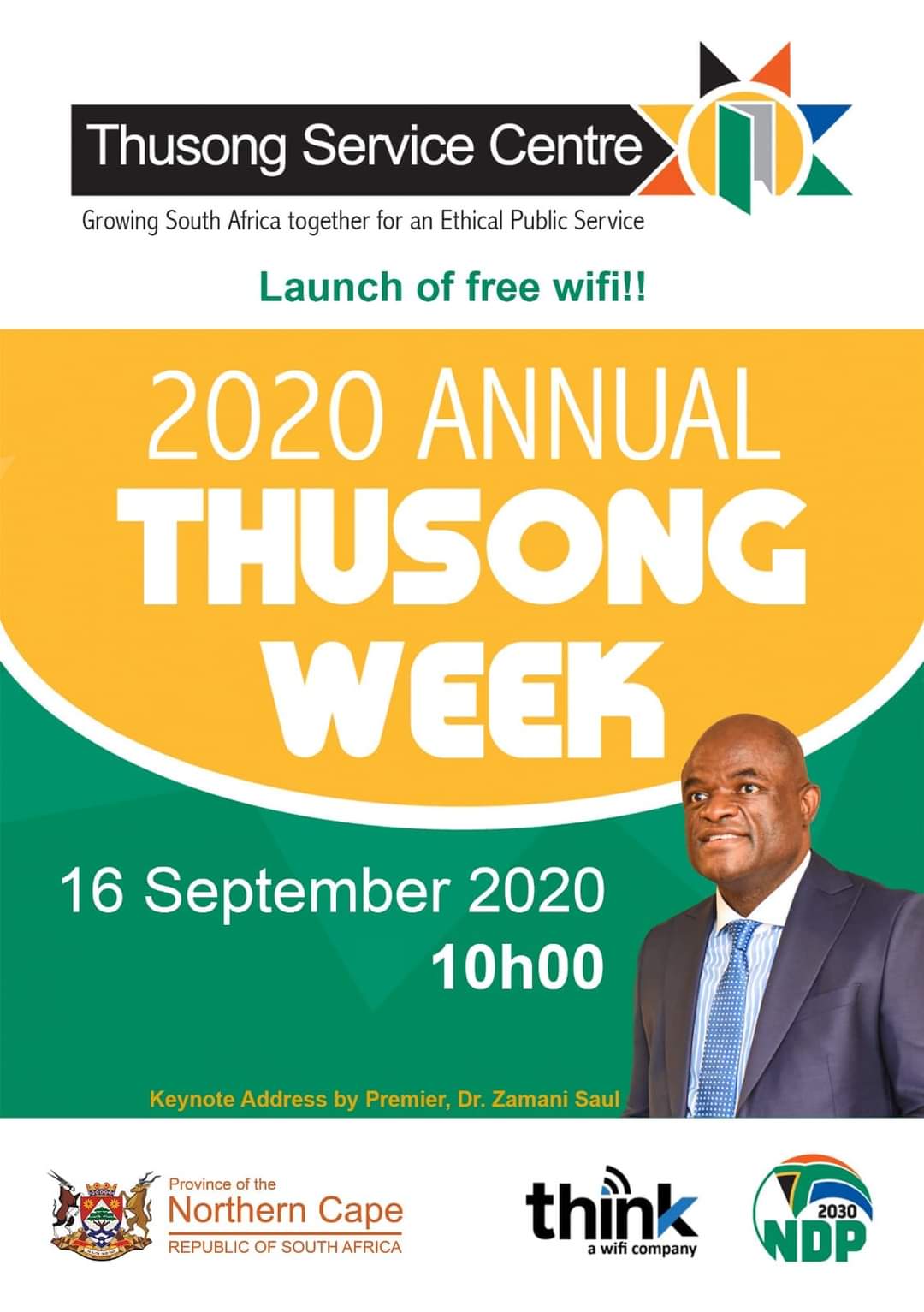 The Premier of the Northern Cape, Dr Zamani Saul, will tomorrow, 16 September 2020, officially launch the free Wi-Fi project in Augrabies at the satellite Thusong Centre as part of observing Thusong Service week. This Wi-Fi project is a pilot project spearheaded by the National GCIS office, which has identified the Northern Cape Province for the rollout. The Thusong Service Centre Programme was conceptualized in 1999 and has become a cornerstone of the Government-wide Access Strategy aimed at taking services and information closer to the people. Currently, there are five Thusong Centres across four Districts in the Province.
The Annual Thusong Service Week was set out as a dedicated and focused platform for awareness raising and started in September 2014. This year the Northern Cape Province plays host to its sixth year since its inception and each year we sort to use the week in a different way.
This year's Annual Week kick-started on the 14th and will end on the 18th September 2020 at the Augrabies Thusong Centre, in the ZF Mcgawu District under the theme "Growing South Africa together for an Ethical Public Service". The Annual Week is aligned to Public Service month, which is a service delivery improvement mechanism and an integral part of the Batho Pele Revitalization strategy. The aim of this month is to honour men and women who serve the nation throughout the three spheres of government.
The Annual Week takes place when as a country we are fighting the Covid-19 pandemic and it seeks to contribute to the priority area of "A capable, ethical and developmental state and is anchored around a public service that puts people first".
Joining the Premier will be Provincial MECs, District and Local Municipal Mayors and senior Government officials from all three spheres of Government.
The event is scheduled to take place as follows:
Date: 16 September 2020
Venue: Augrabies Thusong Service Centre
Time: 10h00
Members of the media are invited to attend.
The event will abide to all the Covid-19 regulations that are in place.
Enquiries
Bronwyn Thomas-Abrahams
Spokesperson
Office of the Premier
083 447 6586
This email address is being protected from spambots. You need JavaScript enabled to view it.
Běžecké tretry Nike