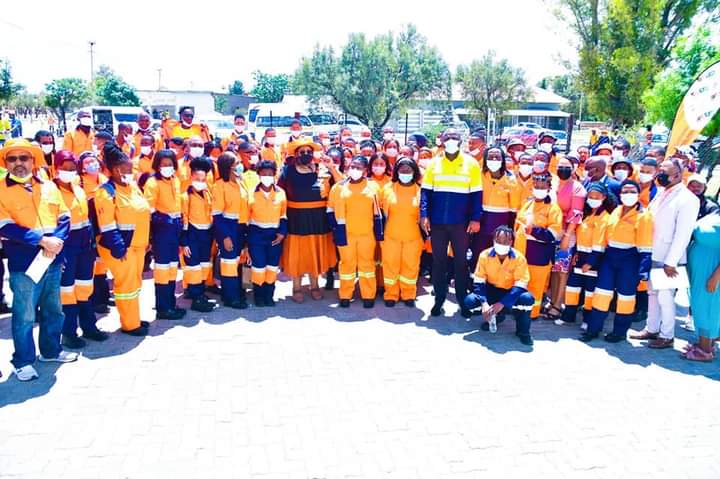 The Premier Dr Zamani Saul together with the MEC for Roads and Public Works Ms Fufe Makatong accompanied by the MEC for Sports Arts and Culture Ms. Desery Finies welcomed 98 learners from the Pixley Ka Seme District into the Construction Road Maintenance Short Skills Programme. This forms part of the 1000 Construction Road Maintenance Short Skills Programme which was launched in Keimoes last week by the Premier. The main objective of this programme is to train unemployed youth which will meaningfully contribute towards the maintenance of road infrastructure in the Pixley Ka Seme District and in the Province.
This is a 3 month programme, in partnership with the Construction Education and Training Authority (CETA). The Accredited Training Provider and the Department of Roads and Public Roads have entered into a Service Level Agreement (SLA), which will ensure that quality training is delivered and to clearly outline the obligations of all role players to this agreement. Learners will receive credits towards achieving a qualification. After concluding the 3 month programme, learners will be enrolled into a 12 month learnership and thereafter a 36 month Apprenticeship.
Provincial Government remains committed to tackling unemployment through ensuring that young people are skilled.
Young people are adversely affected by Unemployment and it is only through skills development that we will be able to enable them to gain access to employment.
In his address to the learners assembled at the Town hall in Phillipstown, the Premier Dr Zamani Saul, urged the learners to take up the opportunity and not take it for granted because the aim is to take young people out of the pool of unemployment.
#TowardsAModernGrowingSuccessfulNorthernCape
#NorthernCape