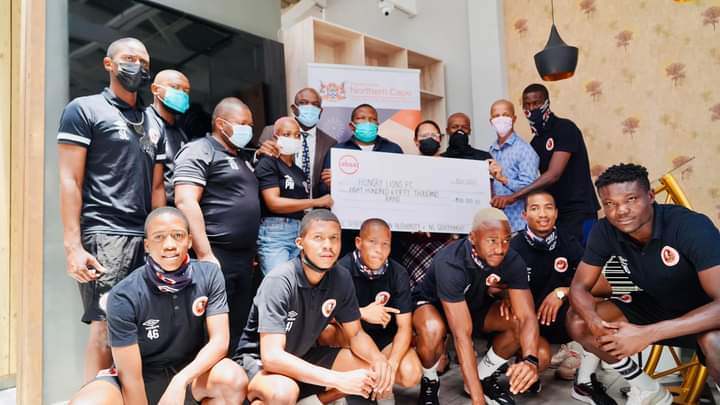 A CHILD IN SPORT IS A CHILD OUT OF COURT
Today the Premier, Dr Zamani Saul, together with the MEC for Sports Arts and Culture, Ms Dessery Fienies, on behalf of the Northern Cape Provincial Government donated an amount of R850 000 to the Hungry Lions Football team which will go towards the team being able to honour their obligations towards the league but will also go towards the development of the team.
Provincial Government remains committed to supporting the team as they represent the Province.
Present at the Handing over ceremony held today, was the SAFA vice President, Gladwin White, who emphasized the importance of Government working together with SAFA to ensure that we develop football not only in the Province but in the country.
Coupled with the donation made to the Hungry Lions Team, the MEC, Dessery Fienies will later this week meet with Royal Wizards ladies football club to hand over an amount of R150 000 which will go towards assisting the team as they travel to Durban for the SASOL National play offs happening from the 6-11 December 2021.
Let's back our Provincial team as they represent the Northern Cape.
#TowardsAModernGrowingSuccessfulNorthernCape
#YouthDevelopment