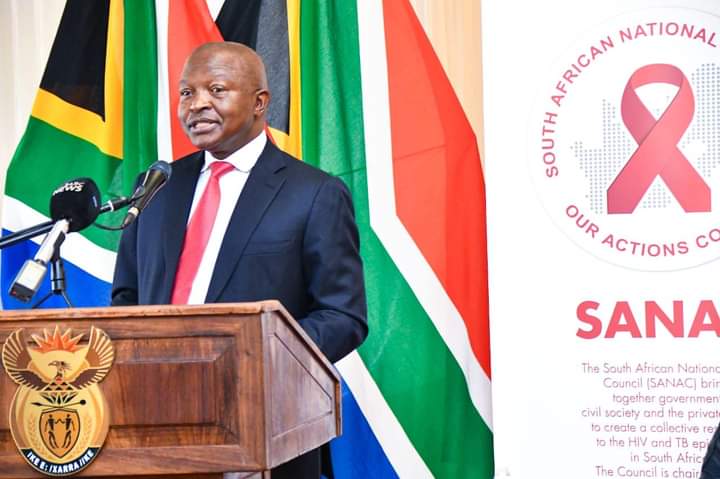 The Deputy President, Mr David Mabuza, in his capacity as the Chairperson of the South African National AIDS Council (SANAC) commenced the commemorative activities taking place in the Northern Cape Province over a period of two days under the theme, 'Action to End
TB NOW! Get Screened. End Stigma. Save Lives'.
Accompanied by the Premier,Deputy Ministers of Health and Employment and Labour as well as the MEC for Health in the Province; the Deputy President started the day with a stakeholder engagement at the Ekapa Mine in Kimberley with the aim of intensifying the fight against TB.
The fight against TB and HIV/AIDS will require that we build strong social compacts with different sectors in our Province. In an effort to strengthen these relations, the Deputy President,
Mr David Mabuza, led a delegation from Government and the private sector who together engaged traditional leaders and healers as well as the faith based sector, to get them to partner with government in our efforts of saving lives.
During these engagements, Provincial Government led by the Premier, Dr Zamani Saul, signed a pledge to ensure that 25000 people are screened for TB and tested for HIV/AIDS and are placed on medication within the next three months.
In his input, the Deputy President made a clarion call to the different sectors to work together with Government in order to ensure that communities go out to get screened for TB, tested for HIV/AIDS and get the COVID-19 vaccine.
A clear way forward was agreed to and work in ensuring that we live in TB free societies will continue together with the different sectors.
#worldTBday
#TBfree
#WorldTBDay
#TBFree
#SANAC