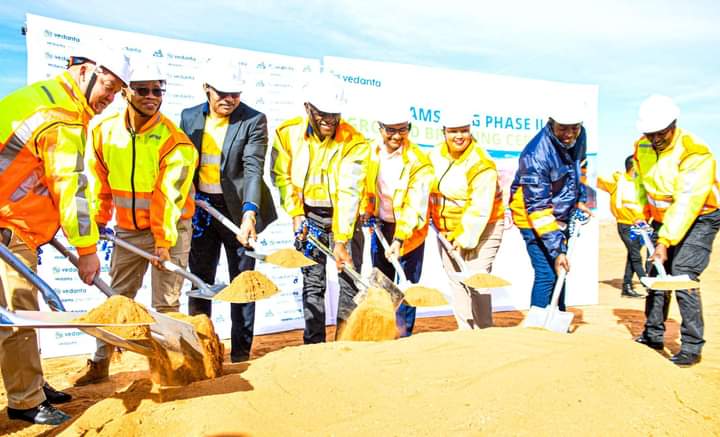 Premier Dr. Zamani Saul, joined by the MEC responsible for Finance, Economic Development and Tourism, Mr. Abraham Vosloo, together with the Vedanta CEO for Business, Mr. Arun Misra, officiated the sod turning of Phase 2 of the Gamsberg Project.
The second phase valued at R7 Billion is part of the R21 Billion committed by Vedanta at the investment conference held by the President in 2018. The second phase will employ 2500 people during its construction phase and 1 000 during operation. With a lifespan of more than 30 years, the project is set to make a huge difference not only in the Namakwa community but throughout the Province and country.
In his input, Premier Saul thanked Vedanta Zinc International for their continued support to the Province and their contribution to lessening the unemployment rate in the province.
Vedanta mine intends on building a Gamsberg Refinery which could see a further investment valued at R10 Billion and employ 15 000 people at its peak.
The Northern Cape Provincial Government remains committed to its vision of building a modern growing and successful Province, together with the private sector for the benefit of the people of the Northern Cape.
#transformingnortherncape
#moderngrowingsuccessfulprovince
#investinNC