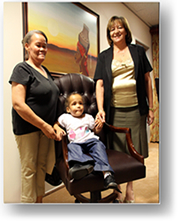 Statement made by Honourable Premier of the Northern Cape, Mrs. Hazel Jenkins
Ladies and Gentlemen

Over and above our stated aims of inclusivity, transparency and accountability in the manner in which we conduct the affairs of the Northern Cape Provincial Government...
Trava Mista Cano Alto
we are, as your elected public representatives, obliged to tangibly demonstrate the noble values of altruism, care and compassion in our interaction with the inhabitants of our vast province.
It is in this context that I, in my capacity as Premier, have decided in my discretion, to commit an amount of R40 000 in order for a spinal operation to be performed on baby Chloé Steyn.Baby Chloé, who is five years old, suffers from a rare genetic disorder namely Conradi Húnermann Syndrome that affects bone and growth development together scoliosis which is the curvature of the spine and asymmetrical limb shortness. As a result Baby Chloé's spinal cord jabs into her lungs making her short of breath and chronically exhausted.
By making this contribution from the Premier's Discretionary Fund, I am certain that all of you will cherish the hope that the operation on Baby Chloé will be a resounding success and that she will grow in an environment most conducive and natural for her growth and well-being.

In terms of post-operative care for Baby Chloé, I hereby make an impassioned plea to the business sector to join hands with the Provincial Government in order that her recuperation is expedited in the best manner possible.

As a caring government, we are always mindful of the fact that "Together we CERTAINLY can do more."