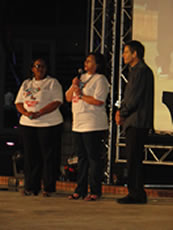 As the Provincial Government collective we are pleased to announce to the people of Kimberley and the Northern Cape that the World's greatest Skateboarding Championships, the Maloof Money Cup, has arrived.
As Government we are ready. Kimberley is ready and I am certain that the wonderful people of the Province are ready to embrace this great skateboarding spectacle.

It took two years of hard work and negotiations to bring this event to our country and Province and we count on the people of our Province to support this event. In doing so we are sure that our people will extend their warmth and hospitality to both visitors and competitors alike.
We appeal to especially the youth to come out in their numbers to take part in the fun and excitement of this mind-blowing sport from day one to the end, which includes a benefit concert featuring internationally acclaimed artist Lil Jon and the Skateboarding Championship itself.

That which is more important is the lasting legacy of the Skatepark for future generations to use and enjoy. In addition similar Skateparks conforming to international standards will be rolled out in the remaining four(4) districts of the Northern Cape Province.

Boots