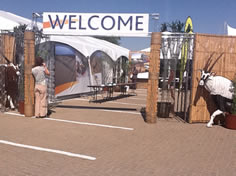 Speech by the Premier of the Northern Cape, Mrs Hazel Jenkins, on the occasion of the 7th International Wildlife Ranching Symposium, October 2011
It is indeed a privilege for me as Premier of the Northern Cape to welcome you officially to the 7th International Wildlife Ranching Symposium. It is an honour for the Northern Cape Province and Kimberley in particular to host you, and I hope that you enjoy your time with us.
Air Force 1 Sage Low
Tourism plays an incredibly important role in the economic growth and development of our province and we have actively explored ways to attract new markets by focusing on sports tourism and eco-tourism. The measure of our success can be seen in the fact that we have had the opportunity to host two international events back-to-back within the last week, firstly by presenting the Maloof Money Cup World Skateboarding Championships and now the International Wildlife Ranching Symposium.

Ladies and Gentlemen, wildlife ranching in South Africa has been rapidly expanding since the 1960's when game had little value. Today it is a multi-billion Rand industry. An example of this growth is that recently, more than R18m was paid for a single bull buffalo. Over the past 15 years, the wildlife industry, in terms of turnover, grew at an average rate of 20.3% per annum. There are presently about 9 500 wildlife ranches in South Africa which covers about 17% of the country with game numbers in the vicinity of 19 million. About 1 500 of these game ranches are in the Northern Cape.

The wildlife industry can therefore not only be seen as an important contributor to the economy, but also to biodiversity conservation. Wildlife ranching in many parts of the world creates the opportunity to convert marginal agricultural land into productive ranching systems. Only 17% of South African agricultural land has high production potential with 80% being marginal. It is in these marginal areas with their adapted game animals where wildlife ranching and its associated industries such as hunting, game capture and translocation and ecotourism can support local communities. It has been determined that through economic multipliers, hunting alone contributes about R1b to the economy of the Northern Cape. The Northern Cape is also the third most preferred province for international hunting clients. As indicated, South Africa is a largely arid country with large areas where conventional crop farming is not possible.

It is in these areas where wildlife ranching can be established and expanded to provide benefits for marginalised communities. Wildlife ranching also offers more specialised employment opportunities through skills such as tracking, skinning, taxidermy, tour-guiding and professional hunting and is a large contributor to job creation. Wildlife ranching is also an ecologically appropriate and economically sustainable land use option.

Ladies and Gentlemen, as a province, we have indeed been blessed by an abundance of natural resources and it remains important that we consider ways to conserve these resources. Eco-tourism has become one of the leading and fastest growing sectors with an annual growth of approximately 10%.

The wildlife ranching industry forms a big aspect of ecotourism in South Africa and over the past few decades, we have seen increased interest in the multi-purpose use of our wild animals and natural resources, which has led to the emergence of the wildlife ranching sector as a sustainable alternative to more conventional livestock farming systems. As a province we are encouraging the development of wildlife ranching as a formally recognised agricultural activity as well as a major tourist attraction to local and international visitors.

The rich biodiversity of the Northern Cape is protected in a system of national parks and provincial nature reserves spread over the province and which covers about 5% of the province. There are presently six National Parks and six Provincial Nature Reserves in the Province. These protected areas contribute substantially to the conservation estate of South Africa. In addition to this, there is a large number of private initiatives that contribute to the economy, job creation and biodiversity conservation of the province through ecotourism and wildlife ranching.

Ladies and Gentlemen, strong local and international markets within a stable political and legal framework are necessary for productive wildlife ranching systems. It is hoped that this international symposium will create the platform where the science and management of wildlife ranching can be consolidated within the regulatory frameworks of the respective countries where it is a large contributor to the local economies.

Ladies and gentlemen, events such as this international symposium are vital to ensure the continued growth and sustainability of the wildlife ranching sector and I am certain that your discussions and deliberations will be meaningful in advancing the cause of the wildlife industry. It is now my pleasure to introduce you to the Northern Cape Province by way of a DVD.