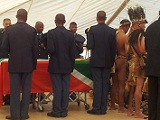 The late Khoisan Traditional leader, Dawid Kruiper, who passed away two weeks ago, was laid to rest during an official Provincial State funeral at Witdraai in the Kalahari on 30 June 2012. The funeral was attended by more than 2000 mourners from across the country as well as Namibia and Botswana.
>>Toespraak deur die Waarnemende Premier van die Noord-Kaap, Me. Grizelda Cjiekella
>>Media Statement: Funeral of Oom Dawid Kruiper
Air Jordan 1 Retro High OG 'Chicago' White and Black-Varsity Red For Sale
The reason for conferring an official funeral on Oom Dawid Kruiper was to befit the status, standing and stature of this pioneer and hero of the Khomani San people who contributed immensely to the upliftment of his people. This was Government's way of recognizing the role that Oom Dawid played as a nation-builder, a cultural pioneer and leader and traditional healer.
A number of the funeral attendees, which included Koi San groupings, Sanparks and Assmang Mine paid tribute to this phenomenal leader. Although this was an official State funeral, the Khomani San people were also allowed ample room to perform cultural practices in honour of their leader.
The Acting Premier, Ms Grizelda Cjiekella, in her keynote address stated that, "Oom Dawid was the embodiment of loyalty, commitment and righteousness, respect and selfless sacrifice to the service of the Khomani San people. He was a nature conservationist in his own right and imbued in his people care for natural resources. In his own intimate way, Oom Dawid imparted invaluable knowledge to latter day textbook conservationists."
Ms Cjiekella also made a commitment on behalf of the Provincial Government that recognition will be given to the Khoisan people and the necessary services will be given to them. Government is fully aware of the plight of the Khomani San and the contribution that they have made to this country thus partnerships will be formed with them to give recognition to their culture especially their language.
A Bill is currently being formulated that will give recognition to the culture, language and leadership of the Khomani San people.
In order to address the immediate challenges faced by the Khomani San people, a team from the Siyanda District Municipality will be returning to Andriesvale within the next two weeks to have a meeting with all stakeholders concerning their challenges.
Oom Dawid Kruiper was buried amongst the red dunes of the Kalahari next to his late wife.
See attached speech for additional reading.
Released by Communications Directorate, Office of the Premier Northern Cape
Contact person:
Bronwyn Thomas-Abrahams
083 447 6586