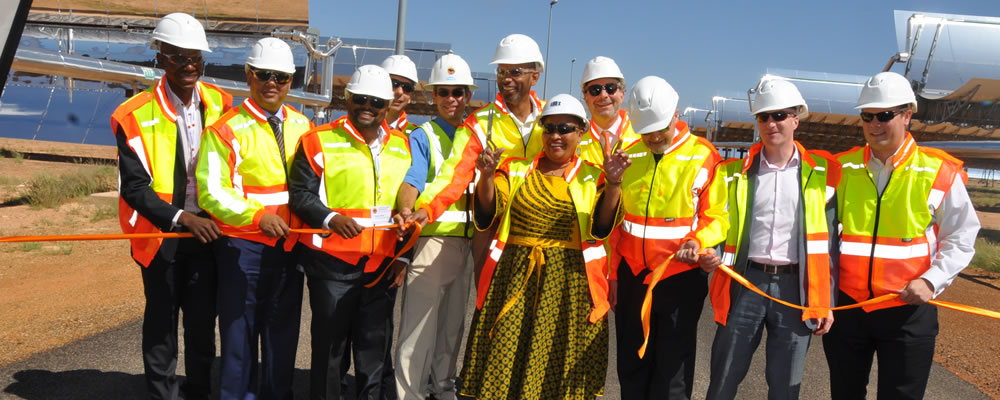 Address by the Premier of the Northern Cape, Ms Sylvia Lucas, at the inauguration of the Kathu Solar Park Concentrated Solar Power Plant and celebration of socio-economic development programmes

Programme Director
Honourable Mayor of Gamagara, Mr Edwin Hantise
Honourable Members of the Executive Council
Honourable Mayors and Councillors
Senior representatives from Engie
Senior Government officials
Representatives from Eskom
Members of the Media
Distinguished guests
Ladies and Gentlemen
I am greatly pleased and honoured to join you this morning on this momentous occasion where you are powering change. Renewable energy is the future and this sector has the potential to assist Government to radically transform the economy. At the outset I want to take this opportunity on behalf of the Northern Cape Provincial Executive to applaud Engie which is leading the consortium of investors for this major project. This says to us that you have heeded the call of Government that collectively, we need to do everything in our power to enhance development and in so doing empowering our communities and especially our youth to build a sustainable livelihood.
The people of the Northern Cape, from a variety of sectors such as government, the private sector, NGO's and labour sectors are in agreement about the need for an inclusive energy sector and for a partnership to deal with the triple challenge of unemployment, poverty and inequality whilst accelerating rapid economic transformation in the Province.
In realisation of the global and domestic economic injustices that still permeates our beautiful South Africa, this democratic Government, elected by the citizens of this country and this province, has developed a National Development Plan (NDP). South Africa can realise these goals by drawing on the energies of its people, growing an inclusive economy, building capabilities, enhancing the capacity of the state, and promoting leadership and partnerships throughout society.
The National Development Plan (NDP) provides better opportunities for rural provinces like ours to fully participate in the economic, social and political life of this country. Our history is characterized by, among others, deliberate neglect of rural areas. The birth of democracy saw a shift in approach and Government has now placed the issue of rural development high on its developmental agenda.
As per the NDP directive a twenty year plan has been developed for the Northern Cape Province to identify high-impact activities and interventions to change the life chances of our people, especially the youth, which have been stunted by the Apartheid legacy. This long-term plan will enable us to realise growth and development in the Northern Cape. As you are aware, growth and development requires a long-term perspective – the Provincial Growth and Development Plan (PGDP) - Vision 2040 and the Provincial Spatial Development Framework (PSDF) provides such a trajectory. The Provincial Growth and Development Plan (PGDP – Vision 2040) and the Provincial Spatial Development Framework (PSDF) will also provide a developmental agenda based on four paths of prosperity, namely economic, social, environmental and governance. These paths are founded within an ethos of sustainable development.
The Northern Cape is a regional solar hub of energy in Southern Africa. A social pact is therefore required to create a prosperous energy sector in the Province through a negotiated resolution where the private sector commits to investing in new areas; where labour and business work together with government to address the inhibiting factors and identifying opportunities; and developing partnerships with civil society to ensure that our people benefit from the natural resources of our beautiful Province.
As this ANC-led Government we remain committed to setting the country on a path of radical economic transformation in order to accelerate our onslaught on socio-economic challenges. This has been our consistent theme throughout our economic blueprint, the National Development Plan and that is the urgent need to focus on decisive action to grow the economy and create employment. This cannot be done by Government alone and therefore we need to mobilise our partners in the Private Sector to join hands with us in pursuit of this goal. The Green economy has much to offer in terms of job creation, infrastructure development and general economic development.
Today we take pride in celebrating with you; our development partners, because through this initiative we can see that you share our vision that we all have a role to play in giving our economy that major push forward.
We have always been of the view that renewable energy is the future and therefore convened a successful two-day conference last year to get a glimpse into the countless possibilities that renewable energy holds for this Province and its people. During those sessions we deliberated on pertinent issues regarding the repositioning of the Northern Cape Province to support the Renewable Energy Sector. Not only do we wish to support this sector but we also want to tap into and draw benefit from the endless opportunities that the renewable energy sector holds for the economic development of this Province. I am therefore greatly pleased that with the Kathu Solar project you have looked beyond the project life by also looking at ways to focus on further community development through economic empowerment.
As stated, today we are here to celebrate this milestone development of Engie consortium and we wish to congratulate you on this achievement and express our sincere gratitude for the investment and visible change that you have made and will continue to make in the lives of our communities.
In order to ensure a more cleaner and secure energy future for our Province and Country, Renewable Energy and in our case Solar Energy specifically, plays a crucial role. It is heartening to know that this project will supply clean electricity to South Africa's power utility, Eskom, and will produce enough electricity to power approximately 179 000 homes.
As a Province we remain steadfast in our resolve to improve the lives of our people through partnerships and investments as we move towards creating a prosperous society for all. We are convinced that projects of this nature will definitely assist us in our efforts to alleviate poverty and address unemployment and inequality. Once more, well done and congratulations.
I thank you