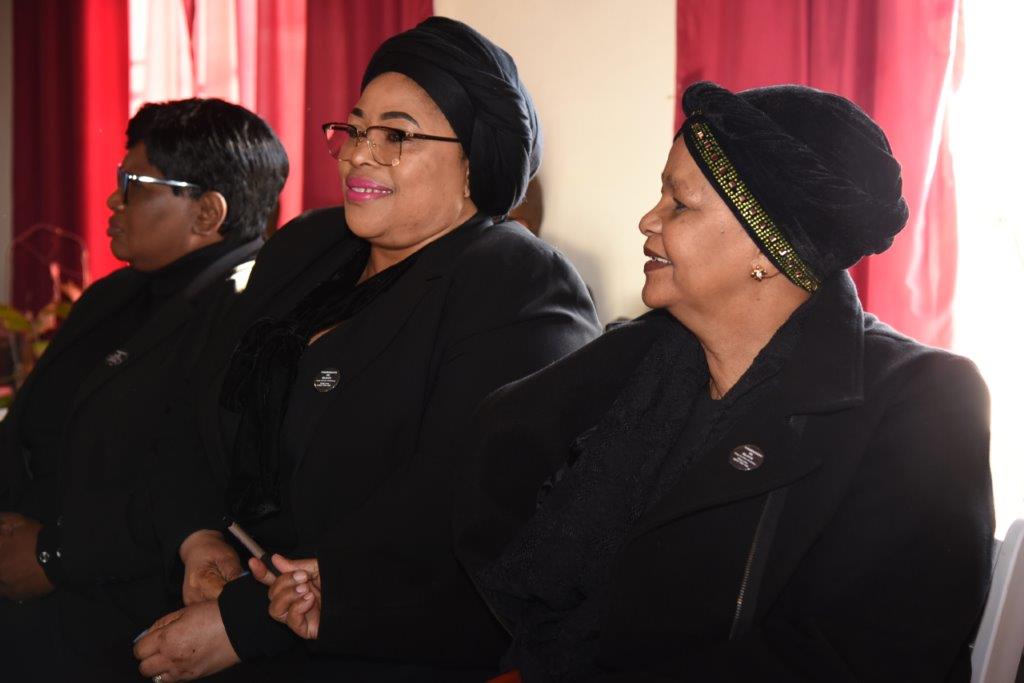 The Provincial Government of the Northern Cape today launched the Women's month programme under the theme, "25 years of democracy – Growing South Africa together for women's emancipation". August is the month used to celebrate the achievements made by women in this country and to make a clarion call to all sectors of society to contribute towards empowering and protecting women. As part of the launch, the Hebzibha counselling healing centre in Galeshewe was officially opened. The centre will focus on providing counselling to women in the greater Galeshewe area, that have fallen victim to violence and abuse. Speaking on behalf of the Northern Cape Government, the MEC for Social Development, Ms Babara Bartlett, commended the opening of this centre and assured the community that government will support the centre. "Women and children remain the most vulnerable in society and we must ensure that we as a society protect our women and children. Men in this province should rise up and actively fight against women and child abuse", said MEC Bartlett.
The opening of the centre was followed by a programme with mainly women from various Prayer Leagues as well as men; as a means of calling on all sectors of society to observe Women's month and join hands with Government in the fight against violence and abuse meted out against women as well as children an dthe disabled. In attendance were also Members of the Executive Council, the Speaker of the Northern Cape Provincial Legislature, Ms Newrene Klaaste and senior government officials. In her remarks, the MEC for Transport, Safety and Liaison, Ms Nontobeko Vilakazi, standing in for the Premier, stated that, "As our democracy matures, women of all races, ages, cultures, sexual orientations and religions are realising that we need not be men to assert ourselves, we are claiming our own space on our own terms." She went further to state that, "Our womanhood sets us apart, we are no worse or better than men on any level, we are self-actualised members of the South African society who fight as strong and hard against poverty, inequality and injustice as any man can."
For this month Government will be rolling out programmes across the Province involving all sectors that will contribute towards achieving its objective. The 2019 Women's Month programme therefore seeks to:
To unite South African women and girls, men and boys, in pursuit of the constitutional goals of women's empowerment, gender equality and the achievement of a non-sexist society;
To mobilize active and patriotic citizenry by building partnerships to improve programmes to address national priorities at all levels and within all sectors, including the eradication of gender-based violence;
To create platforms and rejuvenate society's efforts towards women's political, social and economic emancipation.
The National Women's Day activities are planned to take place in Vryburg, Ruth Mompati District, North West Province. The Northern Cape Province will observe National Women's day on the 10th August 2019, in the John Taolo Gaetsewe District at the Thabo Moorosi Multi-purpose centre in Mothibistad, Kuruman. The hosting of the provincial event will include exhibitions relating to local programmes and public services.
The commemoration of National Women's Day and the implementation of the Provincial Women's Month programme create important opportunities to give concrete expression to the priorities of the Sixth Administration and to fast-track the implementation of programmes and projects to improve the lives of women, youth and persons with disabilities. This can only be achieved through social mobilization and through deepening the social compact across the public and private sector and civil society. Government therefore urges society to join hands with us as we work towards achieving a society free from any forms of violence and abuse.