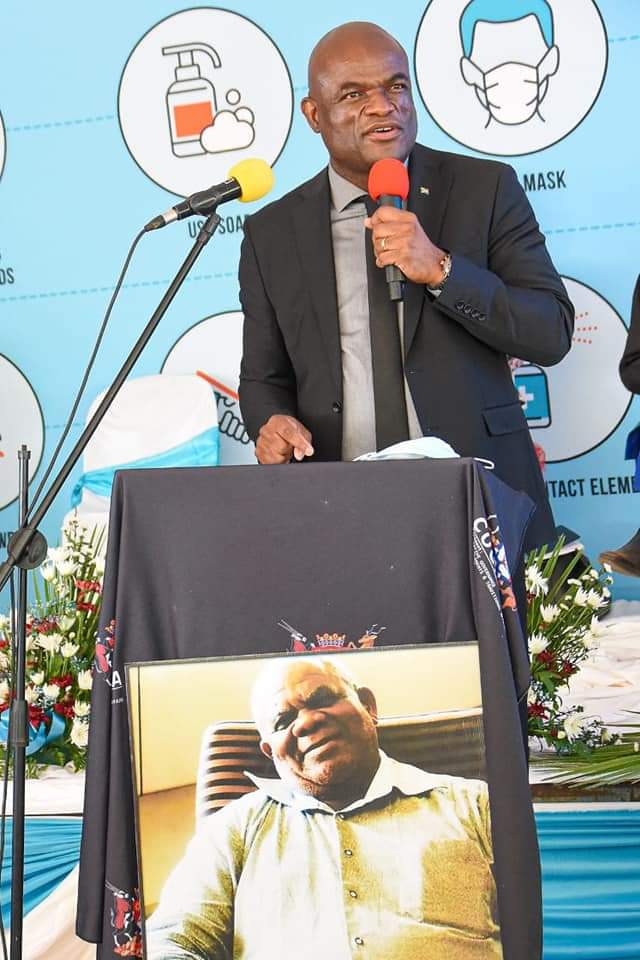 Programme Directors
Let me start by greeting the bereaved Family of Kgosi Kgosienewang Emmauel Jantjie II
Members of the Executive Council
District mayor of John Taolo Gaetsewe District, Ms Sofia Mosikatsi
Local Mayors
Chairperson of the Provincial House of Traditional Leaders, Kgosi Pelenomi Toto
Esteemed Members from all the Houses of Traditional Leadership
Distinguished guests
Members of the media
Ladies and gentlemen
Dumelang Batlhaping!
We are gathered here today as a Province in mourning to bid our last respects to our cherished leader Kgosi Jantjie. Allow me on behalf of the Provincial Government of the Northern Cape and its people to express our heartfelt condolences to the bereaved family especially his wife, Mma-Kgosi Jantjie and the Boora Jantjie Royal Household, the Batlhaping Ba-ga Jantjie Traditional Council and the community, the Local and Provincial Houses of Traditional leadership and the people of John Taolo Gaetsewe District in general. I trust that you will be comforted in the knowledge and pride that Kgosi Jantjie has left behind a great legacy.
Our Constitutional democracy, which brought to an end decades of Apartheid rule and centuries of colonialism, recognizes the role and status of traditional leadership in a democratic society. Traditional leadership therefore has to function in a manner that embraces democracy and contributes to the entrenchment of democratic culture, thus enhancing its own status and legitimacy amongst the people. The task of strengthening and consolidating democracy requires the participation of all leaders, traditional, religious and elected. Traditional leaders must therefore constitute part of the cadre of leadership that is leading and helps us to transform our country towards a better life for all.
Ladies and gentlemen
The Northern Cape Province is mainly rural. This then means that a significant number of our people are under the jurisdiction of traditional leaders. This speaks to the huge task that traditional leaders in our Province have on their shoulders. The role you have to play in shaping our democracy and building an equal society is therefore very important and we know it can be challenging at times.
Kgosi Jantjie knew this and it was a task that he did not take lightly having been installed as Chief at the tender age of 24. What stood out about Kgosi Jantjie was that being a leader himself, he also respected authority and was acutely aware of the role that Government had to play and was also very active in engagements with the ruling party on how to improve the lives of his people. Kgosi Jantjie possessed invaluable knowledge on traditional leadership and I think what would be most missed is his fatherly advice to everyone including officials.
Kgosi was very passionate about the history of the Batlhaping and his people. He had developed a close relationship with the Department of Sport, Arts and Culture especially the Directorate of Heritage and Museums. His very first heritage collaboration together with the late Kgosi Kgosiemang Mothibi was the erection of their great great grandfather, Kgosi Galeshewe's Memorial Monument in Magaga-a-Phiri near Modutung next to Phokwane. This was a project that was initiated by the Office of the Premier in 2007.
Together with the Department of Sport, Arts and Culture, Kgosi Jantjie would host an annual pilgrimage to Langeberg near Olifantshoek where his great great grandfathers Kgosi Luka Jantjie, Kgosi Galeshewe and Kgosi Toto of Batlharo fought the British in the infamous Ntwa Ya Maje A Mokgothu or War of Langeberg of 1897, a site where Kgosi Luka Jantjie was killed and later beheaded while the latter two received jail sentences. Six of the other accused including Kgosi Phetlhu were sentenced to death. It was Kgosi Jantjie's dream to see Langeberg turned into one of the important heritage sites that would eventually be included into the Province's Liberation Route.
Kgosi Jantjie was instrumental in the erection of the Three Dikgosi (Galeshewe, Jantjie and Toto) Monument situated next to the Kuruman Eye.
As stated, he loved the Bathlaping people dearly and has worked with the world famous and South African jazz artist Dr Abdullah Ibrahim on the history of the Batlhaping.
He was also instrumental in working with the Sol Plaatje University renaming committee in renaming the university's administration block to Luka Jantjie House.
Kgosi Jantjie had the development of his people at heart and encouraged especially the youth to empower themselves and get an education. I have been briefed about a young man, Tshepo Lucas, who lives in Gamasepa; Manyeding that paid Kgosi Jantjie a visit in 2015 and during their discussions Kgosi Jantjie became aware that he had passed his matric with excellent results. Kgosi personally took the results of this young man to Professor Yunus Ballim, the former Vice Chancellor of the Sol Plaatje University and pleaded his case. Prof Ballim could not resist when he saw the excellent results and this young man was immediately enrolled in the Faculty of Natural and Applied Sciences (Data Science); a study that is currently being offered only by the Sol Plaatje University.
In 2011 when Dr Kevin Shillington of the UK launched his book titled Luka Jantjie – Resistance Hero of the South African Frontier, he was honoured to meet with Kgosi Jantjie whom he last met in 1964 when Kgosi was still a young man of about 16 years.
The history of Kgosi Jantjie and the collaboration with the Chinese that started in the 1970's is well known in Manyeding regarding the rice plantation that he was so passionate about. Two years ago (2018), the University of Yunnan, in Kunming, China further strengthened that relationship when he was invited to China to deliver a lecture on the history of the Langeberg War.
We know that he was currently busy with the new building of the tribal offices, a building concept he had adopted from the neighbouring Botswana.
As we can see Kgosi Jantjie was indeed a remarkable man who employed every effort to improve the lives of his people and for them to take their rightful place.
He loved his wife dearly and she would often accompany him to meetings. Kgosi loved his children, his entire family and his people.
As government we wish to thank him for the developmental role that he played and we will continue to play our part in the social upliftment of our traditional communities by ensuring that our health, education and social support responds to the needs of our traditional communities.We remain committed to restoring the dignity of the institution of traditional leadership because this is the most authentic leadership of our people.
Our beloved and revered father - Kgosi Jantjie's life has been tragically cut short but even in death he continues to impart a positive legacy to his people and this Province. As a family your actions must continue to encourage respect and tolerance. These are virtues that Kgosi Jantjie stood for.
We would like you to know that we share in your sorrow and we join you in celebrating a life well lived in service to others. Kgosi has run his race and achieving the society that he fought for will be the greatest and most befitting tribute we can give him.
Allow me once more on behalf of the people of the Northern Cape to convey our deepest and most sincere condolences to Mma-Kgosi Jantjie and the Boora Jantjie Royal Household, the Batlhaping Ba-ga Jantjie Traditional Council and his community. We have lost a giant of a man but his memory and spirit will continue to guide us.
Robala ka Kagisho Motlhapingof Batlhaping Ba Phuduhucwana Ba-ga Jantjie
Magwagwe village, Kuruman
adidas superstar damen glitzer silber