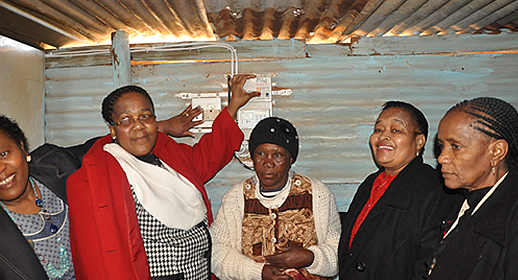 Introductory remarks by the Premier of the Northern Cape, Ms Sylvia Lucas, on the occasion of the Presidential 5.6 Millionth Electricity Switch-On in Magareng, Warrenton on 06 June 2013
Programme Director
The Minister of Energy, Ms Dipuo Peters
Mayors and Councillors
The Community of Warrenton
Distinguished Guests
Ladies and Gentlemen
We are gathered here today to celebrate with the community of Warrenton the switching on of electricity which tangibly demonstrates our government's commitment to solving the energy challenges facing our nation.
In particular, we would like to thank the Minister of Energy, Me Dipuo Peters, for her laudable efforts of bringing electricity to historically neglected areas such as Warrenton as it is generally accepted that electricity plays such an important role in the lives of our people.
Ladies and Gentlemen, power supply is central to the socio-economic development of our society, and it is pertinent to state that our rural communities are not left out in this regard.
The ANC-led government is the product of the people and it is for this reason that we are always listening to their needs and responding effectively to their cries. The electricity rollout project is part of that commitment to provide a safe, secure and highly reliable, cost effective electricity supply to our communities.
As the ANC government, we are working tirelessly to reverse the inequalities of the past. It is our humble belief that this switch-on serves as an important step in bringing the community this basic service - electricity which will enrich and enhance their lives at a personal, social, community and economic level.
We are aware that there are still many people and households in the Northern Cape, including some not far from here, who still do not have access to electricity, clean water and sanitation. It is therefore our continued determination, as government and society, to work together to better the lives of our people.
Programme Director, as I have stated previously, the Provincial Government remains committed to increase investment in new and renewable energy resources, and the application of state-of-the-art technologies not only to increase efficiency but also safeguard our environment. Most importantly, it is through the concerted efforts of the Minister of Energy that the Northern Cape Province is benefiting from the construction of the multi-billion rand solar park in Upington. She has been instrumental in positioning our province as a significant hub of renewable energy.

Our goal is to engage, support and improve the neighbourhoods where our people live and work. Let us remain focused and more determined to build our province and our country whilst also contributing meaningfully to every effort aimed at uplifting the circumstances of our people as a whole.
Allow me at this juncture, Ladies and Gentlemen, to introduce to you a remarkable person who has, during the course of her life championed the aims and aspirations of the poor. She is a person who has dedicated her life to the struggle for the emancipation of women and women empowerment.
I am sure that all gathered here this morning will recall that as the daughter of our wonderful Province, and as the erstwhile Premier, Minister Dipuo Peters has returned with a tangible determination to make our lives shine brighter.
Kindly join me in extending a hearty round of applause in welcoming the Minister of Energy, Ms Dipuo Peters, as she proceeds to the podium to deliver the Keynote Address.
I thank you
Asics Onitsuka Tiger