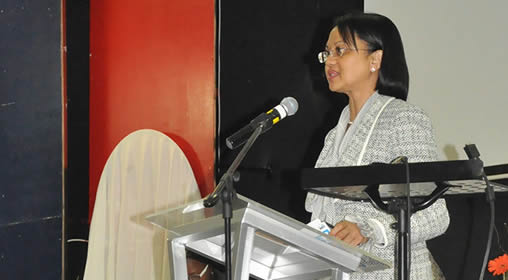 Speech by Minister of Agriculture, Ms Joemat-Pettersson on the occasion of BRICS provincial Road show in Kimberley, Northern Cape Province
THE SNEAKER BULLETIN
Programme Director,
Honourable Acting Premier Grizelda Cjiekella,
Honourable MECs,
Honourable Executive Mayor of Sol Plaatjie, Ms Agnes Ntlangula,
Honourable Executive Mayor of Frances Baard, Ms Kgadi Moloi,
Members of Business Community,
Members of the Media,
Distinguished Guests,
Ladies and Gentlemen,

I believe I've been dominating Northern Cape newspapers over the past couple of weeks. Media has been calling my office, calling me and even quoting friends I don't know just to find out if I would be the next Premier of the Northern Cape. The more I said "no", the more the calls persisted. I hope the journalists who have been calling me will now be satisfied because I am indeed in the Northern Cape.

Ladies and gentlemen, today I have come with my colleagues and counterparts, notably the Department of International Relations and Cooperation as well as the Northern Cape Provincial Government, to engage with you about South Africa's role in the international community. Not only this, but I have come to exchange information on how the South African government is representing you and your interests in countries that are similar to ours in their economic makeup and the socio-political situation.

The crux of this engagement is to inform you about the opportunities that exist in BRICS.

My sincere hope is that today's engagement will encourage all of you, whether you are active in agriculture or not, whether farmers or any other party that is involved in agriculture, whether you are an emerging entrepreneur seeking the opportunity for markets, to learn more about the opportunities and co-operation that already exists between South Africa and countries like China, Brazil, Russia and India for the Northern Cape and for the whole country.

The current state of global affairs requires countries and states to form alliances with a myriad of partners for the advancement of its population and strategic goals. We are required to look beyond militant approach to one that is dominated by a different kind of power. Soft power. You may wonder, ladies and gentlemen, what soft power means. This word has dominated international affairs since the 1990s. Soft power is the ability to persuade others through culture, values and ideas. Many countries, and quite evidently in BRICS countries have invested a lot in their soft power strategies. For example, how many of us watch Bollywood movies? How many of us are aware of Chinese language schools? How many of us will be going to the 2014 FIFA World Cup in Brazil in 2014? These are all examples of Soft power. In fact through the successful hosting of the 2010 FIFA World Cup, we have witnessed the tremendous impact of soft power on our brand as a country.

South Africa is also part of BRICS bloc, hence the transition from BRIC to BRICS. In order to demonstrate our soft power, we have set up agricultural centers in other countries, most notably, BRIC countries so we can have a presence there. We have attaches who are forging relationships, advancing trade through trade missions and enhancing South African development through making inroads in countries that, until recently, were not our traditional trading partners.

Ladies and Gentleman;

In March 26-27, President Jacob Zuma, will host the Fifth BRICS Summit in Durban. BRICS is short for Brazil, Russia, India and China and South Africa. BRICS is a collection of countries that are described as emerging market economies and they collectively make 43% of the total world population.

Through BRICS, the aim is to achieve peace, security, development and cooperation and is driven by the need to contribute to the development of humanity and to establish a more equitable and fair world order. Through BRICS, we hope to deal with problems that affect our countries with solutions that fit us, not solutions that are imposed on us. This is our collective soft power. As BRICS countries, we realize that we can no longer only look to the West for development models. For example, in farming, we learned very valuable lessons about the direct to farm model from one of the developing countries like us: Costa Rica. While we have not turned our backs on our traditional trade partners, we are mindful of the fact that our problems and needs as developing countries are different to those of developed countries. This way we can exchange skills, we can all help each other to find progressive and cost effective ways to trade among each other.

On the issue of food security, for example, Brazil has taught us a lot about urban food gardens. We are learning that as our country's middle class grows and more people have more access to better lifestyles, many of us are eating more and more processed food and are turning away from planting and producing our own vegetable gardens. Brazil has taught us that urban citizens can grow their own food and contribute to feeding their own families. In Brazil, food is grown on rooftops, schoolyards and parking structures. These experiences, however simple, are reminders of why it is important for us to be with partners that share the same kinds of issues as we do.

As business people, you may want to find what opportunities that exist in BRICS countries?

China is ranked as the second-biggest economy in the world; India currently stands as the 10th-largest economy in gross domestic product (GDP) in nominal terms, and is the fourth-largest economy in terms of GDP at Purchasing Power Parity (PPP). In 2011, Brazil became the world's sixth-largest economy and Russia is currently the ninth-biggest economy. South Africa is ranked as the 26th-largest economy.

In order to facilitate opportunities for business and knowledge exchange with China, for example, a memorandum of Understanding on Agriculture Cooperation was signed between South Africa and China. This MOU makes provision for the Joint Agriculture Working Group to promote scientific, technological, and economic and trade cooperation in Agriculture and especially in the areas of:

Exchange in agricultural science, technology and personnel;
Collaborative research;
Agricultural development in dry land areas;
Food security projects for poor people (under the auspices of South-South cooperation)
Agriculture economy and trade; and
Enhance cooperation and coordination within the international and regional organizations



We have also signed a memorandum of understanding on Aquaculture Development and Cooperation. This sets out a framework to guide ourselves and our Chinese counterparts in implementing cooperative programs that promote the development of aquaculture. As in the above-mentioned MOU, this will also cover

Skills Development in the application of aquaculture
Cooperation exchange in aquaculture mechanization
Exchange in breeding genetics
Joint research in aquaculture biotechnology
Capacity building in aquaculture nutrition and health.



You must be wondering, ladies and gentlemen, why these countries invited South Africa, a country that has only enjoyed the fruits of freedom for 20 years, and a country that has, through difficulty and doubts, managed to forge ahead and create a better future for its people. This is because we have a strong brand. Our soft power soars among many great countries, respected nations and countries with a lot of potential. We have proven, through the quality of our agricultural supplies and manufactured goods,for example, that we are a force to be reckoned with.

Contrary to those who suggest that South Africa will not derive much from BRICS, I want to briefly demonstrate that we are already reaping a lot from our 3 years membership of this bloc. We already have more than 20 veterinarians and aquaculture technicians have received training in China on fish diseases, breeding, and feeds. The aquaculture demonstration centre which is being completed in the Free State Province on the Garriepdam is as a result of a R33 million aid from the Chinese government. This centre will also be used for research and training purposes.

Additionally, the signing of the Sanitary and Phytosanitary Measures agreement has led to numerous successes that include

Market access for South African Citrus
Lifting of the embargo on Foot and Mouth Disease by China
Market access for South African hides and skins and wool
Market access for South African Tobacco
Market Access for South African Grapes
Market Access for cooked ostrich skins
Market access for Chinese cooked pork
Market access for Chinese cooked poultry



China spent $26-billion more in 2010 than it did in 2009 on buying iron ore from the world's biggest suppliers. South Africa's membership into BRICS create these links to our local suppliers and local markets.

Our Government has already indicated to our BRICS partners that our relationship should be built on a win win situation. This is not a case where one party is exploited for the benefit of others. Everyone, all the citizens of countries, and continent, are part of the developmental strides we are making. Our relationship with our BRICS partners, for example, is not only premised on South Africa's raw wealth – this is not a typical transaction. What South Africa is wary of is that we don't just want to be exporters of raw materials. However, our relationship must equal training, infrastructure and best practice. We want to develop our vets and empower officials through training in skills that will enable them to assist us to ensure that we realize our goals of eradicating the triple challenges of unemployment, inequality and poverty. This is at the core of our membership at BRICS.

Ladies and Gentlemen,

You now have a picture of what BRICS has in store for us--how our quality products, brand have benefited South Africa in the international market. In order to understand our niche as the Northern Cape Province within BRICS, we need to ask ourselves these questions: how does the Northern Cape fit into the BRICS network? What should we do to make sure our Province enjoys the opportunities that exist within the BRICS bloc?

The Northern Cape produces more than 84% of South Africa's iron ore. The Northern Cape is also recognized for its wealth in diamonds, iron ore, manganese and other minerals. These attributes are the province's soft power and have attraction for our BRICS partners.


Ladies and gentlemen, South Africa is the largest producer of platinum, chrome, vanadium and manganese, and the third largest gold miner as well as offering highly sophisticated mining related professional services, contributing significantly to the BRICS resource pool. South Africa's mineral wealth is estimated at $2.5 trillion.

BRICS trading countries now constitute the largest trading partners of Africa and the largest new investors.

Our Province can benefit greatly in the agricultural sector. Agro-processing is a major priority in the Northern Cape's growth strategy. The Northern Cape is a major exporter of table grapes, fruit and meat, and is responsible for much of the sheep and goat farming in the country. Many opportunities exist through processing products such as dates, olives, fruit, vegetables and vine products.

Additionally, the Provincial government is strongly supportive of new agro-processing ventures and a number of projects have proven this. The rooibos tea factory and a barley malting plant are just examples of how far we've come, and how much more we need to do to develop our Province.

One of the proposals that's been discussed by BRICS partners is the establishment of a BRICS Development Bank for mobilising of resources for infrastructure and sustainable development projects in other developing countries. We are one of the Provinces that still have backlogs in the provision of infrastructure. Should this proposal see the light of the day, we will ensure that we benefit from resources that will be borrowed to us by the proposed financial institution.

In the educational sector, BRICS relations also offer massive opportunity to our Province. As you are all well aware, the Northern Cape will get its own university in 2014. The Northern Cape does needs a University that will produce academics that will have intrinsic knowledge and understanding of the needs of the Province. The University should therefore be an institution that will offer specialised courses tailor made to nurture minds that will be developmental in their approach to our country's and continent's growth. Some BRICS countries boast some of the top Universities in the world and in this reagrd, our upcoming University stands a chance to compare notes with such BRICS Univeristies.

Ladies and gentlemen, some of you may be aware that the University will have a strong agricultural focus. The time has come for all of us to take part in food production in South Africa. Not everyone can be a farmer, but there are many opportunities that exist within agriculture. We need to involve the new generation that will bring expertise into the sector. Ladies and gentlemen, this is the reason my Department has played an intergral role in the preparatory work for the University.

One of the most important sectors of our Province's comparative advantage is the renewable energy. You know that ours is a Province of the sun! We can tap into the renewable energy technologies available in the BRIC countries such as Brazil and India in order to make use of our sun maximally and to complement the existing projects in this regard.

With the recent gift of hosting the Squire Kilometre Array, with the technology available in the BRICS countries, we can become the centre of research and technology in the country. I can already imagine the opportunities of scientific skills development availed by cooperation with BRIC countries.

In conclusion, South Africa will benefit and will continue to benefit from BRICS interaction. Our government has committed to continually engage our BRICS counterparts to forge stronger relations for the development of our respective societies and to improve the lives of our people.

We must therefore support Northern Cape as it position itself as a potential investment destination and is prioritising key economic sectors to contribute to job creation which is one of our objectives for joining BRICS.

I thank you.